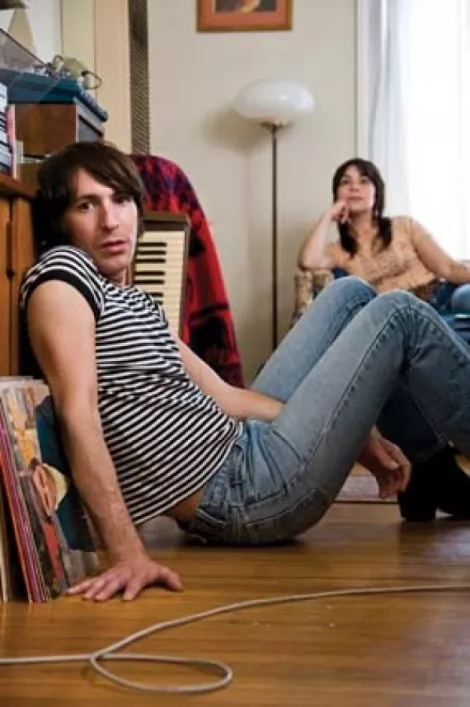 The way Pete Townshend got tinnitus was not from his loud amps at his gigs," says
Bart Davenport
. Tinnitus—"this fucking ringing in my ear that happens to me 24 hours a day," he said about it—is the last thing the San Francisco singer-songwriter's music (at least the solo stuff) will give you. It's pretty stuff: lush, ambient, trance-inducing and a bunch of the other adjectives people toss out to describe mellow music. But mellow, while it can't kill a fellow,
can
make your ears ring. Or click, tick, beep or buzz.
Townshend, says Davenport, got tinnitus from the studio. "It was actually from … hours and hours of wearing headphones and cranking up the drums, cymbals and guitars in his headphones." And that's how Davenport himself became afflicted. Well, maybe live shows (especially the ones with his early '90s garage-blues band The Loved Ones) had something to do with it. But mainly, it's from holing up in the studio and cranking up the drums, cymbals, guitars—even if the ensuing music ain't exactly analogous to The Who guitarist's mighty din.
Davenport deals in slick, smooth indie-pop and soul; placid, shimmering, immersive songs with backbeat that evoke images of a summit between The Sea & Cake, Steely Dan, Mercury Rev, Squeeze and Philly soul. While The Loved Ones dealt in ragged rock and blues, and his trio Honeycut dwelled in "future funk," this has been the sound on every Bart Davenport album since 2002's Bart Davenport. And while critics have eaten it up, all the East Bay rock hacks want to help spread the good word about their latent local legend, and music geeks sing Davenport's praises, his star has been slow to rise. He nonetheless does have an ardent, if not immense, fan base.
"I have fans that love to write me and ask all sorts of minute details," he laughs. "Some guy in Texas needs to know the third chord of a song."
Davenport is that guy, that artist—the one people discover and hold close to their chests for as long as possible, choosing only the truly worthy among their friends to hear these gilded, secret songs. It's not faint praise, but after a couple of decades and at least eight albums, one starts to wonder if the applause will get any louder.
With his fifth album, Palaces, Davenport's label Antenna Farm has hired big-shot music PR firm Press Here Publicity (Rilo Kiley, White Stripes, Conor Oberst). "That's kind of a step up," he says, "to be workin' with them." Fanfare, though, isn't something he's counting on. Although he's been making music "professionally or semi-professionally" for more than 20 years, and "I'm definitely not trying not to be heard," Davenport doesn't know if widespread fame and acclaim are all that, or even just the bag of chips. "The solo records are kind of my heart and soul," he says. "Whatever reaction they receive, I welcome."
Even if it's the sound of one geek clapping?
"It's really flattering to feel like there's these two guys in Stockholm who just really love the songs and have been trying to push me on all their friends and all the customers at their indie record store. [They are] so passionate about pushing my stuff and they don't even know me. It's specific individuals that make a difference in my career and my life and what happens to me. I certainly wouldn't have toured Spain all these times if it weren't for this one guy who heard my first album and wanted to license it for his label."
So, yeah. More than any buzz in his ear, it's the lone fan expressing his admiration that keeps Davenport donning the headphones and crafting platters.
"When people with good musical taste come along and say, 'I know you're not a household name but to me you're just tops'? That can be more flattering than mass appeal."
BART DAVENPORT The Urban Lounge, 241 S. 500 East, Tuesday Sept. 30, 10 p.m., 24Tix.com