Goggle Tan


Bikini Lines

Farmer Tan

Sunburn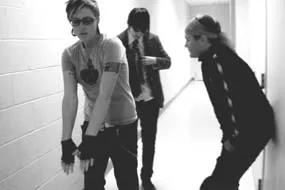 Rope or Bullets Undisputed

Rope or Bullets' two-song, debut EP has more frantic energy than most full lengths ever fully realize. The title track rushes the album out of the gates by layering schizophrenic sing-speak over melodic wailing—thanks to the compelling male/female dynamic. Part post-punk, part dance "Undisputed" teeters on the edge of losing its focus, which makes it all the more exciting (extra props for being able to throw in a convincing theremin!). The second song is touchingly playful observation of Utah-living, but the duo's vocals, again, add the potent uneasiness that makes this EP so successful (they somehow make the lyrics "There's a test on Tuesday, it's on the Great Lakes!" sound menacing).
MySpace.com/RopeOrBullets
Dacho Below the Belt

Much to my mother's disdain, I was a huge Primus fan during the '90s. While it was a guilty pleasure to listen to something so offensive to delicate sensibilities, I also truly admired their ability to sound unique in the world of grunge … which eventually became their greatest detractor: With no one to ape their music, the "Primus sound" now sounds dated. The two-member drum/bass-drive of Dacho suffers/benefits from the same sonic paradox by relying heavily on that signature sound. Below the Belt is definitely unique and sleazy enough, with singer/bassist Jared Greathouse providing some thick funk lines—especially on the fiery closer, "My Crystal Ball." But all originality can't compensate for lengthy, indulgent songs that let us remember why extended bass solos should have died in the '90s.
MySpace.com/DachoRox
Let's Become Actors S/T
When the Brobecks began to make a commercial splash in the national music industry, Michael Gross and David Chisholm bowed out. Jaded by "riches" of success, they teamed up with Mathew Glass and Ben Johnson to form Let's Become Actors. As a band, they share the same pop sensibilities as the Brobecks, but their self-titled debut benefits from the do-or-die mentality that's lost on a band vying for Top 40. By fusing catchy hooks with cabaret-style rhythms, the entire album feels like a sing-along anthem. "I Know I Know" builds into a climax swinger of a chorus and when the darkly playful choir sings, "If I could crack open your skull, peek around inside," your mind will already be blown, saving them the trouble.
MySpace.com/LetsBecomeActors