Adam DeGross
The Body
Thanksgiving is done and dusted. Ditto for Black Friday and Small Business Saturday (the only shopping holiday worth celebrating year-round). As for Cyber Monday, well, you're probably either exhausted by it by now or holding off on spending more money. If you fall in the latter camp and need some in-the-flesh experiences to contrast all that online shopping, this week's show calendar has you covered.
Start tonight, Monday, Nov. 26
at Kilby Court
, with all the local hip-hop you can handle thanks to Grown Goon Movement's first showcase. Headlined by King Cuhvee with support from T-James, Zen Lunatics, Wiseguy and Original Smoke Easy, it's an opportunity to get your ear to the ground of what the 801 has to offer. As T-James says on his Soundcloud page, "The Grown Goon Movement takes pride in its organically grown hip-hop. 'Better Like It' went from an idea to creation to final product within a week, fueled by the inspiration buzzing around the hip-hop head collective pooling resources 'til all the boats rise together. It's a beautiful thing happening here."
On Tuesday, Nov. 27, things get a little more intense when The Body (pictured above) brings its dark, despairing, dance-influenced blend of metal and pop to
The Urban Lounge
with support from Author & Punisher and local favorites 2-Headed Whale. Setting out to make "the grossest pop album of all time" on recent release
No One Deserves Happiness
, Chip King and Lee Buford of The Body avoid categorization while evoking extreme emotion with guitars, cellos, trombones and drum machines. Guest vocalists abound, juxtaposing angelic cries with shrieking howls, a dynamic sure to be fascinating on the live stage. The same goes for Author & Punisher, the machine-backed doom metal project of former mechanical engineer Tristan Shone.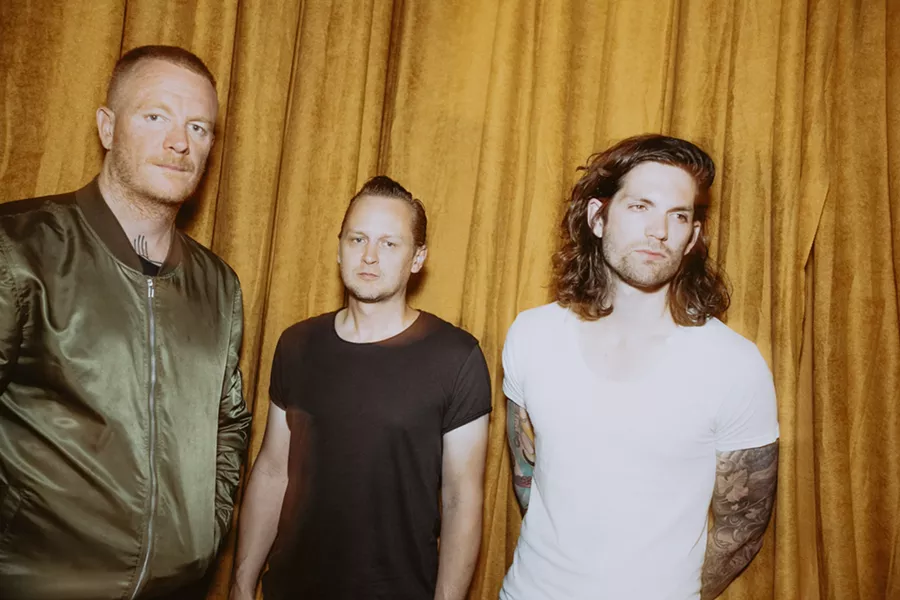 Austin Griswold
Eve 6
Eve 6 rode the final crest of the alt-rock wave of the late 1990s, forming in 1995 and releasing its debut album in 1998. Lead single "Inside Out" gave Max Collins and Jon Siebels their first taste of mainstream success, going platinum before 2000's gold-selling Horrorscope spawned memorable radio hits like "Promise" and "Here's to the Night." The band broke up in 2004 before reuniting in 2007, and 2012's Speak in Code skewed closer to pop-inspired songcraft than the band's angst-filled earlier material. Still, it deserves celebration, and Collins and Siebels, along with new drummer Ben Hilzinger, will commemorate their self-titled debut's 20th anniversary on this current tour, including a stop at The Complex on Wednesday, Nov. 28. Arrive early for support from breakout electro-pop artists Jordan Cantor of Somme and Elana Belle Carroll of Party Nails.
Stuart Munro
Blockhead
On Thursday, Nov. 29, you can further blur the lines between modern forms of music when New York City producer Tony Simon, who performs as Blockhead, visits
The Urban Lounge
. With two decades of experience under his belt, Blockhead has crafted downtempo tracks for the best independent MCs: Aesop Rock, Atmosphere, Murs and Cage. In addition, he's expanded his arthouse chops, appearing at festivals in Poland to create original scores for early Charlie Chaplin films and releasing two excellent recent albums, 2014's
Bells and Whistles
and 2017's
Funeral Balloons
, that obliterate the boundaries formerly dividing instrumental hip-hop, electronica, modern funk and experimental abstractions. Standout local turntablists DJ ChaseOne2 and Concise Kilgore open.
Love 'em or hate 'em, the Barenaked Ladies will always hold a place in the zeitgeist. That's mostly because of frontman Steven Page's unmistakable voice, a powerful tenor with a propensity for mile-a-minute propulsion. After the landmark band was inducted into the Canadian Music Hall of Fame earlier this year, reuniting to perform an exhilarating set at the Juno Awards, Page decided to place more of a focus on new material created with Steven Page Trio. His fourth solo album,
Discipline: Heal Thyself, Pt. II
is still full of his witticisms and self-deprecations, but with age comes the pursuit of deeper wisdom and an attack on modern politics. Absorb it all
at The State Room
on Friday, Nov. 30 with excellent singer/songwriter Wesley Stace opening.