Jeff Klaum
Jim Brickman
With the calendar flipping to December and the first big snowstorm of the season settling over Salt Lake Valley this weekend, it's official: Holiday season is finally here. Get into the spirit on Tuesday, Dec. 4 with Grammy-nominated songwriter and piano maestro Jim Brickman
at the Rose Wagner Center
downtown. "A Joyful Christmas" marks Brickman's 22nd consecutive annual holiday tour, and it comes on the heels of the release of new single "Raise a Glass," sure to a be part of the show alongside his treasure trove of feel-good adult contemporary hits. Last year, Brickman also did his part to pay tribute to U.S. military families with a video jointly produced by Five for Fighting. If you're really feeling feisty after the concert, Temple Square's famous holiday lights are just a few blocks away.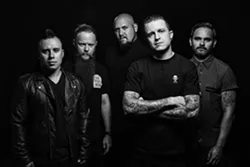 Atom Splitter
Atreyu
The evening of Wednesday, Dec. 5, will take on a decidedly darker cast when Atreyu
headlines The Depot
. New album
In Our Wake
splits the difference for these heavy Southern California rockers, with longtime fans bemoaning the album's mainstream tendencies while objective listeners celebrate Atreyu's songwriting maturity and newfound political leanings. Arrive early for solid support from opening acts Memphis May Fire (video below), Ice Nine Kills, and Sleep Signals, all of whom ply their own particular brand of metal-infused hardcore.
Consider this a heads up for the future: When local folk phenom Joshua James announced a December residency
at Rye Diner & Drinks
, the tickets sold out almost immediately. For those of us smart enough to buy early, James' three-week stand starts on Thursday, Dec. 6, with the Nebraska-born, American Fork-based singer/songwriter sure to shine a light on the work he's put in recently in his Willamette MTN Farms & Studio after a busy 2018 on the road.
Bobette Phillips
Duncan Phillips
Each month, the Intermountain Acoustic Music Association hosts a Local Concert Series, and this
Friday, Dec. 7 edition
is a winner: Duncan Phillips, son of legendary troubadour Bruce "Utah" Phillips, brings his ballads of the wild, working-class West to South Valley Unitarian Universalist Society in Cottonwood Heights. Performing with Duncan at 7 p.m. sharp are fellow Americana standouts Kate McLeod, J.T. Draper and Steve Stewart, followed after an intermission by Triggers & Slips. Led by singer-songwriter Morgan Snow, these country rock favorites are currently working on their third album, which is set for a Summer 2019 release. Tickets are $7 for IAMA members and $12 for non-members, with a fan-friendly bring your own food and drink policy.