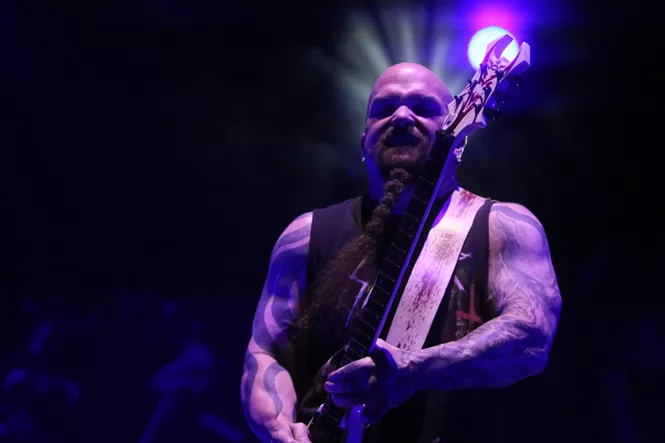 Rachelle Fernandez
Slayer
Another weekend, another successful festival, and another showcase for some of Salt Lake City's best local bands.
City Weekly
's 9th Annual Utah Beer Festival gave area enthusiasts the chance to sample libations from nearly 50 breweries, all while musical standouts Ol' Fashion Depot, Breezeway, The Vitals, Starmy, Rumor Has It, RUST, Lovely Noughts, The Stoddard Brothers and Daverse jammed on the Utah Fair Park's main stage in the middle of the lawn. From jazz to blues to classic rock to folk to reggae to country, every genre was covered and every taste was satisfied. Now it's time to start planning for next year's 10th annual extravaganza…
On Sunday night at Usana Amphitheatre, metal fans from all over Utah convened to commemorate nearly 40 years of aggression.
City Weekly
freelancer Rachelle Fernandez—who
previewed the show
in the Aug. 16 issue—checked in with this report:
"Slayer's End of Days tour—yes, they insist it will be their final one—rolled through Salt Lake like a freight train, leaving one last indelible mark on the Beehive State. As usual, Slayer had perfect timing, picking the holiest of days—Sunday—to shred. Along with fellow hardcore titans Lamb of God, Anthrax, Testament and Napalm Death, Slayer's 'Big Four' put on an unforgettable last performance, taking fans through a Slayer chronicle of sorts while blasting out tunes from
Show No Mercy
,
God Hates Us All
and, of course,
Reign in Blood
. Here's to all the hangovers, headaches and sick days bosses will probably hear about this Monday morning."
What else is on tap this week? If you want to go big again, get back to Usana to and get your '90s on with three headline-worthy acts on Monday, Aug. 20—
Stone Temple Pilots, Bush and The Cult
on The Revolution 3 Tour—while Wednesday, Aug. 22 features alt-metal icons
Rob Zombie and Marilyn Manson
in a Second Coming Tour sure to shock and satisfy on the strength of new cover of The Beatles' "Helter Skelter" (as long as Marilyn can recover from
collapsing onstage
last weekend in Houston).
Looking for something quieter and more intimate? Enjoy the evening cool-off at Red Butte Garden Amphitheatre on Tuesday, Aug. 21 with folk heroes Indigo Girls and compelling chanteuse Lucy Wainwright Roche (
this one's sold out
, but tickets are available on the secondary market). That same night, local garage rockers
The Nods present The Sonosopher
, Alex Caldiero's experimental tone poems about Mormon life, along with a Por Que No Records Showcase, all for free at The Urban Lounge.
Amy Anderson
Bad Bad Hats
And on Thursday, August 23, Midwestern pop gets its time to shine when Minnesota's Bad Bad Hats
headline Kilby Court
with support from Finnish band Cumulus and local rockers The Sardines. Bad Bad Hats' sophomore album
Lightning Round
came out earlier this year to high praise from
Pitchfork
,
The New Yorker
and NPR, with lead singer Kerry Alexander lending her expressive pipes to a raw, gritty record full of emotional vulnerability and snappy synth-rock. Cumulus also has a new record,
Comfort World
, on tap this fall, with Alex Niedzialkowski using confusion, sadness and disease to craft empowering anthems to resilience and self-love. Don't miss the fresh