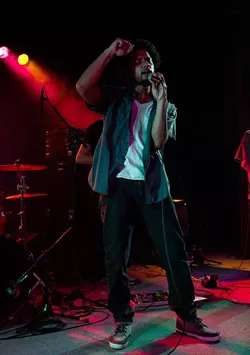 Bronté James, co-leader of one of the best reggae acts to come out of Salt Lake City, Afro Omega, lost his 3-1/2 year battle with cancer last week. According to a message posted last Wednesday by his wife and partner in the band, Elisa James, Bronté passed away at home with his family surrounding him:
"After a valiant 3-1/2 year fight against cancer, Bronté was taken into the hands of God today. I am thankful for the Immunity Therapy Center for trying to save his life, but unfortunately, his disease was too advanced. We made it home last night and Bronté, my dear husband of 19 years, died at 12:45pm. I was holding his hand and his mom the other hand and his son lying next to him. A priest had come to say a prayer delivering him to god and we said amen and that is when he took his last breath. I saw his spirit leave his body. I am heartbroken. Life will never be the same. But I know he is no longer in pain and won't suffer anymore."
Elisa praises her husband as strong and courageous husband, father and family man with a huge heart, who loved his family and friends dearly. A memorial service was held yesterday in Eugene, Ore. where the James family had relocated, but Elisa writes that a memorial in SLC will take place "when we return for the holidays."
A family friend has set up a
GoFundMe page
to receive donations to cover viewing and memorial expenses. "I am so grateful to have seen the outpouring of support for him," Elisa James writes in her Facebook post. "He deserved every bit."
In a statement responding to Afro Omega's nomination for Best Reggae Artist in
City Weekly
's Best of Utah 2016, Bronté James wrote that the band, since forming in 2003, existed to combat "racism, classism, poverty and depression with pure fire mixed with pounding riddims, proper fitness and relentless drive. If you haven't experienced Afro Omega live, the mothership is waiting. Move like light!" When
City Weekly
readers' votes were tabulated, Afro Omega won.
The final three words of Bronté's statement refer to the band's song, "Move Like Light," which is currently streaming on the front page of afroomega.bandcamp.com. In the tune, Bronté sings, "'Cause I'm just one man/ and I've got one plan/ that's to move like light." While the Salt Lake and Eugene music scenes have lost one of their brightest, it is a comfort to know that wherever his essence is, it's free to travel with increased velocity and brilliance.