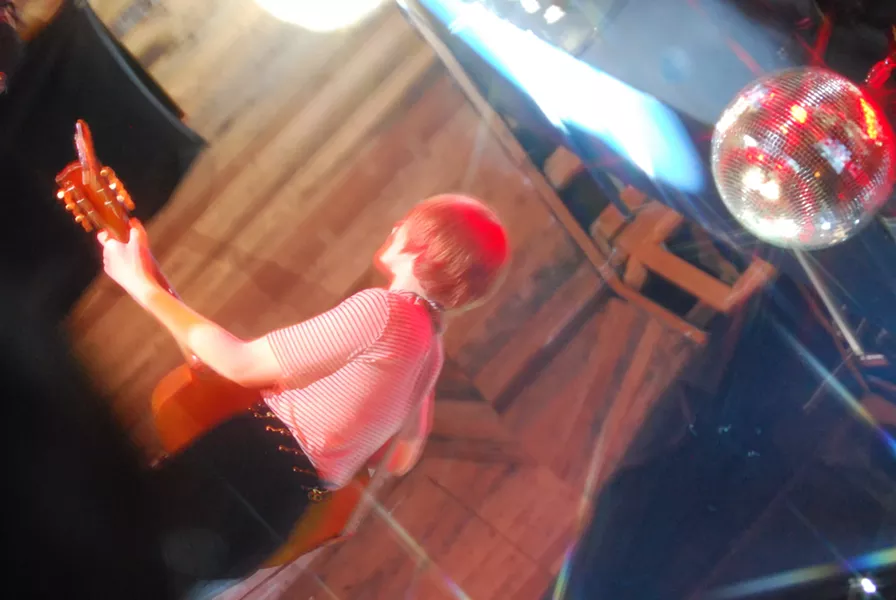 Usually, during South-by-Southwest, you run into scheduling conflicts; there's so much music going on at once. Often, two artists you reallyreallyreally wanna see are playing separate venues in the same time slot, or so close together that you can't get there in time—or you only get to see a few songs by one of them.
I believe it was at SXSW 2009 when I wanted to see Big Al Anderson (of NRBQ) and then-rookie Jessica Lea Mayfield. Fortunately, they were playing at the same venue. Unfortunately, I had a show just before Big Al's set, so I only got to hear a few songs—but it included his scorching take on Johnny Cash's "Get Rhythm," with a rippin' Tele solo. Being a huge Q/Al fan, I of course had to run up to him afterward and be a total fanboy.
When that was over, I saw Mayfield and her producer—The Black Keys' Dan Auerbach—standing against the wall on the side of the stage. Having interviewed Auerbach on the phone a few times, I introduced myself. He introduced me to Mayfield before she went onstage. I was, as many of us were (and still are), mesmerized by her. On and offstage, she seemed as gentle and tough as she sounded on her gauzy-twangy debut
With Blasphemy So Heartfelt
(Polymer, 2008).
I learned more of her beguiling duality a couple of years later when I did an "11 Things You Didn't Know About…" feature on hear for
Blurt
. In it, she dished about having a boxer-lab named for Elliott Smith, liking weak beer (Bud Select 55) and two fingers of Jack Daniels neat, digging rockers Foo Fighters and country oldsters Alabama, not watching TV but loving
Trailer Park Boys
and
Dexter
, being "unrealistically boy crazy" and going to gun shows with her daddy. "I keep a loaded shotgun by my bed, motherfuckers!," she said.
With each new album, her sensitive and tough sides became more enmeshed as she became a little less country and a little more rock 'n' roll. Her latest,
Sorry Is Gone
(ATO), has shoegaze-y rockers and somber ballads and songs that are a bit of both, along with some full-on rockers. They're all about her jettisoning her abusive ex-husband and emerging from the ordeal tougher, but not having her sensitivity in bitterness. Her consistency, resilience, candid heartfelt words and verve remain as enchanting as ever. And, hopefully, inspiring to women who want to leave similar relationships behind them.
The State Room
638 S. State
Feb. 6, 8 p.m.
$15, 21+