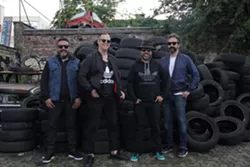 Alejo Sarquisse
Molotov
TUESDAY 11/21
Molotov, Simpson a Huevo
Only a year ago, Mexico's answer to Rage Against the Machine, Molotov, roared into town and destroyed the Rockwell room at The Complex, bathing a rapturous, moshing crowd in the colors of the Mexican flag while leading them in a chorus of "Chingo you/ chinga tú/ chinga tu madre!" If you like your rock 'n' roll cathartic and politically charged, with not one but two bass guitars underscoring the incisive lyrics—check these guys out. They should be much bigger in the States than they are. But if
a return trip to SLC
so soon after their last visit is any indication, it might finally be happening.
The Depot, 400 W. South Temple, 7 p.m., $35 presale, $40 day of show, 21+, depotslc.com

FRIDAY 1/24
Survivor Series V: Endless Waltz
SHOW INFO: http://bit.ly/2B4GIkO
There is so much mystery surrounding this event. The Google calendar listing says only, "Come down to the show and find out! Details coming soon." The Facebook listing bellows, "IT'S THAT STUPID TIME OF YEAR AGAIN. THIS WILL PROBABLY BE THE LAST ONE. SO GET READY…"
Everybody's drummer/sometimes bass player/self-professed possessor of "a beautiful singing voice," Jeremy Devine (Hyrkanian, The Nods, 90s Television, Cool Banana) invited
City Weekly
, saying, "Biggest noise show on the year. I'll be playing in a couple of the bands." Asked to clarify if this is a 12-band noise rock festival, Devine says, "They are all on the spectrum, I guess." The Facebook event page does list the bands in matchups, so there's a competitive element to the show. It also provides snarky, purposely cryptic genre labels for all but one band:
Deborah Downer (shut up, Josh) vs. Weel Byte (nothing listed)
Hyrkanian (metal, metal, metal) vs. Mulng (manspread champs)
Chirp (chirping intensifies) vs. Goop! (sloshing ensues)
Sotanos (no mames, güey) vs. Mutie (mutants wanna have fun)
22A (American styles) vs. Sluird (a little mincing would nice)
Buttweiser (welcome to ass world) vs. Dingus Boys (my ding-a-ling)
When pressed for more information, Devine—who, in fairness, isn't the one who planned or promoted the event—says he thinks the point is to go into this with no expectations. That already sounds like a great time. The Beehive, 666 S. State, 7 p.m., $5 donation, all ages,
http://bit.ly/2B4GIkO


SATURDAY 11/25
Randy Harward
90s Television

Devine Bonus Content: Mo Troper and the Assumptions, Seacats, 90s Television, Static Replica
And now for something a bit more straightforward, but weird enough: Assuming her survives the series, Devine and his buddies in the retro ditty-machine 90s Television are supporting power-pop savant Mo Troper and "rock 'n' roll funny guys" Seacats tonight. These are two acts who, if you aren't already in love with them, will have you smitten from their first songs. Just like you were with 90s Television and Static Replica (aka Joseph Michael Pedersen).
Diabolical Records, 238 S. Edison, 7 p.m., $5 donation, facebook.com/diabolicalSLC
HOLIDAY GIFT TIP: S&S Golden Ticket
If you're looking for something to get the music dork in your life this holiday season, consider the S&S Golden Ticket. Concert promoters and venue owners Sartain & Saunders are offered three different ones for 2018, with proceeds going toward venue improvements.
Audio Club ($60):
One show ticket per month per person, for 12 specific shows (TBA) throughout the year. If you miss a show, tickets carry over to the next month. So if you don't use one in January, you get two tickets to the February show (and so on).
Unlimited Kilby Court Show Tickets ($150):
Buy this and you get one ticket to any Kilby show, all year long, no limit. Plus a Kilby Court t-shirt. Perfect for the all-ages crowd.
Unlimited Urban Lounge/Metro Music Hall Tickets ($250):
Same as the Kilby Court package, but for S&S's two 21+ venues. Also comes with a Rye gift card and an Urban Lounge t-shirt.
These are an incredible value—so long as you don't treat it like a gym membership. So pick some up and get out there and use them! Details
here
.
CW