Ogden Twilight Concert Series
got off to a glorious start last Thursday when The Flaming Lips brought their hyperkinetic psych rock to Ogden Amphitheater. After locals Night Marcher and B|_ank warmed up the large crowd, Wayne Coyne and company brought the freaky flavor: oversized pink and blue balloons, a ton of colorful confetti, outrageous lights and a run through the Lips' best ("Yoshimi Battles the Pink Robots Part 1," "The Yeah Yeah Yeah Song," "Are You a Hypnotist?," a squalling version of "The Star Spangled Banner"). The crowd went wild when frontman Coyne encased himself in a giant clear ball for a cover of David Bowie's "Space Oddity" and toured the crowd atop a glittery unicorn, but the best moment came in the encore when everyone in Ogden swooned over melodramatic closer "Do You Realize??" The Ogden Twilight Concert Series continues on Thursday, June 14 with the danceable jams of Little Dragon, Com Truise and Ugly Boys
The best way to get to Ogden from all Salt Lake Valley points south is UTA's FrontRunner, which deposits eager music fans a block from Historic 25th Street and the strip's smorgasbord of restaurants, bars and clubs. On Wednesday, June 13, lucky commuters can even hear a little free
Jazz @ Union Station
in the Grand Lobby with Mountain Boogaloo. Specializing in late '60s/early '70s soul and jazz, Mountain Boogaloo features Michael Bigelow on sax, Dan Jonas on trumpet, Kenji Aihara on guitar, Ryan Conger on Hammond organ, Stephen Bigelow on drums and Alex Bedoya on congas. This all-ages jam starts at 7 p.m., brought to you by Union Station Foundation and WSU Alumni Jazz.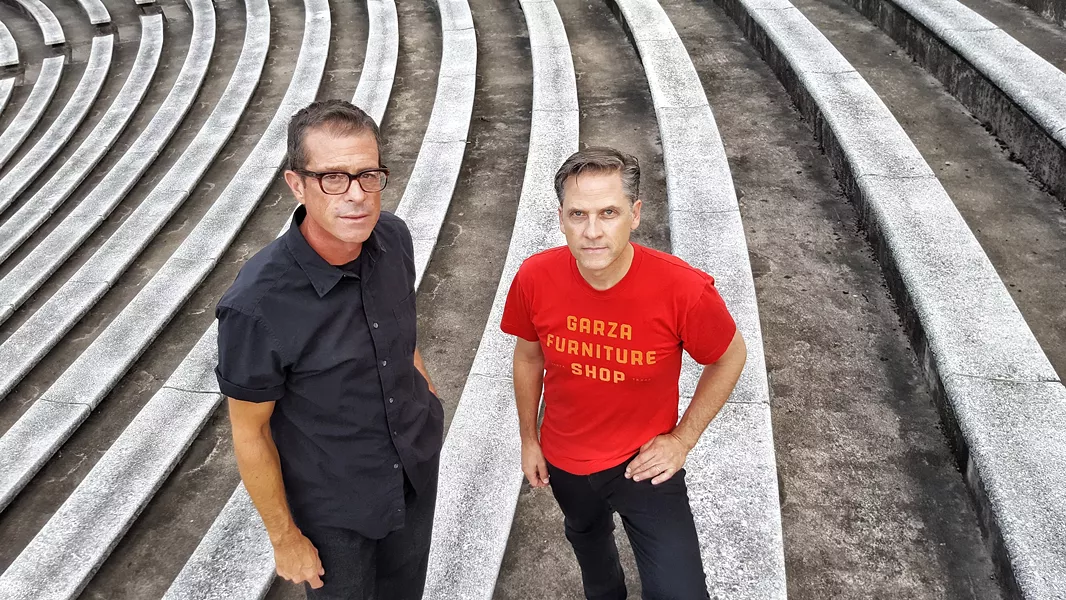 The June 11
Calexico
show at The State Room sold out shortly after tickets went on sale, but fans of the Arizona band's earthy Southwest indie rock rejoiced when the concert was moved to newly opened The Commonwealth Room. Calexico's latest,
The Thread that Keeps Us
, is a compelling meditation on displacement and travel, written and recorded at lead singer John Burns and drummer John Convertino's Northern California "phantom ship" home studio. Arrive early for opener Julia Jacklin, who brings a jagged, introspective take on alt-country all the way over from Australia.
Rain Two Ways:
Pick your rainy poison on Tuesday, June 12: Colorado bluegrass-pop band
Thunder and Rain
at Rye (get there early for a table and dinner), or scorching psych-blues right next door at The Urban Lounge with
Howlin' Rain
. Perhaps the two will combine for an impromptu downpour?
The
Fourth Annual Utah Blues Festival
kicks off at The State Room on Friday, June 15 with a warm-up show featuring Christone "Kingfish" Ingram and Danielle Nicole. The main event runs the following night at Gallivan Center with a focus on female-led shredders and singers: Ana Popovic, Shemekia Copeland, and Sarah DeGraw mixed in with Rick Estrin & The Nightcats, Tony Holiday, Ingram, Nicole, and the Utah Blues Society's Youth Blues Showcase.
Love
The Late Show with Stephen Colbert
? Then you probably love Stephen's on-air bandleader,
Jon Batiste
. The 31-year-old prodigy does more than just soundtrack key TV moments, however—growing up in New Orleans with other long-standing jazz families like Marsalis and Harrison, Batiste has built his chops to near epic proportions. Celebrate 25 years of the Gallivan Center with this free concert featuring Batiste, Phillip Kuehn and His Orchestra, and other Utah jazz luminaries June 15 at 7 p.m.
Finally, the arena show of the week finds pop savant
Kesha
teaming up with rapper
Macklemore
to headline USANA Amphitheatre on Saturday, June 16. Supporting their respective 2017 albums—Kesha's masterful
Rainbow
and Macklemore's
Gemini
—the high-flying duo also has something to say: Kesha recently started supporting United We Dream, the largest non-profit supporting immigrant youth in the US, while Macklemore made waves in 2012 for "Same Love," which supports same-sex marriage. Dude caught flack then for being a straight white dude singing about the importance of equality diversity, and again last year for performing it in Australia ahead of that country's non-binding vote on the topic, but he's sincere about his beliefs. And any chance we get to hear Kesha's fierce "Praying," written about her harrowing time operating under Dr. Luke's abusive thumb, is a good one.