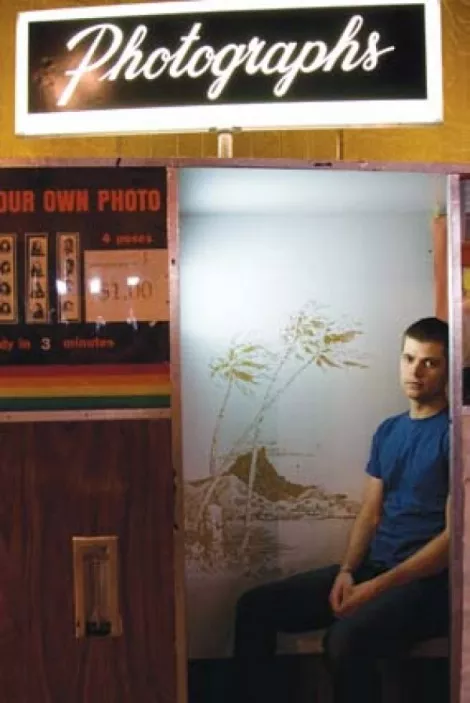 Time flies when you mix things up. Just last year
Marcus Bently
was recognized around Utah as a rising Americana/folk musician making waves with his backing band, The Beat Surrender. They released an EP—the first in a projected series—and established a cult following based largely in Provo's vibrant all-ages scene. The future looked bright. Things were moving forward. Then, just like that, Bently did a complete 180: He went electronic.
Of course, unlike Bob Dylan plugging in or Liz Phair selling out, Bently's transformation didn't shock or offend audiences so much as surprise longtime followers of his roots-rock groove. And the shift didn't exactly come out of nowhere. As a young boy growing up with a hip older sister, Bently spent plenty of years sitting in her bedroom listening to new-wave and dance records by Dead or Alive, Duran Duran, Psychedelic Furs, Echo & the Bunnymen and New Order. "So I liked that kind of music, but I didn't really know a lot about the dance culture or even DJ culture." Not, that is, until he met Kaskade, a San Francisco-based DJ and one-time Utah transplant whose brief Salt Lake City residence included a stint at house-music authority Mechanized Records. Producer Finn Bjarnson brought together the two artists and—though most DJs tend to rely on female powerhouse singers to spice up their works—suggested Bently lay down vocals on one of Kaskade's mixes.
The DJ was a bit skeptical; the producer optimistic. Bently, well, he was just excited that "they were probably going to pay me 200 bucks." Three years ago, Bently left a secure day job working at his father's car battery shop to pursue music full-time. And, as exotic as it sounds to possibly achieve global success with a popular DJ, making rent is one hell of a practical perk.
"I'm just barely to where I can kind of support myself. It's been a struggle," he says.
If the results of the Kaskade collaboration are any indication, Bently won't have to struggle for long. After the initial studio session proved successful, the two artists teamed up again with Bjarnson to produce an album under Bently's name. Just so happens, Sundance Film Festival organizers had recently invited him to perform as part of the ASCAP Music Café. It seemed the perfect time to debut his new sound—and the rushed deadline helped speed things along.
By December, Bently had recorded only a loose framework of songs. If not for Sundance looming, he might have spent another year working on the transitional release. Instead, Bently rallied Kaskade and Bjarnson, tightened up existing material and even wrote a new song during a sleep-deprived, five-day studio sprint.
The resulting EP is not at all rushed, though, but rather as its name suggests: a seamless dash across a frostbitten digital landscape. Snow Covered Morning opens like a slow thaw, with Bently's warm, textured baritone draping over the title track's crackling-icicle transmission. "Let's Begin"—the original and extended edit—follows, with consistent throbbing beats and rhythms rising under the explosive chorus/climax. It doesn't sound much like anything Bently ever produced with the Beat Surrender, but the two projects share more in common than you might suspect.
"Both of them are just me, messing around on my computer, really," he says, adding that the instrumentation is quite different and pulling off new electronic material live is somewhat more challenging than just calling up the Beat Surrender. At the ASCAP Music Café gig, Bently flew by the seat of his pants, with a laptop and Branden Campbell for double guitar duty. Once again, the experiment worked. ASCAP organizers and industry types took notice, inviting Bently to a DIY music conference in Los Angeles where he learned, "It really is all about who you know."
Bently returned from the trip neither star-struck nor jaded, but with an outlook that should help him reach the next level without much strife.
"I can't say that it turned me on or turned me off," he says, adding that right now he's focused on booking a European tour with drummer Cameron Runyon and DJ Kid Plastik. "I've committed myself to playing music. It's pretty much what I do best and so it's just about trying to make a living, really," he says. "My experiences are pretty wide. I don't just kind of sing and play the guitar. I like to do that, but I do other things as well."
MARCUS BENTLY w/RuRu and Colby Stead @ Velour, 135 N. University Ave., Provo, Friday June 6. VelourLive.com