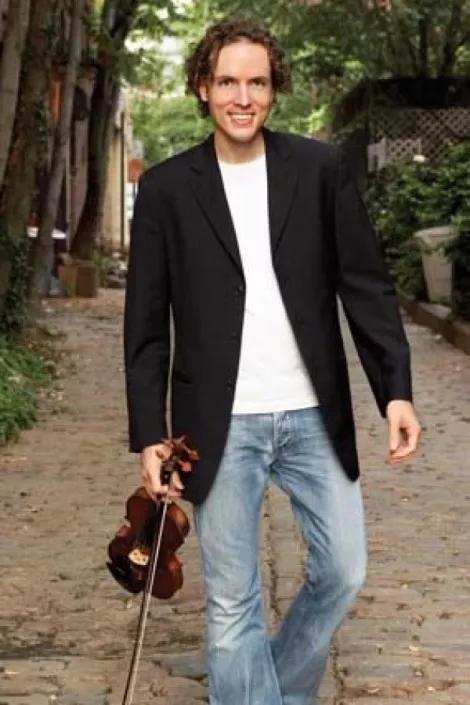 There is a commonly held perception when it comes to the world of classical music: The atmosphere is stuffy and, as a result, audiences are rapidly disappearing. In short, everything classical is too oft considered old and tired, tired and old and—of course—who else but the analogous would appreciate that aging trend?
The thing is, this perception is false. Certainly, people get stuck in their insulated universes and that surely rings true within classical circles. But there seems to be a new crop of young musicians venturing out boldly into the wide, wide world, refusing to settle for that long-accepted restrictive norm. To put it bluntly, young musicians like violinist Tim Fain seem hellbent on flipping that stodgy classical world on its head, if for no other reason than pure survival.
Although the classically good-looking Fain has been working with the Moab Music Festival for a number of years now—including experiencing the adventuresome four-day river trips for donors and playing private concerts for the likes of Governor Jon Huntsman Jr. and his family—his upcoming visit to Utah for the Virtuoso Series at the University of Utah's Libby Gardner Concert Hall will be the first time he has spent any significant time in Salt Lake City proper.
"I love the Southwest landscapes, especially the large, desolate deserts," says Fain. "For some reason, the region really speaks to me, energizes me, and I'm really looking forward to being back out there."
According to Fain, it's fun to break out and try to find this great place where you are just making good music, a place where you're not forced to wear just one stodgy hat. That attitude is one reason why you will never find Fain sporting a tuxedo—a small yet personally indispensable effort to break that stuffy classical mold. Yet another way? Seeking out new and perhaps edgy contemporary composers.
"I love the fact that I'm working so much with Philip Glass now," says Fain. "I also like the innovativeness of composers like Kevin Puts and Mark O'Connor. Right now, I'm playing Puts' Arches piece that is amazingly emotive and combines a classical sound with the likes of Appalachian fiddling. Contrast that with O'Connor—his piece is pretty unusual. It's almost like he writes power chords for the violin. He writes very driven and darkly; it's like classical meets rock, even metal at times."
One of the main reasons Fain chooses to collaborate with such pioneering contemporary composers is that he gets to work one-on-one with each artist, feeding off the aesthetics and energies of the creation process itself. As Fain puts it, "It really is difficult to channel the spirit of a 300-year-old composer. Sure you can try, and believe me, I have, but so much time has passed that really you're reliant on the power within the music alone."
That's not to say Fain cannot and will not nail the complex shading of a Samuel Barber violin concerto. Fain's hope is to juxtapose the new with the old, hopefully to make the newer pieces more approachable and friendly in the context of something like Johann Sebastian Bach—pieces that have been in the rep for so many years.
"Then, there are a lot of people who love music but just might be put off or afraid of classical because of various stigmas," says Fain. "When you're working with some really great musicians—pop, jazz, classical—it almost doesn't even matter what kind of music you're playing. I feel like I've always been able to really keep my feet on the ground and stand and float in these different styles. I really have enjoyed that when I come back to my more classical performances, I feel like I bring a little bit more of that approachable quality and sort of fun vibe with me."
That, in short, is Fain's key to keeping things interesting—hopefully for both him and his audiences. If he can break down that barrier—that fear and those preconceptions that abound about the classical world—even just a little bit, he'll be a very happy musician. Not to mention one that will assuredly have a more youthful audience for years to come—something unquestionably intrinsic to his survival.
TIM FAIN Virtuoso Series @ U of U Libby Gardner Hall, 1375 E. Presidents Circle, Thursday April 24, 7:30 p.m., 581-6762