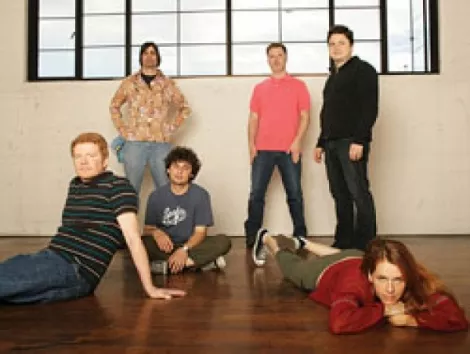 The New Pornographers
would have called it quits if it weren't for a clothing store. It was back in the late '90s. The Canadian group hadn't even played a show. It was just a loose-knit collective that mastermind Carl Newman had cobbled together to bang out his bubbly songs. But everyone knew the band was good—really good. It was right there on the demos: tight, stacked vocals, piled Beach Boy-style right-on-top-of-pop hooks so energetic they could jump-start a car.
But no one cared. Every record label they sent the demo to turned them down. Even friends like the Dambuilders' Eric Masunaga, who had the small imprint Sealed Fate at the time, didn't bother to call back with the bad news. It was looking hopeless. Original drummer Fisher Rose left. Singer Neko Case moved to Chicago to start a solo career. The New Pornographers were all but dead until The Good Jacket, a Vancouver, British Columbia, clothing store, decided to put out a compilation.
"That's what did it for us," bassist John Collins says. "It's so funny to think about it now but, once we got on that soundtrack, people started to notice us."
It's not surprising, actually. The track, "Letter From an Occupant," one of the group's first songs to feature Case front and center, dares you to turn away. Vancouver lost that dare. The group made its official debut right inside the store, packing 150 soon-to-be loyalists between the racks of shirts and stacks of jeans. Buzz about the band quickly bubbled. Soon after came the record execs, the deal with Matador and the release of the group's 2000 debut
Mass Romantic.
The words "brilliant" and "chanteuse"—the latter always referencing Case and usually covered in drool—quickly followed.
"It was all really weird then," Collins remembers. "Part of the original issue labels had with us was that we were doing something that was hard to nail down. We had bizarre song structures and lots of people singing, and it sounded old and odd. I totally can see someone at a label listening to those demos and saying, 'This is good, but I don't know what to do with it.'"
No one seems to have that problem now. Four albums in, The New Pornographers are an indie institution. The mere mention of the group forces most record geeks to go take a private moment—which is totally understandable. Each of the octet's albums, from
Mass Romantic
to
Twin Cinema
, are so fun they have the ability to cause involuntary messes. Heck, single songs are deceptively innocent. Like the title track to 2002's
Electric Version
. That song alone is perkier than a band of rogue cheerleaders, Case and Newman's voices catapulting each other into the stratosphere. Or "The Jessica Numbers" from
Twin Cinema
, which manages to be both snarling and soothing at the same time, harmonies lulling you into a sense of safety until the guitars jump out and make you flinch. Even one of the band's more somber ballads, like
Twin Cinema
's "The Bleeding Heart Show" still has enough shimmer to spark its own hunk of summer.
Which is what makes the Pornographers latest
Challengers
(Matador) so interesting. The band's most somber record to date—"We were trying to get a sort of American Gothic feel to it," Collins says—it hides joy inside a minor chord. The result: Songs like opener "My Right Versus Yours" haunt themselves. Harmonies are stacked higher than ever before. Voices are as likely to be whispered from the corners as they are to be belted from the front row. And, when they're set atop an already eerie bed of guitars, like on the album's hushed title track, it can make your hairs stand up. It also makes more classic Pornographers songs—the conversation duet "Myriad Harbor," the spastic "All Things That Go to Make Heaven and Earth"—feel like refuges from all that creepiness.
"Some of the songs on this album have a wild edge like the first album, and some are more ominous," Collins says. "We really just tried to take the best of what we've done to date and make a cohesive record out of it. We really wanted to play to our strengths."
Which is all the band has ever done—right from the start. It's the reason more than a few record execs are kicking themselves eight years later for ignoring their potential. "I'm still amazed listening to those demos, how everything was right there," Collins says. "I don't know how people could have missed it. But, I guess we got our revenge."
And then some.
THE NEW PORNOGRAPHERS @ The Depot, 400 W. South Temple, Tuesday, Sept. 25, 7 p.m. DepotSLC.com
cw