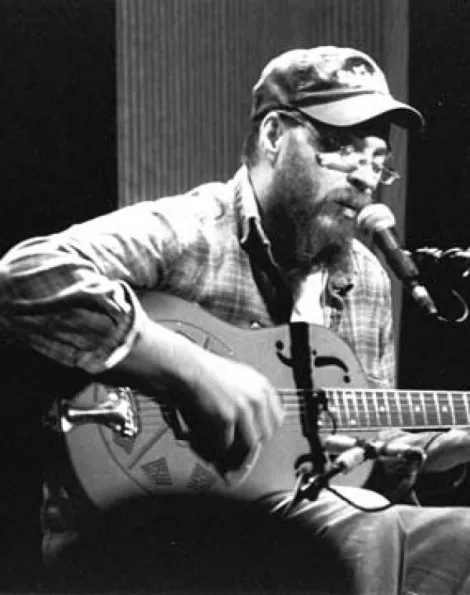 A simple guitar riff slides from
Charlie Parr
's National guitar, providing a soundtrack to one family's story—warm and worn like an old tattered quilt.
"When I grew up, my Dad, he really, really liked to listen to all those old Smithsonian Folkways records," Parr says, referring to the seminal roots field recordings by Alan Lomax. "Back in the '20s and '30s, when my Dad was growing up, music was something you bought in the furniture stores. There weren't any real categories for it. Categories were invented by radio later on."
Many have attempted to describe Parr's sound and so far the only consensus is "authentic." "I listen to a lot of stuff from the '20s: Charlie Patton and Blind Yellow Jefferson, Charlie Pool and fellows like that," he says. "I listen to some contemporary stuff too but it's usually guys like Jack Rose who are also really influenced by the old stuff."
Charlie was 8 years old when he first picked up the guitar. Heavily influenced by a banjo player living next door, he naturally wanted to play like him but didn't have a banjo. "The style that he did, and the style that I do, is an older style called 'parlor-style' or finger-style banjo," he says. "It's kind of where frailing and three-finger and all that kind of stuff meet in one weird style. You don't hear a lot of it anymore. "
You might call Parr a "singer-songwriter," though the label isn't entirely accurate.
"Sometimes I don't feel like I fit very well in that category. I feel like I write songs [but] I don't really know the workings behind it. If anybody asked me how to sit down and write a song I'd never be able to tell them anything about it."
"I got an e-mail this morning asking for my lyrics and I don't write down lyrics. I e-mailed them back and said, 'I'm sorry, I don't keep anything written down.' It's really hard for me to separate the words from the music. It's a package. It happens when it happens," he says.
Parr isn't sure he's qualified to confirm the growing popularity of folk, Mississippi blues and old-time music since he's always been so involved. He can only say he's been having good luck with shows. "There are a lot of bands up in Duluth and around Minneapolis that are string bands. That's a good sign to me. I get to play on bills with acoustic musicians, for a little while anyway, while people are still interested in it."
He will get that chance again when he shares the bill with Maybelle's Music Box.
The Snow College music department is where bass and strings education majors Jill Christensen (bass) and Lacy Johnson (fiddle) first met while playing in a bluegrass band that eventually split. The two began their own band adding flute major Libby Taylor (mandolin).
"She doesn't even play [the flute] in the band, a fat lot of good a college education is doing," said band spokeswoman Katherine McCracken, a mouthy opera singer/guitar player who joined the band after Taylor.
During a phone interview, the other band members can be heard in the background. They are traveling back from the second annual Big Sky Grass Festival. All of their favorites were there, except one: "Chris Thile is the most progressive right now, so we are listening to all the new stuff that he's doing but, at the same time, we are trying to take in all the old stuff like Bill Monroe and Flatt and Scruggs."
"Libby is from Kentucky, so Libby can sing bluegrass like there's no tomorrow." But, all four girls swap vocal parts weaving together that signature bluegrass harmony.
"Just being a new band, we have a lot to figure out about the mechanics of bluegrass. So, right now we are just relearning all the basics. You have to try and make it just as good and make it new and fresh and something that everybody can connect with and that they'll relate to."
Their MySpace hit list of original drinking tunes, songs of gospel recovery and creative interpretations of rock are just the beginning. Maybelle's Music Box is standing at the edge of bluegrass music and the journey to the center is a long one, but their enthusiasm has got me betting on their making it.
CHARLIE PARR w/ Maybelle's Music Box @ Outer Rim, 966 S. Redwood, Wednesday March 12, 8 p.m.