Thursday 6.19
THE BOWMANS
Anitfolk is a misleading term for The Bowmans' sweet-and-low-down sound. Antifolk is the label Billy Bragg once coined for his acoustic-punk stew, and the New York City strain typically refers to oddball singer/songwriters who for various reasons strive to distance themselves from archetypal '60s folk heroes. The Bowmans do not sound like Beck or Kimya Dawson (see Juno) and their debut album Far From Home (Mother West) isn't punk, per se. In fact, Claire and Sarah deftly weave traditional and contemporary folk, roots-rock and Americana together with layers of old-time and jazz accents supporting powerful harmonies that often bleed into one voice. A fine example of nature and nurture, The Bowmans' effortless grasp of multiple instruments and playful, down-to-earth delivery reflect a lifetime of honing inherent skill. Whatever you call them, The Bowmans will likely win you over in no time flat with their approachable, conversational style. Addicted Cafe, 511 W. 200 South, 8 p.m. All-ages. Info: 533-1453
• Also Thursday: Mad Caddies, Supervillians (Urban Lounge); Monte Negro, Luna Halo (Kilby Court); Wayne The Train Hancock (Bar Deluxe); No Quarter (Harry O's, Park City)
Friday 6.20
COREY CHRISTIANSEN QUARTET
Excellence in the Community concert series continues to spotlight homegrown talent with the Corey Christiansen Quartet. Band leader Christiansen, son of Utah State University music professor Mike Christiansen, is a consummate jazz musician who gets the most amazing tone out of his guitar. Onstage, the local artist gets lost in his craft, cradling one gorgeous instrument after the next and wincing over every heartbreaking note. It might sound a bit outlandish, but fear not: Corey Christiansen is passionate, but he's also one cool customer who puts the listener at ease on both his debut album Awakening and live concert DVD. Lock into a solid groove, tonight. Emma Eccles Jones Conservatory, Westminster College, 1840 S. 1300 East, 7:30 p.m. All-ages. Tickets: 832 2457
• Also Friday: Ask The Dust, Mean Molly's Trio, All Time Ending (Broken Record); That Guy Gil Anniversary Party (Hotel); Ask The Dust, Mean Molly's Trio, All Time Ending (Broken Record); Starmy, Purr Bats, Furs (Urban Lounge); Pink Lightnin' (Monk's); Royal Bliss, Melodramus (Club Vegas)
Saturday 6.21
Jahnre Tour Send-Off (Kilby Court); Rock Plaza Central, Cub Country, Go Figure (Urban Lounge); Micheal Dean Damron, Kleveland (Heavy Metal Shop, Bar Deluxe—Read Article); Utah MetalFest (Club Vegas); De La Soul (Harry O's, Park City); Giant Panda (Uprok)
Sunday 6.22
WEINLAND
Weinland is the antithesis of emo. Where skinny-jeaned faux-punks whine about heartache, Weinland picks up the pieces and assembles a dignified log of grief. The Portland, Ore. Americana band's debut La Lamentor is a humble catalog of loss, hope and tough love delivered as both a blessing and benediction. "I'll help you get what you need, and let you go," John Shearer sings on the title track, his voice bearing the weight of the world. Each of the album's songs waltzes along the brink of tears, an understandable state given their inspiration. Shearer wrote much of La Lamentor in response to his experiences working at a juvenile mental health facility, an experience that must have crushed holes in his soul. It's heavy and haunting, but in a sturdy, encouraging manner. This is the group's second trip through Utah in three months. Don't miss this second chance to see them live. The Urban Lounge, 241 S. 500 East, 10 p.m.
Monday 6.23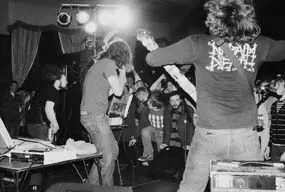 WOLF EYES
You either love or hate Wolf Eyes. Maybe you want to love the experimental noise band because they're the antithesis of easy listening (one man's Kenny G is another man's Wolf Eyes), but the screeching, hissing, scratching, banging, ringing and thumping translate as a quandary only earplugs can solve. It helps to see Wolf Eyes live, watching group members dance around myriad cords, buttons and knobs to manipulate electronic devises, organic instruments and assorted homemade objects. It's absolutely explosive. Wolf Eyes has been kicking out the distorted industrial jams for more than a decade, so clearly folks need this type of trailblazing, kick-in-the-head art. Join in the madness and get there early—Salt Lake City's Ryan Fedor opens with his labor of love electronic project 1h86335, along with Tenants of Balthazar's Castle. The Urban Lounge, 241 S. 500 East, 10 p.m. Tickets: ArtTix.org.
• Also Monday: The Devil Makes Three (Burt's Tiki Lounge); Flowers Forever (Kilby Court)
Tuesday 6.24
Imaad Wasif with Two Part Beast, RTX (Urban Lounge—Read Article); Bob Weir & Rat Dog, Gov't Mule (The Depot)
Wednesday 6.25
MARK KNOPFLER
Mark Knopfler's career dates back to simpler times, when MTV prized music videos over reality shows and a band like Dire Straits could capture the world's attention with one reluctantly released gem. "Money for Nothing" debuted on MTV in 1985, and the catchy, if controversial hit continues to dominate classic rock airwaves, along with a number of other Strait singles. Knopfler's solo career has produced similarly infectious material fueled by the singer/guitarist's low, raspy delivery. And while some longtime fans pan his recent efforts as lazy and predictable, they're in the minority. Knoplfer might not take tremendous risks, but when you've hit on something this good is sweeping change all that critical? Besides, slow and steady wins the race. Don't miss tonight's performance featuring oldies and new numbers of Knopfler's 2007 release, Kill To Get Crimson. Abravanel Hall, 123 S. West Temple, 7:30 p.m. Tickets: ArtTix.org.
• Also Wednesday: Vile Blue Shades, Glinting Gems, The Shortcuts (Broken Record); DJ Camilo (Bliss); Accessory (Club Vegas)
Coming Up
Faun Fables, Purr Bats (Kilby Court, June 26); Hillbilly Cats (Bar Deluxe, June 26); Utah Arts Festival (Library Square, June 26-28); Red Bennies CD Release (Urban Lounge, June 27); Too Slim & The Taildraggers (Burt's Tiki Lounge, June 27); Vans Warped Tour (Utah State Fairgrounds, June 28); Mushman CD Release (Slowtrain, June 28); Chop Tops (Bar Deluxe, June 29); Snoop Dogg, 311 (Usana Amphitheatre, June 30)