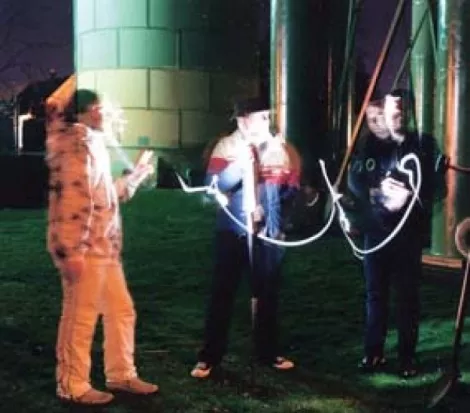 Thursday 9.25
JEFF HANSON
Like Death Vessel, a similarly gifted indie folk/pop artist with an unusual falsetto,
Jeff Hanson
deftly transcends the novelty of his high-pitched voice. He makes good music. Damned good music—period. Both artists are the proud parents of new full-length albums, but only Hanson is coming to town. Don't miss the opportunity to experience
Madam Owl
up close and personal. The Kill Rock Stars release is a pleasant surprise and tapestry of orchestral strings, upbeat banjo, meticulous acoustic guitar, a heartbreaking horn section and softly brushed drums, fastened together quite beautifully by Hanson's captivating delivery.
Kilby Court, 741 S. 330 West, 7:30 p.m. Tickets: 24Tix.com (with Southerly and James Belliston)
• Also Thursday: Children of Bodom (Great Saltair); Gigi Love (Sky Lodge, Park City); David Allen Coe, Michael Dean Damron & Thee Loyal Bastards (Bar Deluxe); DJ Roc Raida, DJ Rectangle (Hotel); TSOL (Burt's Tiki Lounge); Mystical Spatula (Urban Lounge)
Friday 9.26
Lagwagon, MXPX (In the Venue); Dr. Dog (Urban Lounge); Deadbolt (Bar Deluxe); Danger Hailstorm, Tolchock Trio (Trapp Door); JJ Grey & Mofro (Harry O's, Park City); Sego Fest (Downtown Provo—see Music)
Saturday 9.27
CARCRASHLANDER
"Gold Sunset," off CarCrashLander's self-titled debut, is in many respects the sound of taking off, taking flight and floating outside the ozone. The adventure starts out well enough, with warm, lush piano, vibes and horns propelling a dreamlike cruise above the ozone. Halfway through the opening track, things take a melancholy turn. Crash! Suddenly the passengers of this extraterrestrial cruise are plunged into darkness, separated by vast, unexplored territory. "This isn't a coma. You're wide awake," the haunting vocals repeat over blistering electronic noise. Remaining tracks are equally heavy, exploring not just outer space effects but also the space between each essential chord. CarCrashLander's Cory Gray might be best known as a former member of Desert City Soundtrack and backing player in Norfolk & Western/The Decemberists, but you'd be wise to keep appraised of his personal project. New album Mountains On Our Backs traverses even groovier terrain. Slowtrain, 221 E. Broadway, 9 p.m. All-ages. Info: 364-2611

JAMES SHOOK CD RELEASE
James Shook is a longtime fixture on Salt Lake City's reggae scene, perhaps most recognizable for his role in the formidable dub rhythm section behind Afro Omega, One Punch and Dub Shack Band. When he's not backing artists like Miss Omega (who recently returned from a brief hiatus and is busy polishing the band's next full-length release), Shook fronts a solo project that reveals a set of pipes reminiscent of Steel Pulse's David Hinds. His new LP Rising is super chill but also incredibly tight—a credit to a group that works overtime and never breaks a sweat. Bar Deluxe, 666 S. State, 10 p.m. Info: 521-5255

• Also Saturday: Paul Jacobsen CD Release (Post Theatre--See Music); Utah Phillips Tribute (U of U Fine Arts Auditorium); Melissa Pace Tanner (Grand Theatre); X96 Big Ass Show (Usana Amphitheatre); Music to Clean Your Ears Out Festival (Gallivan Center); Ming & Ping (In the Venue); August Burns Red, Greeley Estates (Studio 600); Gavin DeGraw (Murray Theater); Night of The Pharoahs (Great Saltair); NineTail (Club Vegas)

Sunday 9.28
NIGHT OF THE IMMORTALS
Created for the scene, by the scene, Salt Lake City's annual Dark Arts Festival celebrates the underground community of gothic, industrial, punk and electronic musicians, visual artists, dancers and unique spirits who stand tall—and fashionably—against mainstream mediocrity. But this cherished event isn't cheap, and as a nonprofit organization, the Dark Arts Foundation needs all the support it can get. Tonight, pony up the funds for a good cause and enjoy performances by darkwave sensations Cruxshadows, industrial/electronic groups Ayria and I:Scintilla, plus gothic belly-dancing troupe Obscure Mudra, an art gallery and costume contest. Proceeds benefit DAF 2009. Area 51, 451 S. 400 West, 6 p.m. Info: DarkArtsFestival.com

• Also Sunday: Sigur Ros (Great Saltair); Stephen Kellogg & The Sixers (Urban Lounge)

Monday 9.29
BLUESAPALOOZA
Gluttony might be one of the seven deadly sins, but come on—does it really belong in the company of murder? How about we bend the rules a little for Bluesapalooza? The annual orgy of all-you-can-eat BBQ and more music than any sane person can handle. Tonight's the perfect time to go nuts, though, with performances by local blues artists Roby and Ritchie Kap, The Ides of Soul featuring Joe McQueen, Shades of Gray featuring Jesse Luckett, and The Legendary Porch Founders featuring Korene Greenwood and independent radio man Bad Brad Wheeler. He'll also be broadcasting live between bites of cornbread and ribs to help generate funds for KRCL 90.9. Pat's Barbecue, 155 W. Commonwealth, 7 p.m. All-ages. Info: 484-5963

• Also Monday: High Places, Ponytail (Kilby Court—see Music); The Bop Kings (Burt's Tiki Lounge)

Tuesday 9.30
Why? (Kilby Court early show, Urban Lounge late show); Bart Davenport (Urban Lounge—see Music); Bermondsey Joyriders (Burt's Tiki Lounge); Robert Cray Band (The Depot)

Wednesday 10.1
Hyper Crush (W Lounge); The StranGerz (Urban Lounge); Tesla (The Depot); Passafire (Star Bar, Park City)

Coming Up
TaughtMe CD Release (Velour, Oct. 2); Cold War Kids (In the Venue, Oct. 2); Margot & The Nuclear So & Sos (Kilby Court, Oct. 3); Reverend Horton Heat (Great Saltair, Oct. 3); Silver Jews, Monotonix (Urban Lounge, Oct. 4); Nikka Costa (In the Venue, Oct. 6); We Are Wolves, Tragic Black (Urban Lounge, Oct. 6); A Place To Bury Strangers (Urban Lounge, Oct. 7); Neva Dinova (Kilby Court, Oct. 8)