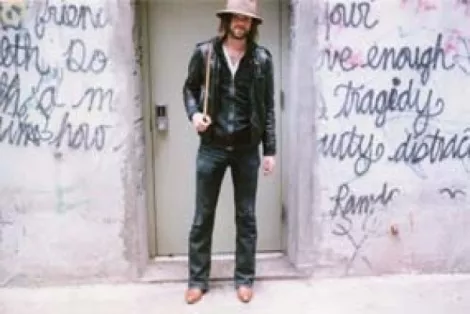 Considering the lush Bowie/T. Rex glam of
David Vandervelde
's debut LP
The Moonstation House Band
, his follow-up is a surprise. The cover photo, showing the 20-something musician in a bedroom with James Taylor hair in the soft morning light—and the dulcet tones of lead track "I Will Be Fine"—scream "soft rock sounds of the '70s." It seems a musical left turn for the burgeoning singer-songwriter and his Moonstation House Band, going from Major Tom in a Jeepster to Fleetwood Mac in a convertible, placidly cruising the Pacific Coast Highway. Except the through-line is Vandervelde's introspective, candid songwriting and melodic sixth sense which, while couched in a new context, are as clear and present as ever.
City Weekly: Did you know you were creating audio Xanax with "I Will Be Fine"? Seems like a guy could ditch antidepressants and therapy bills by just using the song as a personal mantra.
David Vandervelde: Yeah, man. Music therapy! It's just anti-stress, you know? Just bein' mellow. [Affects hippie voice] "It's like, no matter what, maaan … it's cool!" [laughs] That song, lyrically, how it fits into the album with some of the other songs, is maybe a search for hope—total reassurance, [considering] how fucked up our country is right now.
CW: So, on the first record, you folded Bowie glam into indie rock. Now you've done the same with soft rock—but it's not a "thing."
DV: It puts me in a difficult spot, with a lot of that. Those are definitely the records that I'm into, and I'm not tryin' to hide it or say I'm doing something incredibly new. But to have two records come out, and both of them—you know. I'm a pretty traditional rock songwriter. I just write songs, and I think they can come across in so many different ways. A lot of that has to do with the production that I'm into and the overall vibe that I wanna create. It's not like I intentionally did some throwback record. They're all my tunes [and I] definitely put my own spin on things.
CW: Well, Moonstation was great, but Sunrise will establish you as a songwriter.
DV: Awesome, man! That's pretty encouraging to hear. This record, I think, has a lot of people talking and thinking; they have a lot of different views. I really don't read a lot of [my press]. It's not gonna change what I do or where I'm at. But the most annoying thing that I've seen is like, "David's just always flip-flopped what he's into from the '70s—and now he's this dude." That's just an easy way to review something without really listening to it, or researching who I am as a songwriter. So I'm glad you said that, because some people really get it, and some choose not to.
CW: There's a Fleetwood Mac thing, Rumours-era, going on here: strong pop songwriting with subtle experimentalism.
DV: Yeah, [Moonstation] is totally filled with weird studio trickery, the tape being pitched all over the place. With this record, I focused on vocal sounds a lot. And drums. The drum sounds are pretty key to the record. I got really into this super dead, simple, dry, in-your-face drum sound, as opposed to more of a washed-out, reverby room sound. I just checked all the mics and we just kinda went for it, all in the same room, except for Derek in a dead room with the drums. When mixing it, we did a lot of triggered drums, early-'80s drum samples and drum machines underneath the actual drums, mixing in a dead, thumpy, '80s-sounding snare under the real one on "I Will Be Fine," "Someone Like You." "Old Turns" is a drum machine, this old late-'70s Lynn drum machine.
CW: So to play devil's advocate, you've done '60s and '70s stuff, glam and soft rock—is a butt rock album coming forthwith?
DV: [laughs] Well, actually, you're not too far off. I've already been working on the third record and it's definitely more … kinda what you said. [laughs]. There [are] a couple songs that I play live that haven't made it on records yet and … I don't know. I think I'm kinda goin' for a super rocker for the third record.
CW: Could I be so bold as to suggest an amped-up anthemic version of "I Will Be Fine" called "I Will Be Alrite Tonite"?
DV: Hell yeah!
DAVID VANDERVELDE w/ MARGOT & THE NUCLEAR SO & SOS @ Kilby Court, 741 S. 330 West, Friday Oct. 3, 7 p.m. KilbyCourt.com