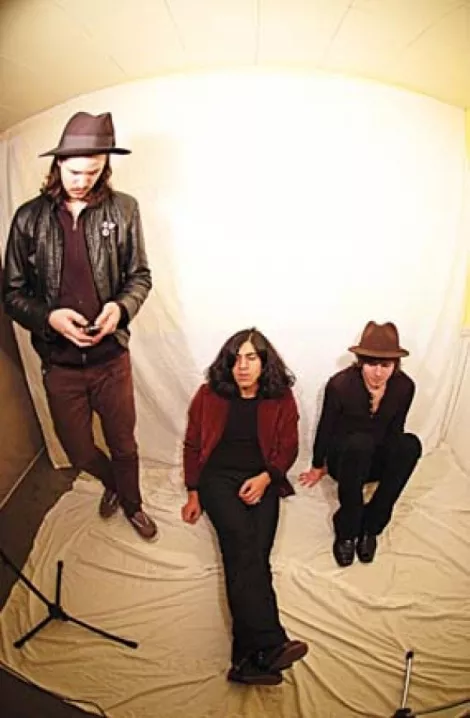 You might say Bryan Mink is a dreamer, but deep down, he's a realist—almost to a fault. The local 20-something musician's output is playful, but his approach to songwriting has always been rather serious, even a little uptight. For a while there, Mink was a bundle of nerves. Six months ago, he confided, "I assume the worst in every situation. That way I'm never disappointed—or bored."
At the time, his band the Furs was flickering in and out of existence. One founding member broke away from the group, leaving Mink with a partially finished album locked in a computer he couldn't access and a ramshackle crew that didn't quite share his unwavering aesthetic. The musicians who did stick around became almost hired guns, joining Mink as backing band for Mike Gonzalez's then fledgling project The Come Down. Gonzalez and Mink basically swapped singer/songwriter duties while the other guys played along. This went on for months before they realized they were going nowhere.
"We decided, 'Man, we're not getting anything done. Nobody's progressing because we're all too busy playing in each other's bands," Mink says. They put both groups on the table and had the backing members pick a side—no hard feelings. Mink wound up with a trio, though he preferred a four-piece. After a few frustrating practices, he gave himself an ultimatum.
"I was trying to make everyone play the way the Furs used to play," he says, but the results were far from pretty. So one day, he went to practice resolved to either break up the band or try something completely different. "I said, 'Don't listen to what I have to say—just play,'" he says. "And it sounded great. It sounds 10 times better than it ever did." Since then, Mink has received a lot of positive feedback, a warm reception that's lead to gigs with bands that never paid them much mind. Mink also broke through the funk that kept him from writing truly stand-out songs.
"Nothing would come. Everything I'd write was just so trite," he says. "With this new three-piece [Mink, Keaton McDonald and Brandon Wurtz], we're doing a few songs that we'd done in the past, but they were all kind of half-finished. I sat down after practice one day and ended up writing lyrics to, like, six songs."
The creative floodgates open, Mink set about retrieving the Furs' lost recordings. Since the files were stored on an outdated program, he and producer/engineer Justin Langford tracked down a German version to transfer the recordings. This also required the purchase of a digital translator to navigate the Deutsch.
"Oh man, it took so long," he says. "There were supposed to be more songs on there but we couldn't find all of the tracks."
After many headaches and much retooling—plus new recording sessions—the Furs sat in Langford's living room listening to 10 tracks (plus two hidden ones) off the finished product, I Taste Blue. That's when Mink realized he'd done something pretty bad-ass. He's proud of the album, and for good reason. I Taste Blue is a tasty collection of reverb-heavy pop songs crushing hard on neo-psychedelic soul. Furs are often lumped in with modern-day psych troubadours Brian Jonestown Massacre, Dead Meadow and The Morlocks, which is understandable considering their liberal use of tambourines, jingle-jangle guitars and tripped-out jams.
But Mink, a sucker for old-fashioned, straightforward hooks and melodies, steers the Furs in a slightly different direction. Songs like "Many Girls" with its layered hand claps, four guitar parts and hip-shaking beat—and the fast-tempo "Billie Holliday" are more in line with classic, Phil Spector-produced rock & roll hits than lazy-daisy acid-washed '60s material. If it sounds familiar, Mink takes close comparisons as a compliment.
"Nothing is completely original," he says, adding that he's not really into ultra-experimental bands that purposefully craft inaccessible material. Mink might respect the challenge, but he's not up for it. He'd rather write music you can groove to—music that sticks in your head, gets you singing in the shower and, maybe, gets you to take it easy. Enjoy the ride. Hey, it worked for Mink.

Furs CD Release w/ Calico, Blue Sunshine Soul @ The Urban Lounge, 241 S. 500 East, Friday April 18, 10 p.m.