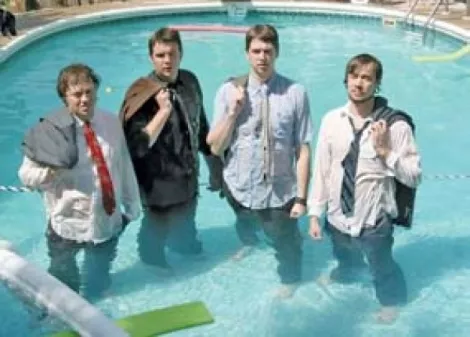 Ghosts Don't Have Bones (2005)
"Our Lady of Good Counsel": spare, languid and loose, yet edgy with guitars that can snarl. "Wolf Eyes" brings a bit of horrified discotheque beat along with indie-rock scarification. This "indie-rock groove" repeats itself throughout both discs, slightly reminiscent of Joy Division. "Black Bats" shows T3 in the tradition of local lo-fi indie bands Red Bennies and The Wolfs, but with a wholly distinct personality. There's a kind of abrasive fog through which everything is seen through, but that doesn't blur—it somehow renders everything sharper. "Meteor" emphasizes the fact that the band's work is very much about natural forces—the guitar lurches and sways, veritably froths with fuzz.
"Reflux Bollox" is the first song with a real "rock" riff instead of a loose groove. But like with Isaac Brock of Modest Mouse, it feels like the singer is trying to fight his way out of the beat instead of inhabit it. On "Goose," Ryan Fedor sings, "You're breeding danger with your hips" as the tension rises then falls not in release but merely reprieve. "Tolchock Riot" is a riot; the singer growls, the same chord is hammered into place like a nail. "Hornets" is another high-stepping rocker, a great riff with just a bit of reverb, like the air that whistles through your head when you start to feel buzzed. Dual vocals, 'cause one alone couldn't convey the urgency. This incitement to the dance floor is what the record has been building toward. This Ghost is scary on several levels, but also sexy and occasionally witty.
Abalone Skeletone (2008)
This collection is much warmer, opening with piano and distant train horn on "Divorce Papers." The guitar interplay is more subtle than ever before. But "Two Rivers" inaugurates another rock groove. As their name hints, they are all about the tension between purely animal impulses and the strictures of society. Ryan Fedor sings of his beloved fishing in "Sheepshead," exposing it as a kind of civilized savagery. But there's also a kind of joy not fully embraced by a Tolchock song before.
"Little Pieces" is an Oliver Lewis lyric about the wrong girl, and all the heaviness that implies. On "Dronesville" he sees a different girl, a different day, and whole "other worlds" are evoked. On "Factory," Lewis asks, "Who owns me today?" and solves the problem of the mundane with "just give me fantasy." Here again, the danceable rhythm is either liberator or enslaver. Lewis' "Sleepytime" takes a long time to wind up but ends up knocking into things in the night.
Lewis closes out the record with "Like I Knew You Could," an acoustic, backhanded stab at optimism. It's an odd closing to another eccentric album from your favorite over-three-members-at-all-times Trio. The kerfuffle between animalistic urges and societal shackles isn't resolved but played out in myriad unsettling ways on what could be one of the best local releases of the year.