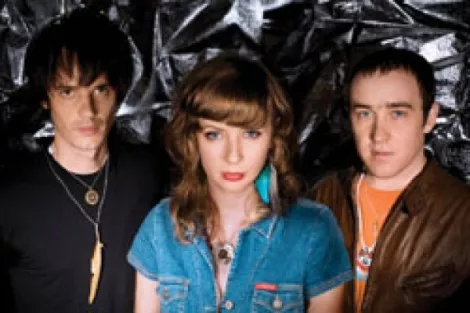 There's no place to take a leak—which isn't good. Katrina Ford has been on the road for—well, she's not sure how long. She knows she and the rest of
Celebration
are somewhere between Phoenix and San Diego. That's about it. And there's still a long way to go. So, she's in trouble. "OK, I—here, talk to someone else. I have to …" She hands the phone over to drummer David Bergander. "Um, hello," he says, unsure what's going on. "Who's this?"
Within seconds Ford is back, grossed out. "Yeah, I'm not doing that," she laughs—though not too hard. "It's what you get, though, when you live your life like a gypsy. Sometimes you don't get the basic things. But you get the art."
Which is definitely why Ford is in this crazy music biz—damn the kidney problems. She and her husband, multi-instrumentalist Sean Antanaitis, have been performing for well over a decade, starting in the mid-'90s with attention-grabbing Jaks, an Ann Arbor, Mich., band that truly brought the brutality. Ford snarled and spit so much then, some fans thought she was a guy. That changed with Love Life, a project which traded brutality for jagged riffs and dark drama, though Ford still sneered when necessary. She never had to snarl with Birdland, though, the one band where she and Antanaitis stretched drum machines and synths to their limits. It was also the first time Antanaitis pulled off his now-nightly aerobatic feat of playing four instruments at once.
"During that whole time, it didn't really matter if we were changing band names," Ford says. "It was like we were changing business cards. It was still the same people."
But when the two met Bergander a few years ago, something changed. While the couple had come a long way from its post-punk days, Bergander helped push them on even farther. The music became lush, sexy. Antanaitis' swirling mix of sound—a combo of guitar, keyboards and moog bass that he actually plays with his feet, plus the occasional splurt of electronic whatever—became this rich and spooky landscape. Tracks like "Good Ship," from the band's self-titled debut, and "Evergreen," from this year's The Modern Tribe (4AD), sound like Nick Cave's version of Halloween music. Everything is both somehow ethereal and in-your-face. Even Ford, whom now commands a set of pipes that can coo like Siouxsie Sioux and howl like Jamie Lee Curtis from back in her horror days. But it's Bergander behind the kit that makes it all cohesive, keeping both Celebration's lace and lacerations flowing.
"We really wanted a sort of raw energy to things," Ford says. "We didn't get that much on the last album. We had half the album written before we met David, so it was really half a Birdland album. This time we all wrote together and made something that's just commanding and inspires us."
Critics, too. The Modern Tribe has been getting gallons of attention. Part of the reason might be its pedigree. TV on the Radio mastermind David Sitek produced the album and Yeah Yeah Yeahs guitarist Nick Zinner helped out on a few tracks. But the buzz is also credited to the disc's ability to capture exactly what its title implies. Songs like "Fly the Fly" and "Pony" pulse with keyboards and coos and rhythms that make you want to dance around a fire. And while "Tame the Savage" doesn't exactly live up to its name, its layers of Phil Spector noise and Ford's powerhouse wail give it the same sound of something barely contained. It's the kind of stuff that makes art house kids and theater majors freak out while missing the mainstream by a mile. At this point, Ford is more than fine with that.
"You know, we're artists first and foremost. We're not capitalist musicians. The two worlds don't really mix," she says. "Sure, that works against us. We're not raking it in or anything. But I get to live my gypsy life, and we get to create music that's about the collective spirit. And my greatest aspiration is that the people who need to hear this music will find it. That's what's important."
Maybe even more so that finding a clean bathroom, since Ford seems to be out of luck at the moment. "The boys won't even go in there," she laughs, before climbing back into the van for another stretch. "If we drive fast, I'll be all right." If not. Well, that's part of being a gypsy.
Celebration @ Kilby Court, 741 S. 330 West, Friday Nov. 16, 7:30 p.m.