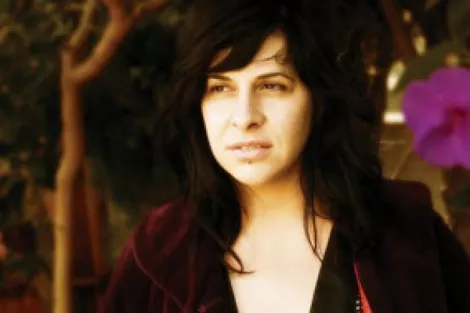 Los Angeles-based singer/songwriter
Angela Correa
, says that hearing—or, rather watching—your voice come out of someone else's mouth onscreen is a surreal, even otherworldly experience, but certainly not an unpleasant one.
Correa's smooth yet slightly smoky pipes recently served as the singing voice of Darlene Madison, actress Jenna Fischer's character in Walk Hard: The Dewey Cox Story, a Golden Globe-nominated comedy about the turbulent ascent of fictional music legend Dewey Cox.
"What a ride," Correa says in a phone interview as she strolls through New York City's Chinatown with a friend on a frigid January afternoon. "Michael Andrews, the film's composer, who I met a few years back just called me up and asked me to come into the studio. And that was that. It was a wonderful experience."
Correa says she always appreciates the chance to provide music for a film or license one of her songs for a television show, including Grey's Anatomy, because the cash flow provides formidable creative independence.
The additional exposure to a new pool of audience members doesn't hurt, either.
"When I decided to drop out of graduate school around 2000 to pursue music full-time, it was a landmark decision," Correa says, her voice punctuated by a loud siren and other random New York street noise, "I told myself that I would not compromise artistically, and I would do things exactly how I wanted to do them from that time on."
An unwavering commitment to artistic integrity and independence has helped Correa generate a thoughtful, intuitive catalog of songs that appeals to virtually anyone with an ear for subtle beauty.
"My songs are all about observation. There's a little bit of the small northern California town that I was desperate to escape from as a kid, as well as some bits of Mexico and Denmark and every other place I've traveled. It's all there," Correa says.
Correatown is Correa's current moniker. Correa's songs are an atmospheric destination, rooted in her experiences as a traveler, so Correatown certainly fits. Her live shows feature a full band, although she generally adds a few solo acoustic songs to her set.
"I love the collaborative experience of playing with a band. When I play with a band, I want the band to be fully integrated into the performance. I don't want it to be 'Angela Correa and her back-up band.' Although I do love playing solo because I can reshape a song as I'm playing it."
Like throngs of other aspiring musicians and performers, Correa initially struggled when she relocated from northern California to Los Angeles. Over time, she became a fixture in Los Angeles' vital eastside music scene.
"When I'm in L.A., I go out and see music about three times a week. There's so much incredible independent music there right now. And not everyone is competitive as you might think they would be. There are some very sweet people who want to help out other fellow musicians. It's a great place to be."
Prior to her Los Angeles submersion, Correa—whose sunny disposition practically sends rays of light streaming through ,my cell phone—admits that she was broke and her morale sinking fast. Correa insists that her first Salt Lake City performance in 2003 was a turning point in her career.
Ryan Stanfield, a member of experimental instrumental band Theta Naught, saw Correa perform while vacationing in Los Angeles and invited her to play a show in Salt Lake City.
The warm reception Correa received at dearly departed all-ages venue Sugar Beats wows her to this day.
"It was more than 'Oh, these people like my music.' After that show, I thought to myself 'I'm doing this for a reason; this is how I make my impact.'"
Correa says she especially enjoyed performing on the same bill as Eden's Watchtower Records artist Iberis (aka Jan Reed), a Salt Lake City-based folk musician, and is overjoyed that the two will play together again. Correa describes Iberis as "a great talent. Her beautiful and literate songs stay in your heart and your head."
Correatown is currently touring in support of Echoes, a limited edition three song EP available on iTunes Jan. 22. "I love being on the road," she says. "Touring is one of my favorite things about playing music. I'm so glad that I'm in the position to tour once again."
Early shows—especially an early show scheduled in the middle of the week, like Correa's Utah appearance with fellow clear-voiced Californian Daniel Ahearn—tend to be a challenge attendance-wise, but Correa is optimistic.
"I've always had such a great reception in Salt Lake City. I'm really hoping that people will come out this time. I pressed a batch of Echoes EPs with handmade screen-printed covers that I'm going to sell at shows. When you're on the road, you've got to come up with creative merchandise ideas if you want to get people to shows and sell something."
If you've seen Walk Hard: The Dewey Cox Story, don't miss the surreal experience of witnessing firsthand the organic source of Darlene's vocals. And if you haven't caught the film yet, come see part of what you're missing.
ANGELA CORREA w/ Danial Ahearn @ Area 51, 451 S. 400 West, Wednesday Jan. 23, 6 p.m. 24Tix.com