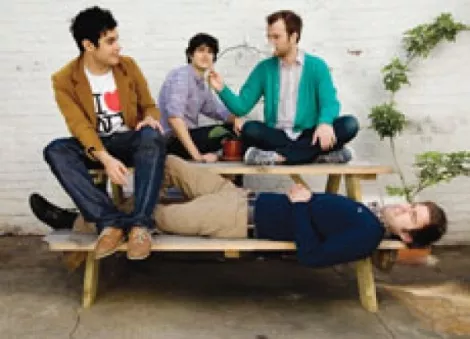 Vampire Weekend keyboardist/vocalist Rostam Batmanglij doesn't think there's anything particularly novel about his group's (arguably) sudden success—as if any young hard-working band might easily command favorable attention from
Rolling Stone
, NPR,
The New York Times
and various influential music bloggers without releasing a proper full-length album. Even their online material is somewhat tricky to track down. A simple iTunes search turns up two songs, one video and an old
Saturday Night Live
clip featuring Dan Aykroyd and Chevy Chase in some quirky presidential satire. Dig deeper and you'll stumble upon additional MP3 gems, but isn't that true of most groups these days?
And yet, few artists can truthfully say that, like Vampire Weekend, they just returned from a big European gig where energetic fans knew every word to their limited repertoire. As Batmanglij sees it, his group's impressive trajectory is fairly basic: four Columbia University grads started playing together in college, tried their hand at short-lived folk and rap outfits, then settled into a neat afro-pop/old-school-ska groove further encouraged by lead vocalist/guitarist Ezra Koenig's New Jersey yard-sale find: a compilation of Madagascar tunes featuring Brenda Fassie—the Madonna of the Townships.
Man, they fell hard for that glowing African sound, and they fell by it honestly. Some critics might catch wind of these relatively privileged white kids playing African music and question their right to capitalize on a culture so removed from their preppy East Coast experience. Of course, unlike The Rolling Stones or Eric Clapton—U.K. artists accused of ripping off African-American blues—Vampire Weekend doesn't directly lift licks from African field recordings. Their work might also gain comparisons to Paul Simon's Graceland, but Batmanglij notes that Simon hired African musicians to play African staples and then basically wrote music over the traditional backing tracks. "All of our music is original," he says, adding that if Vampire Weekend reminds people of Graceland it's simply because they've never heard authentic Congolese rhythms. "They don't have any actual reference points."
Vampire Weekend definitely did their homework. You can hear it in "Cape Cod Kwassa Kwassa," with its shuffling stripped-down guitar and soothing hand drums. You can also, however, detect original accents including Batmanglij's harpsichord-sounding keys twinkling the track to a close. Then there's "Apunk," which absolutely demands that you swallow your pride and skank like crazy for nearly three minutes.
If that's not enough to win you over, take a listen to "Oxford Comma," a coy ditty that appeals to the romantic nerd in all of us. OK. Most of us. Both "Comma" and "Mansford Park" incorporate a vocal quality reminiscent of street-corner a cappella groups, with Koenig and Co. wooing Catholic school girls with their smooth pipes and uncanny wit: "Who gives a fuck about an Oxford Comma?/ I've seen those English dramas, too (ooh)—they're cru(ooh)el."
Vampire Weekend penned those lines well before anyone—hipster, blogger, A&R rep or otherwise—knew their name. "It was our idea to record 10 songs as a band and have a framework for a full album before we had anything happen for us," Batmanglij says. They didn't seek some deacon of cool to instigate a handy game of indie-rock telephone. Still, in just months, Vampire Weekend was all over the Internet, landing blurbs in major magazines and playing CMJ. Not bad, but Batmanglij insists it was all par for the course.
"We've been working on music since we were 13-years-old with the idea of eventually releasing it," he says, audibly annoyed by the suggestion that Vampire Weekend's high-profile might be attributed to anything but long nights spent writing, recording and playing their little hearts out. Right. Tell that to one of Salt Lake City's unsigned acts: Don't have a record deal yet? It's easy! You don't even need to leave your back yard. Well, Batmanglij concedes, it helps if your back yard is located somewhere near Manhattan. "I think New York was special because it allowed us to play a lot of shows—in a two-week period we could play five shows," he says. "Obviously that was important in getting the word out." Of course, it takes more than just ideal stomping grounds and Lady Luck to sustain the big time. It takes mad talent—and maybe, eventually, a full-length album.
VAMPIRE WEEKEND @ Kilby Court, 741 S. 330 West, Friday Dec. 7, 7 p.m. KilbyCourt.com