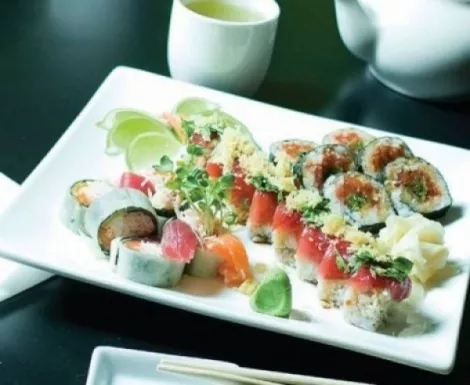 "Let's get Naked," was neither a sentiment nor a line used in my 2009 review of
Naked Fish
, the restaurant that replaced Mikado in former restaurateur Gene Kwon's then-crumbling empire. My recollection is that I found Naked Fish Japanese Bistro to be pretty—eye candy, in fact—but without much else to recommend it. The emperor had no clothes.
Well, I believe in fair play. And, although it happens very rarely, when a restaurant beats the odds and goes from meh to marvelous, I want people know about it. Such is the case with Naked Fish, which has done a head-spinning 180 degree about-face in the past year. I'd been hearing positive murmurs about the restaurant for a few months and decided, after running into Naked Fish bartender and food blogger Josh Shimizu at a City Weekly Club Fed function recently, to see for myself if things had improved at his eatery. They have. In spades.
One of the few holdovers from the Kwon regime is chef Tosho Sekikawa (Chef Tosh), who was executive chef at Mikado. Chef Tosh co-founded the Sushi Academy of San Francisco and has launched restaurants in Hong Kong, Tokyo, New York City, San Francisco and, closer to home, in Salt Lake City and Park City. Now, with Naked Fish under new ownership, he seems happier than I've seen him in years. Still, Tosh keeps a low profile and tends to the hot food—the robatayaki (grilled) dishes and such. He steps aside and leaves the sushi bar spotlight for chefs like T.J., one of the most talented young sushi chefs I've seen in years. This kid has skills.
T.J. is a self-professed wiseguy. He's a cut-up, and I'll bet was the class clown in school. Not exactly the Zen countenance I tend to associate with sushi chefs. But, don't let his American altar boy looks and rapid-fire wit fool you: T.J. has chops. He studied sushi-making in Japan and speaks, to my ear, Japanese fluently, conversing with humor and ease with Japanese chefs and servers at Naked Fish. However, "My Japanese is rude," says T.J. "It's not honorable." Could have fooled me—and did.
Dining at the sushi bar with T.J. begins with a consultation and a question: "How much would you like to spend?" It's a question I've never been asked at a restaurant before, and it's much appreciated, since I've frequently wound up with astronomical bills dining omakase-style in Japanese restaurants. "Like, a hundred bucks for the two of us?" I reply, tentatively. That works for T.J. It turns out that for the full-on, deluxe omakase experience it'll cost $65 dollars per person, but $50 each gets you a dinner that you won't soon forget. The dishes vary from one night to the next, since T.J. and the other Naked Fish chefs are insistent on using the freshest ingredients possible. T.J. has connections in Japan and gets fish from the Tsukiji wholesale fish market in Tokyo that you don't typically see at sushi bars here.
Our dinner begins with a trio of small dishes, artfully arranged on a rectangular platter. From left to right, there's raw giant crab dressed with tiny kinome leaves, which have a citrus-fruit aroma and a mild pepper and mint taste. Next to the crab is a bowl of what T.J. calls "slimy seaweed," a cold, dark brown, gelatinous "soup" of sorts, which T.J. says is loaded with collagen for healthy skin. His own skin—smooth and clear as a baby's butt—is testament to the protein properties of seaweed. Aside from seaweed, the chef says "I eat about 90 percent fish." Well, if I could prepare fish like T.J., it probably would be 90 percent of my diet, as well. Rounding out the small plate trio is fresh, delicious slivers of amberjack garnished with herbaceous myoga ginger buds, which looks like shallot. I'm impressed—even by the edamame alongside, which isn't the standard edamame you find elsewhere, but kuromame, black soybeans with a slightly nuttier, richer taste than regular edamame.
"My 2010 brain works like a Windows 95 operating system," T.J. says, self-deprecatingly, as he is momentarily distracted by a request from another chef. He also speaks of learning sushi-making in Japan, where his sushi master was "mean." "He wouldn't allow me to speak any English at all. I just had to sink or swim with my Japanese, and I learned fast." He also mentions that one restaurant he worked in was owned by yakuza—Japanese gangsters—"But they had honor," says T.J. "If an old person came to the restaurant, a younger person would give them his seat … or else."
More memorable dishes follow: namadako (raw octopus) carpaccio drizzled with ponzu and garnished with Japanese mint/basil-flavored shiso leaf, and then a plate of sashimi: a gorgeous, Bordeaux-red slice of big eye tuna, media (Japanese butterfish), inada (sometimes called hamachi) and an artfully spiraled needlefish, all served with freshly grated ginger and fresh wasabi.
As the evening winds on, there are more delectable dishes (and wine) to savor: more sashimi, including the freshest piece of salmon I've ever eaten, tender robatayaki lamb chops, and mind-blowing Miyazaki Wagyu beef. This is the real thing: all-natural, Japanese strip loin imported from the Miyazaki prefecture on Kyushu Island. The place might be called Naked Fish, but the beef is stupendous.
T.J., Tosh and the team at Naked Fish have managed to pull off a helluva feat: They've turned a restaurant that wasn't worth crossing the street for into a dining destination well worth a trip from afar.%uFFFD
NAKED FISH JAPANESE BISTRO
67 W. 100 South
801-595-8888
NakedFishBistro.com