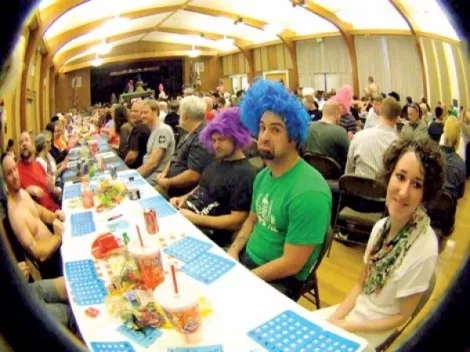 Anyone new to town, and even those visiting, become intrigued by Salt Lake City's inspired grid system. Originally mapped by LDS Church founder Joseph Smith, this layout is not simply a navigation tool consisting of numbers and cardinal directions. The grid is also rightfully and delightfully punctuated by a rich community of LGBT clubs, hubs and individuals. Making sense of Salt Lake City's grid may, at first, seem daunting, but the concept is quite simple: Blocks run either east to west, or north to south, and line up much like the lines of latitude and longitude on a map. (Or the board game Battleship.)
When laying out his "Plat for the City of Zion," Smith named Temple Square's southeast corner as the grid's point of origin. Ironically (or perhaps appropriately), Temple Square (50 W. North Temple, 801-240-4872) is also the first hot spot on the LGBT grid. In July 2009, the sidewalk near Temple Square just outside of LDS Church property was filled with protesters of all genders and orientations for a "kiss-in." The public puckering-up was organized in response to an earlier incident in which a gay couple walking along nearby Main Street Plaza (which is owned by the church but used as a public thoroughfare) was cited for an "inappropriate display of public affection."
Though the protest was prompted by the somewhat intolerant stance taken by the LDS Church toward the LGBT community, it was also a powerful reminder of just how active and visible the community and its supporters can be in working toward understanding and tolerance.
The next destination on the grid is a historical location dating back to Utah's pioneer past: The Utah Capitol (350 N. State, 801-538-3074) has been a focal point for LGBT civil-rights legislation. Organizations such as Equality Utah (175 W. 200 South, 801-355-3479) actively lobby legislators, sponsor bills and work to empower individuals and organizations to engage in the legislative process. Browsing Equality Utah's Website (EqualityUtah.org) reveals information about local legislators and their voting record on LGBT issues.
For those less politically minded but who still are active in the community, the grid hosts the Utah Pride Center (361 N. 300 West, 801-539-8800), which offers services, support groups and events that cater specifically to the Salt Lake City's LGBT community. The Pride center is also home to the Youth Activity Center, a safe haven for LGBT youth, and Cafe Marmalade, which serves as a meeting place, a live music venue, and, of course, a cafe. The center also organizes the annual Pride festival and parade every June.
For music and drink of a more adult variety, Salt Lake City's grid offers an array of LGBT bars and clubs as diverse as the community they serve. For those seeking a bar where they can cut loose while cutting a rug, Club Edge (615 N. 400 West, 801-410-4367) is just a hop, skip and a "crunk" away from downtown. Club Edge features a sizable dance floor, three nights with live DJs, and Latin Gay Night on Sundays. For a bar night consisting more of "bears" than beats, the grid will certainly not disappoint with The Trapp (102 S. 600 West, 801-531-8727). The Trapp features a large outdoor patio perfect for a rendezvous (or two), as well as pool tables and a small dance floor.
If dancing isn't enough, try dueling pianos: The Tavernacle (201 E. 300 South, 801-519-8900) is the grid's undisputed destination for musical mayhem, with karaoke Sunday through Tuesday and dueling pianos the rest of the week. If pianos and liquor-fueled sing-alongs don't appeal, then surely a giant tube of lipstick will: The Paper Moon (3737 S. State, 801-713-0678) is delicate by name but naughty by nature, boasting pool tables, a stage complete with cages and poles and, naturally, a giant tube of lipstick. It also happens to be the grid's sole surviving lesbian bar.
A night out on the grid calls for a relaxing day after. Salt Lake City is home to a variety LGBT-centered businesses. Our Store (358 S. 300 East, 801-819-7884) is an "alternative" thrift store that doubles as a nonprofit organization, donating all proceeds to the People With AIDS Coalition of Utah to help in offering support and services. (Plus, it's just around the corner from The Tavernacle, so contribute to a worthy cause, then close out last night's bar tab).

In fact, the grid offers multiple ways to get involved: The Utah Aids Foundation (1408 S. 1100 East, 801-487-2323) seeks volunteers to assist with testing, prevention services and social-support groups for those living with HIV and AIDS. The foundation also happens to be just a stone's throw away from Whisper's Cafe (1429 S. 1100 East, 801-953-1279). This neighborhood cafe with a friendly atmosphere and good food hosts a group sponsored by the Utah Pride Center—"TRANStastic," which meets the second and fourth Wednesdays of each month for "trans folks of all identities in their 20s and 30s."

Salt Lake City's grid is also home to a caring LGBT community that focuses on hilarity for a good cause. The Columbus Center (2530 S. 500 East, 801-944-7545), in association with the Utah Cyber Sluts, hosts fun, friendly, and often campy bingo nights the second Friday of each month from 7-9 p.m. Proceeds support local LGBT organizations and families. To take part in the "cutthroat" competition, visit UtahPrideCenter.org.

From the corner of Temple Square to the tip of The Paper Moon's giant lipstick tube, Salt Lake City is festooned with LGBT hot spots just waiting to be enjoyed by those who are out of the closet and out on the grid.

Gabi Gaston is a recent graduate of the University of Utah's Actor Training Program.