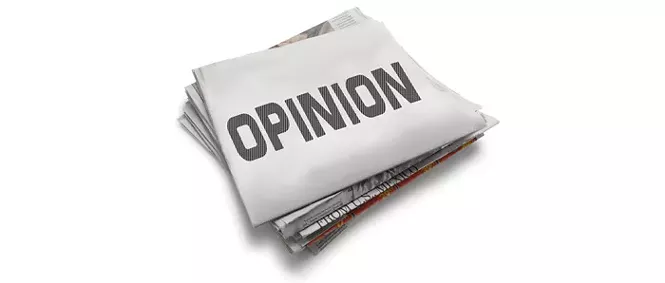 During a campaign appearance on the television talk show Between Two Ferns, host Zach Galifianakis asked Hillary Clinton what she guessed Donald Trump would wear to their first debate. "I assume he'll wear that red power tie," she replied.
Would that be the one with a piece of Scotch tape holding the short end in place? (Google the revealing photos if you like.) Add "tying a necktie" to the list of Trump's shortcomings.
In my tie-wearing days, I marched to the drumbeat of fashion. I wore skinny ties when they were in vogue, wide ones when they weren't. Same with patterns. Paisley came and went, as did polka-dots. Stripes were less fickle. I bought a red linen tie once. I didn't think of it as a "power tie"—whatever that means—I was attracted by its texture. I liked knit ties, but they preferred the company of a corduroy sport coat to that of a pinstriped suit. I was fond of bowties, too. A clerk at the Arthur Frank men's store on Main Street taught me how to tie one in 1964.
Like 11-year-old Barron Trump, I wore ties at a young age—not because I wanted to, but because of the unwritten dress code of LDS culture in Salt Lake City back then. My first ones were clip-ons, but I soon outgrew them, literally and figuratively. Gravitating toward my father's ties, I practiced four-in-hand knots in front of a mirror. The goal was to ensure that the two ends were roughly equal in length. If either was too long or too short, you looked like a rodeo clown.
In the ninth grade at Highland High School, I fell under the sway of a guy who frequently wore a tie to school. He made perfect Windsor knots and anchored his ties with a pearl tie tack. Why he wore ties to school and why I followed suit, I can't say. Probably related to some pubescent fantasy. I learned to tie Windsor knots, and I soon replaced my Deacon Quorum tie bar with a pearl tie tack.
Tie tacks, tie bars, tie clasps—they all served the same purpose: Keep the short end out of sight and the long end out of the soup (or both off your shoulder in a gale). I wonder why Melania hasn't gifted her husband a gold one. The nub of the problem, however, is that Trump can't tie a necktie properly. Because the long ends of his ties reach unfashionably below his belt, the short end in back is aflutter. Hence, the tape expedient. The truth of the matter is that you could concoct a math problem for young Barron and his father to solve, like this: "Don's necktie is 58 inches long. His neck is 6 inches wide, and his throat-to-belt gap is 21 inches. If a four-in-hand knot takes up 3 inches of the tie's length, how long will the short end be?"
Trump's aides have had their own share of wardrobe malfunctions. Sean Spicer and Steve Bannon have ignited controversy with what they say, and both have been criticized for what they wear (unlike our own man in Washington, Orrin Hatch, a dapper hypocrite). Bannon wore three shirts (two with collars), a blue blazer and no tie to the Conservative Political Action Conference in February. Spicer's suits and ties have been lampooned by Melissa McCarthy on Saturday Night Live. Her send-ups of Spicer are even better than Tina Fey's parodies of Sarah Palin. Stung by the criticism, Spicer bought some tailored suits, but his ties remain unreconstructed "turgid pieces of silk," Esquire Fashion Director Nick Sullivan told The New York Times.
Fussing over neckties seems like a waste of time. What does it matter if Trump uses Scotch tape on his tie? This is a guy dealing with global warming, dysfunctional government, terrorism and Kim Jong-un. Besides, ties are increasingly optional, even if you are wearing a $1,500 suit and $300 shirt from Burberry—or perhaps because of it. Former presidents Obama, Bush and Clinton have done their business dressed in tie-less suits. No one cares. Their wives, however, are studied as much for what they wear as for what they say. During Trump's first trip abroad in May, Melania's designer wardrobe was one of the "defining trends of the trip," according to a story in The New York Times. Her outfits bespoke "ambivalence and armor." And wealth! One flowery jacket she wore in Sicily cost $50,000.
I doubt that neckties are on the way out. Men have been wearing them in one form or fashion since the 17th Century. I recall my own encounter with tradition at the Ritz Hotel in Boston. I took my wife to high tea there one afternoon. As a harpist played in the background, we were ushered politely to the concierge desk where I was loaned a sport coat and tie to conform to the dress code. I complied meekly, but lots of men really hate ties. They are banned in the Las Vegas headquarters of the online shoe company, Zappos. A "dress code enforcer" greets visitors. Those wearing ties are offered three choices: Take it off, wear it on your head like a sweatband or have it scissored off and tacked to a wall with a growing collection. In Zappos' quirky corporate culture, ties are known as "wallflowers."
The other definition of "wallflower"—to be overlooked at a social—is one almost everyone relates to, a variation on the manic FoMO theme. Could a red necktie make a difference? Only if it doesn't call attention to itself.
Send feedback to comments@cityweekly.net