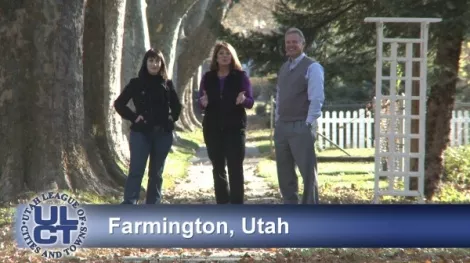 People take their local governments for granted, says Ken Bullock, director of the Utah League of Cities and Towns. "If you're stuck in traffic, it's an inconvenience," Bullock says. "If your toilet doesn't flush—it's a crisis. The services local government provides have become so commonplace that you don't even think about it until it's not there."

This lack of appreciation, Bullock says, has unfortunately spread to the media, which he says has almost totally stopped covering local cities and communities. For the league, which represents 245 cities and towns at the Legislature and in state government, however, complaining about the decline in city coverage isn't going to accomplish much, so the group has decided to start producing its own news stories.

The league has hired former ABC 4 reporter Susan Wood to report and edit video stories to be carried on its Website and through Salt TV (SaltTVNetwork.com), an online news station made up of former local heavyweight TV personalities like Dick Nourse and Randall Carlisle. While the program may fill the void in community coverage left by understaffed daily newspapers, Utah State University journalism professor Edward Pease says non-media outlets need to be aware of journalistic standards if they expect to do their own news and have it be successful.

"I'm a big fan of citizen journalism, until you see something stupid," Pease says, referencing the controversy that broke in November 2011, when West Valley City Mayor Mike Winder admitted to using a fake persona to publish stories about his city through the Deseret News' contributor program, Deseret Connect. "But generally, more information in the pipeline is better than less," Pease says, adding that he's encouraged by the fact that the league has hired Wood, who can bring her journalism training to the niche coverage.

Community coverage has been on a steady decline with daily papers across the country. In Utah, that point was driven home when Winder, in admitting to using pen name to write about his city, says his motivation was that in a three-month period, 56 percent of the Deseret News' coverage of his city was crime stories.

Wood, who has been with the league only a few months, says coverage of community stories has dropped off in recent years and that in-depth stories about the work of cities and towns have all but disappeared. "The length of the stories has decreased, and the content of the stories has changed," Wood says. "It's more ambulances and flashing police lights than we've ever seen before."

Bullock says community coverage has been pushed aside by all media over the years, and not just the Deseret News. With papers committing less to a tried-and-true city beat, he says reporters can't develop institutional memory of projects. He points to the Salt Lake City Council decision in December 2011 to finance $18 million toward the planning for the Broadway-style Utah Performing Arts Center, which he says will be an important ongoing story for years. But different reporters just doing quick stories and passing notes on the subject doesn't give the stories any depth.

"It becomes the one-day story instead of an in-depth story," Bullock says. "What you want is consistency and depth of understanding with a story. In government, it's different than your everyday story; there's typically a long history that's been associated with something going in a direction that may sometimes take a while to get there."

The league is now funding coverage of stories that would otherwise be overlooked by the mainstream media, like a Midvale project that has been decades in the making. The city took an environmental Superfund site, cleaned it up and slowly reclaimed the land, which is now a location for affordable housing and major business developments in the community. Another story looked at how Farmington community members rallied to clean up after hurricane-force winds battered their community in November 2011. Profiles of unique elected officials are also in the works.

"They run barbershops; they run a welding company. One guy I'm talking to next week has run so many [miles] he could have circled the world 2 1/2 times," Wood says. "These are the people who represent us."

"We want to be able to tell these stories, because they're not being told," Bullock says. Still, while Bullock hopes they can help fill a void with untold Rockwellian stories of positive community news, he has no illusions that the stories can replace traditional journalism. Since the league is funded by member towns and cities, he acknowledges they can't "pick any scabs" or do any controversial exposés. Bullock says when the Legislature starts, there will be more stories debating pros and cons of policies that affect cities, such as the debate over whether or not to repeal a law from the 2011 session that extended the fireworks season in Utah. Many cities fielded noise complaints from residents. But, for the most part, the coverage will focus on positive community stories.

For Pease, such reporting is not so controversial. He notes that for at least a decade, some news outlets have taken video press releases from public-relations firms and used them in short bits without disclosing the source. For him, as long as an organization clearly discloses who is fronting the story, there shouldn't be an issue.

"As long as somewhere it has their logo and it's clear that this is produced by someone with an interest, with a dog in the fight, then I've got no problem with that," Pease says.

For Bullock, community reporting, like the kind that has been all but abandoned by the media, is needed because he believes a sense of community is making a resurgence.

"This is not sexy stuff," Bullock says. "But it is what makes the world go 'round."