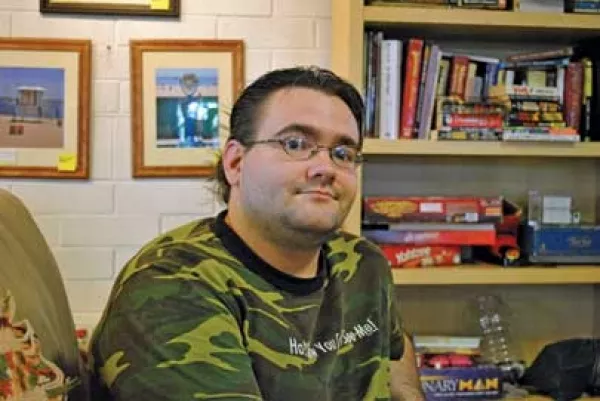 Rachel Piper
Nerd Night promoter Alex Brady
It's easy being a nerd these days. High school jock turned geek promoter Alex Brady tells the comic-strip exploits of a nerd-convert hero like himself at AlexBrady.com and has been putting on an annual Nerd Night for the past five years, bringing together hundreds of Salt Lake City geeks for an event he hopes might someday rival San Diego's Comic-Con. He says this year's event (Kafeneio Coffeehouse, 258 W. 3300 South, 801-485-1282, March 29, all day starting at 6 a.m., free), sponsored by a half-dozen nerd outlets like Night Flight Comics and Worlds Game Store, will be the biggest yet, with all-day video gaming, comic-book discussions, and competitions and contests throughout the day.
How did Nerd Night start?

I started Nerd Night as kind of a fan appreciation for people who watch the comics on my website. I thought, "I have some people that are watching me, waiting for my next thing. I need to give them something." So I figured, OK, I have some video-game systems. Let's set them up over here at the cafe and we'll just go from there. Next thing I knew, it was almost like a small convention. This year looks like it's going to have twice as many as [2012], where we had 600 people.
What goes down at a typical Nerd Night?

I call it more of a celebration of all things geeky. I do video-game tournaments, I give out free comic books, I do a cosplay contest. This year, I made a deal with an arcade to bring down some of the old-school standup arcade games just for free play. Another store will be doing card-game tournaments like Magic: The Gathering and stuff like that. If a person likes some kind of thing that would be considered geeky, I go out of my way to have it here.
Nerds seem to be getting cooler. How did that happen?

"Nerd" and "geek" have turned more into terms of endearment. They're now selling thick glasses to go with your outfit. It's really cool to see that people who were ridiculed for being smart at some time ... people are looking up to them. Everything that people like, a nerd did it. They're responsible for making the games that you like. They're responsible for making the movies that you like. You need a nerd in order to basically do anything. This is an homage to them.
Is it different being a nerd in Salt Lake City than other places?

It is. But the only reason is because there's no outlet here. San Diego has Comic-Con, there's a convention up in Seattle. Utah is the only state that I can think of that doesn't have a convention. Of course, I'm not going to throw the conventions we do have under the bus. We have Anime Salt Lake, we have Anime Bonzai, we have the Geex Expo. But they all focus on one particular thing. I try to take whatever I can find with geek culture and throw it all together.
Final question: Is there a "nerdiest underwear contest"?

[pause] That's not a bad idea.