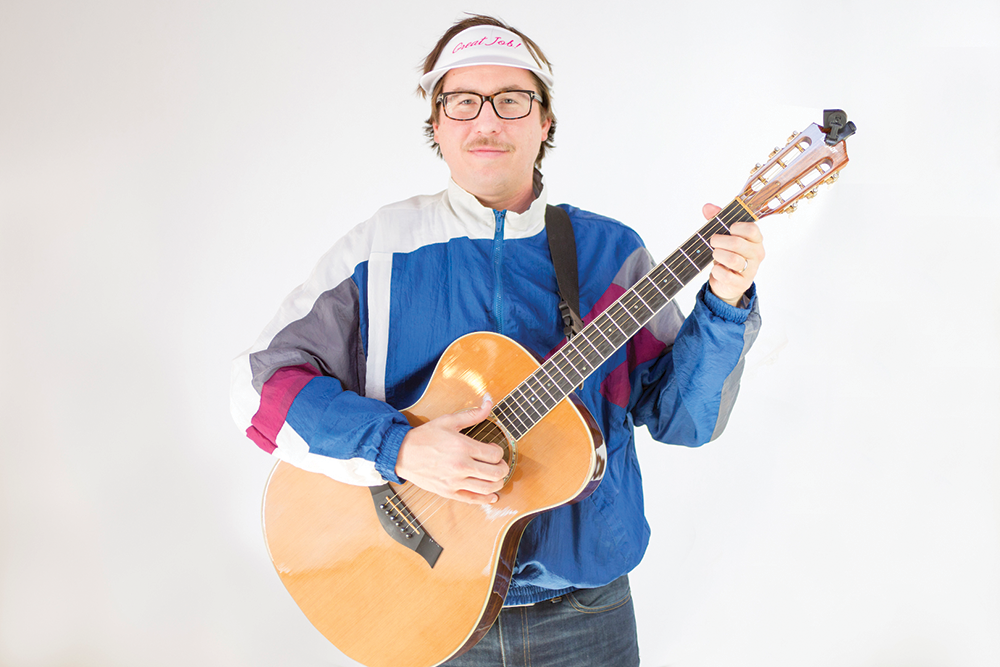 Nick Pederson
Will Sartain as Sleepy Passenger
Five years is a long time to devote to any single piece of art. For local business owner and promotions guru Will Sartain, a half-decade served as the perfect incubation period for his new project, Sleepy Passenger. Sartain co-owns and operates The Urban Lounge, Rye Diner & Drinks and Kilby Court, and books shows with his business partner, Lance Saunders, at venues all over the Salt Lake Valley. But Sartain is also an accomplished singer, songwriter and instrumentalist with plenty of band credits (Redd Tape, The Future of the Ghost, Hang Time) and 10 full-length albums to his name.
Still, when Sartain began writing songs for his next record, he found his gaze settling on the simple moments. On the full-length album Sleepy Passenger, he watches "The Stars Come Out" alone; realizes that "It's So Easy" to find "my friends at the bar;" understands that "If you need some space to breathe/ You have to go out on a limb;" and thinks, "in my most quiet moments," only of that certain someone. "These are definitely songs about myself and my friends," Sartain says. "I hadn't made an album in five years, and with such a long layoff, it was cathartic to sit down and [write] this collection of thoughts and feelings I wanted to document."
Sleepy Passenger hews closely to what, in 2009, City Weekly called "Sartain's signature straightforward way with words." While the lyrics go down easy, the songs' sonic underpinnings scatter in more diverse directions, tinkering with 10 differently keyed instruments. "This is the most I've experimented with pianos and keyboards, so I wanted to distance this album and make it feel more anonymous," Sartain says. "Instead of just releasing it as a solo album under Will Sartain, I wanted it to stand on its own."
Acknowledging the buoyant spirit of Sleepy Passenger, Sartain gives credit to his co-collaborators Andrew Sato, Ryan Fedor, Felicia Anderton, Kelli Moyle and Mike Sasich. "The evolution of this album came when the songs were recorded with the guest musicians, most of whom I've known for a really long time," Sartain says. "The songs started to blend together, and everything started to feel more cohesive. I'm really lucky to have such talented people in my life."
Sartain pays particular tribute to Sasich, who in addition to playing on Sleepy Passenger also recorded, mixed, mastered and produced the album at Man vs. Music Studios. "Mike and I work really well together," Sartain says. "I'm not sure what his other relationships with people are like, but ours is definitely a friendship.We love taking a song and talking back and forth about it. For me, it's like going on a journey."
That meandering entrance into Sleepy Passenger's snappy, jangly songs began several years ago, when Sartain started taking more time to appreciate the classics: Abba, David Bowie, The Beatles and their various solo records, The Kinks, Electric Light Orchestra. "I've really dived into pop music more as I've gotten older," Sartain says. "I love a good song." A happy song, too: Of Sleepy Passenger's 10 tracks, nine of which are autobiographical, Sartain ends nearly all of them on "some sort of positive tone"—even "The Bad News," unlikely as it might seem. "Alot of these songs explore finding some sort of growth," Sartain says."Life is hard. Sometimeslife is heavy, and writing a song takes all the weight away."
Performing them has the same effect on Sartain. "When I was younger, I was constantly writing, recording and playing shows," he says. "I also toured a lot in the mid-2000s. My life has changed and I'm much busier these days, so I only get a chance to be on stage a couple of times a year. But I still love it. I'm really excited to perform again."
This weekend, Sleepy Passenger gets its chance to shine with two album release shows: one at The Urban Lounge on Friday, and another at Kilby Court on Saturday. The seven-piece live band features Sartain, Trever Hadley on bass, Fedor on guitar, Charlie Lewis on drums, Andrew Shaw on keyboard, Joey Pedersen on keyboard and Sasich on keys and guitar.Fans can also pick up a vinyl copy of Sleepy Passenger at both shows.
Although Sleepy Passenger's plainspoken indie rock falls in line with Sartain's previous material, there's no denying a newfound sense of authenticity and personal importance. The opening song "I Hope to See You Soon" starts with the lyrics "I've got a feeling/ How much I love you/ How much I need you." When asked about the meaning behind the name Sleepy Passenger, Sartain perks up: "When my wife Shannon and I travel, she constantly falls asleep in transit. I have hundreds of photos of hersleepingon trains, planes and automobiles.To my surprise, she actually has an equal number of photos where I'msleeping."
It's no surprise, then, that Sartain considers Sleepy Passenger his favorite album in a long and variegated discography. "I was pleasantly surprised at how balanced everything turned out," he says. Capturing the sheer enjoyment of the album, he adds, "And it was so much fun to make."