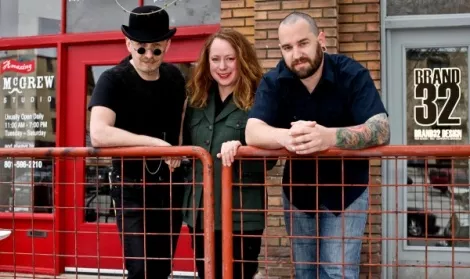 There is a "mayor" of Pierpont Avenue, and he sports an ornate Victorian-era suit, round spectacles, a handlebar mustache and a smile that could put a shine on a silver dollar. He also has the charisma of a carnival barker when describing the possibilities of a Pierpont revitalization.

Hraef'n Wulfson isn't actually a mayor, of course; that's merely a moniker given to him by local store owners. But Wulfson is the visionary leading the charge to restore the luster of the once-vibrant street by creating a Pierpont District Association as Pierpont simultaneously experiences an organic redevelopment as a fashion and textile hub.

"This is about re-imagining the district, to capitalize on what once was, and to draw people here," says Wulfson, McGrew Studios' creative director and resident of the adjacent Rubber Factory. "If that doesn't happen ... then the gentrification of this street will be complete."

Pierpont Avenue—located between 300 and 400 West and 200 and 300 South—has an inherently quaint ambiance. Century-old brick warehouses flank the south, their entryways above street level on a deck guarded by a red fence. The sometimes-undraped windows invite glimpses into%uFFFD businesses, art galleries and shops; above are residences. But with inadequate signage—for many businesses and the street as a whole—and dim street lighting, casual foot traffic is not seen.

Gallery Stroll started here, The street, which included an earlier location for Art Access, was a must-visit stop during the early days of Gallery Stroll, and since about 1980, artists and galleries have congregated in these once-lively buildings. The street's downfall started when Artspace's 25-year lease ended in 2005. The deck collapsed that same year, to be followed by drawn-out repairs—and there was a lack of a clear vision. The decline was topped off by rents that rose by as much as 20 percent, Jen McGrew of McGrew Studios estimates.

"There are a lot of people nostalgic about this strip. It used to be artists, and now regular businesses are coming in: food distribution, Web design, architects, sewing, textile," Wulfson says. "I think the renaissance that needs to happen here is to rebuild that sort of air in light of a new commerce."

Optimism is high. Wulfson's idea of a unified business district has many benefits. Obtaining permits for special events and getting access to grants will become easier, says Wulfson, who also envisions a street fair and Saturday artisan market, as well as a desire to see the road repaved in brick and wrought-iron gates installed on either end of the street that read "The Heart of Pierpont District."

The street's first prominent shift recently came with Gray Wall Gallery opening in August 2010—the first art gallery tenant in years. Although business was slow initially, curator Matthew Hall uses Gallery Stroll as a barometer. "The last two months especially, it went from not terribly exciting numbers to, at times, impossible numbers [very busy]," he says. "People were just praying [Gallery Stroll] would come back here, and once it did, it snowballed. It's really exciting to hopefully see it as a fully alive street again."

In recent months, new shops Tissú Fine Fabrics & Design Gallery and Sean Patrick McPeak's Brand32 Design have begun to participate in the stroll, adding to stalwarts Elemente and McGrew Studios.

McGrew Studios owner Jen McGrew has crafted inspired costuming since 1972—from Victorian-inspired steampunk suits to Halloween costumes to corsets. "If I don't ever have to sew a white wedding dress again, I'll be happy," she says.

As the longest-established fashion boutique on Pierpont, McGrew Studios has witnessed the recent organic shift toward textile and fashion. "I think it happened without anyone really knowing what happened," McGrew says.

Also on the block, there's Filthy Gorgeous, the fashion-design firm owned by Keith Bryce, who was a Project Runway 5 contestant. Next is The Sewing Parlour, where students take courses in the art, then Tissú, which opened in March 2011. Owner Teresa Spas decided to open the fabric store after taking classes at the Salt Lake Community College Fashion Institute. She knew of few places to find quality, pretty, fashion fabric, so she created Tissú, which sells high-quality fabrics and design tools, and also offers custom tailoring and a gallery to showcase local designers. "I've found it's hard to get your product out there, unless you get lucky and get snapped up or are on Project Runway," Spas says. "I think it's important to give people an opportunity and venue to exhibit their items—just to get some exposure.

"I saw there were a lot of textile-oriented businesses on the block. I thought [the trend to fashion] was the next logical step for the area," she says. Dale Webdale, The Sewing Parlor owner, echoes those sentiments, but Jen McGrew is less certain.

"This is a design hub. I've had the conversation about turning it into a fashion district, but I have resistance, because that overly defines it," McGrew says. "I just want to keep it in the realm of creativity and innovation. The thing with any creative movement is that there are changes."
Editor's note: The print version of this article identified Pierpont Avenue as the location where Salt Lake Gallery Stroll started. According to several sources, the Gallery Stroll actually began in 1983 in a different part of town. It grew to encompass stops on Pierpont Avenue a decade later.