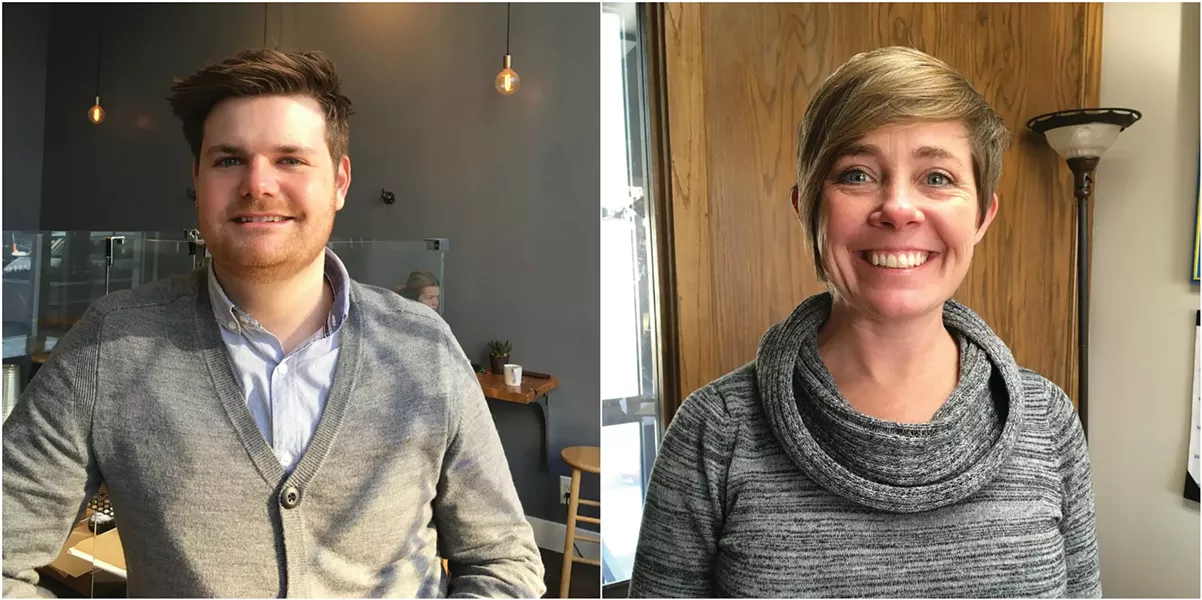 DW Harris
Chris Wharton and Amy Fowler were sworn-in as the newest Salt Lake City Council members in early January.
Midday, Chris Wharton sits in a coffee shop near his downtown law firm and sips a green tea matcha as pedestrians parade up and down Main Street.
Through the window pane, one of the passersby extends a pleasant wave after recognizing Wharton, who along with Amy Fowler was sworn-in as new Salt Lake City Council members a few days earlier.
"That was a resident on the Avenues Community Council," Wharton explains after waving back.
Neither Wharton nor Fowler have held office before, nor held an analogous high-profile position, but the prospect of spending the next four years in a fishbowl doesn't intimidate them. For Wharton, he counts many familiar friends and neighbors among his constituents.
Wharton wants to remain the approachable guy on the street.
"I hope that people will always feel like they can contact me and get a hold of me directly and regardless of whether we agree or disagree," he says. "I always want people to feel like they were heard and that they got a response back from me. I know people will find me accessible and approachable."
Fowler's initial experience of being recognized by a voter was positive. On a recent Sunday morning, she dined alone at Purgatory for brunch to read over the city's voluminous budget proposal.
Overhearing a bartender ask what she was studying, a man a couple of seats away leaned forward and inquired: "Are you Amy Fowler? ... 'Hey, I voted for you,'" she recalls. The two chatted for a bit about some of his concerns. "I realize that that is going to happen throughout the next four years, but that is why I'm doing this," she says. "I'm excited by it."
However, the interactions between the public and elected leaders can become contentious. Wharton acknowledges as much; he's been paying attention for a while.
When the city announced the addresses of four new homeless shelter sites in December 2016, for instance, council members and Mayor Jackie Biskupski heard from throngs of distraught residents, a few of whom sent nasty or threatening messages. Former Councilwoman Lisa Adams said it dampened her Christmas that year.
The two new faces aren't immune. But, as legal professionals, Wharton and Fowler have developed thick skins in their professional lives.
"I feel like I'm more than prepared to address those. As an attorney, you deal with a lot of scrutiny from your peers," Wharton says. "Of course, it's less personal, but you learn how to accept different viewpoints and you learn how to respond to them in a way that's civil."
Fowler, who spoke to City Weekly in her pirate-flag decorated office, works as a public defender. She's used to agitated clients, and she's prepared to hear from vexed constituents, too.
"It's part of the job. I get it," she says. "And I think that people get to voice their frustration. That's part of our government, part of our access to government."
Not only that, they both encountered vitriol on the campaign trail, the worst of which was a death threat sent to Fowler via Facebook. "I don't know if it was related to this job or my campaign," she says.
Mayor
Undoubtedly, many will watch the interplay between the new council and Biskupski. In the past, council members have described the relationship as strained.
But the two newest members are optimistic.
Wharton interned for Biskupski during her days in the Legislature, and he's familiar with her professional style. He also thinks the city council dynamic has already shifted since the time Biskupski was elected two years ago.
"A lot of the challenges are the same, but I think ultimately residents want us to find a way to work together in spite of our disagreements," he says. "That doesn't mean the mayor and the council are going to agree on everything but the government is designed to have split authority between the mayor and the council; it's also designed to be functional and work for the people of Salt Lake."
Fowler challenges the idea that the divide between the mayor's office and the council is as wide a chasm as it's been portrayed, though she concedes there have been disagreements.
"Our form of government is set up to have a little bit of tension here and there. That's kind of the point—to have a system of checks and balances," she explains, adding that the public has overlooked many instances when the two branches have worked in harmony. "I kind of want to show everyone that there is a working relationship together and remember to get the message out into the city that we really do work well together, but at times we aren't going to agree."
Recently, a piece in the Huffington Post heralded Salt Lake City for electing the "queerest city council ever." It noted that Fowler and Wharton, along with Councilman Derek Kitchen—a plaintiff in the 2014 lawsuit challenging Utah's same-sex marriage ban—and Biskupski identify as LGBTQ.
Wharton sees these types of articles from outside media as a boon to the region, a way to appeal to younger, more progressive professionals. "Anything that broadens or in some ways challenges the typical viewpoint of Salt Lake City is healthy," he says.
Goals
When the public scrutinizes Wharton's and Fowler's decisions, it will likely relate to whether the elected leaders help improve city business: fighting crime, responsible development, affordable housing and road maintenance.
Fowler lists correcting the city's dearth of affordable housing as a No. 1 priority. Most of her indigent clients are in a population that has struggled to secure housing—a factor that compounds their other troubles.
"We're going to be looking a lot at how we're going to structure our affordable housing," she says. "The inclusionary zoning, if we're going to do that, how is that going to look? What is the best model?"
Wharton concurs. As a long-term goal, he's focused on sustainability, which includes cleaning up the air. He applauds the city's ongoing commitment to upgrade its facilities to be carbon neutral by 2032 and its vehicles to cut its carbon output by 80 percent by 2040. Wharton suggests building a coalition with other municipalities for air quality concerns.
"We want people to feel like they can move here, or move their company here, or establish their family here and they're not going to be breathing toxic air," he says.
Their first turn sitting on the dais was Jan. 2, and both members were eager for the next.
"I'm really excited to do this," Fowler says. "I'm excited to sit every Tuesday until 10 o'clock and listen to our community members—even the ones who are angry at us. It's our closest form and access to government and to really make a change."