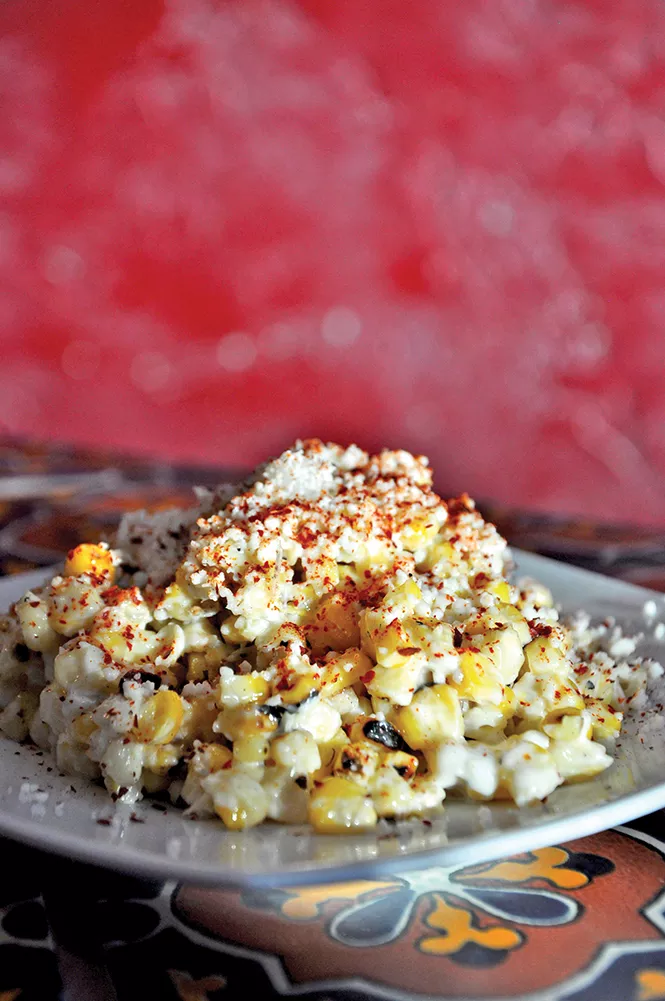 Derek Carlisle
Street cart-style corn at Alemexo
New Menu at Alamexo
Based on customer feedback, the team at Alamexo Cantina (1059 E. 900 South, 801-658-5859, alamexocantina.com) have moved to differentiate their menu from that of their sister restaurant. The cantina's spring menu features dishes like enchiladas con mole Poblano and enchiladas Suizas, plus new tacos like the smoky tacos de pollo y adobo and tacos de pescado mixtos for seafood lovers. Additional items include the sweet and savory plátanos con crema and elotes de la calle, the popular—and tasty—street-cart-style corn on the cob with lime aioli and queso fresco. ¡Provecho!
Tip Your Servers
Last December, the Department of Labor and the National Restaurant Association proposed legislation that would allow restaurant owners to keep their employees' tips without offering a pay raise. It's the kind of despicable move that isn't terribly surprising considering the massive deluge of ickiness that the Trump administration is currently vomiting all over the country. But the good news is that the move failed. Opposition gained bipartisan support, and tips for restaurant workers have secured federal protection. The situation also serves as yet another warning for future organizations to stop giving themselves names that abbreviate to NRA.
St. George Farmers Market Open Call
Our friendly farmers market to the south is getting ready for another bounteous year of local grocers, growers and green thumbs. As they get closer to opening day (May 12), event organizers are holding vendor meetings in the Ancestor Square courtyard (St. George Boulevard and Main, ancestorsquare.com) on Tuesday, April 10 at 5 p.m. and Saturday, April 14 at 10 a.m. First time vendors are encouraged to attend. Previous vendors may also wish to participate as there have been a few changes since last year.
Quote of the Week: "A cannibal is a person who walks into a restaurant and orders a waiter." —Morey Amsterdam
Food Matters tips: comments@cityweekly.net