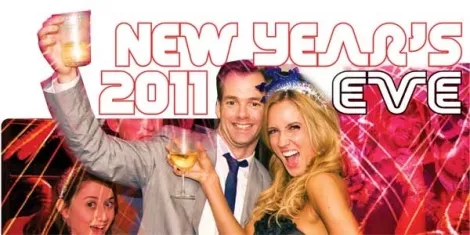 Be the Life of Your Party
Some would have us believe that 2012 brings with it the end times for life on Earth. If that is so—or even if it isn't—might as well treat Dec. 31 as your last, best chance to celebrate the arrival of a new year.

But how to do it right? Glad you asked. Here you'll find a guide to what the bars and nightclubs are doing Dec. 31. Scott Renshaw takes a look at what's new at EVE, Salt Lake City's downtown three-day celebration, while Austen Diamond offers several suggestions on avoiding the urban mayhem with some outdoor getaways for Dec. 31. Our food guru, Ted Scheffler, reveals what countries around the globe dine on to celebrate the new year, and where you can sample those dishes right here in Utah; he also breaks down how to buy the right Champagne for a midnight toast, no matter what your budget. And Dan Nailen suggests some restaurants offering special New Year's Eve meals, as well as brunch spots to help you slay the inevitable New Year's Day hangover. Cheers until next year! (Hopefully.)


New Year's Eve Guide
EVE
Concerts & Parties
Champagne | SLC Dining Spots


International Food Traditions
New Year's Day Brunch
Resorts & Excursions









By Scott Renshaw

It may have taken a few years, but Downtown Alliance Executive Director Jason Mathis says EVE SLC has figured out a pretty important component to creating a hip, edgy New Year's Eve event: Don't ignore hip, edgy people.

"We did some polling last summer about things [people] knew about downtown," Mathis says. "The older demographic knew [about EVE SLC], but 18-to-24-year-olds really did not. And yet, part of this polling also said this is a group that really wants to come downtown. … They're the ones who would stand outside in a blizzard to listen to cool music."

"These are the people who want to be invited," he adds, "and we haven't done a very good job of inviting them."

EVE SLC organizers took that information and entered into a conversation with the Associated Students of the University of Utah to find out what that audience was looking for. As a result, the third-annual three-day celebration built on the foundation of First Night might feel a bit different than it did in 2009 and 2010.

The new element hardest to miss will be the Temple of Boom—a 40-foot-tall, 60-foot-wide scaffolding structure designed in the style of an Aztec/Mayan pyramid in the south plaza area of the Salt Palace. In addition to being an impressive spectacle with its sheer size and spouting flamethrowers, it will be a venue for electronic-music performances.
Students will even be part of the programming, as short films by U of U and BYU filmmakers will be featured at the Broadway Centre Cinemas along with other 2011 award-winning shorts.

Early advance-tickets sales on the University of Utah campus suggest that the effort has already seen results. While EVE SLC certainly hasn't abandoned the idea of a family-friendly event—the BounceTown activities remain, along with the fun-for-all-ages, giant-inflatable-ball-filled Ballroom—it continues to grow and evolve.

That includes learning from what hasn't been as successful in the past. Gone is the winter-sports emphasis from previous years, which Mathis says didn't achieve the "wow factor" needed to justify its continuation. In Iowa or Nebraska, ski jumping in the middle of the street is "a really compelling thing to see," Mathis says. "Here, people are like, 'I can do that.'"

Some of the inconveniences of previous years will also be gone—mostly through simple changes in infrastructure. Construction at the Gallivan Center in 2010 necessitated a move to the Salt Palace, which permitted more indoor—translation: warm—activities for chilly, potentially snowy winter evenings.
Additionally, as the Downtown Alliance's Danica Farley notes, "For the first time in six years, there's no road construction [downtown]," making access easier. The new City Creek parking area offers additional space for cars, while the free downtown street parking that has traditionally ended at Christmas is extended through Jan. 1. And the new West Valley and mid-Jordan TRAX lines give more people throughout the valley a way to get to and from downtown safely, even in inclement weather.

For all the tweaks, though, the vision for EVE SLC remains essentially twofold: certainly as a way of increasing the city's appeal as a holiday travel destination, but even more as a chance to showcase downtown Salt Lake City for Utahns who might not usually visit, providing a hub for diverse demographic groups to interact the way they do at the Downtown Farmers Market.

"What I want to see," Mathis says, "is when people come to EVE, they have experiences with their friends, with their families or with complete strangers that they would not normally have."




NYE EVE Schedule



EVE Live Music, Dec. 31
The Map, 6 p.m. (West Temple Stage)
Honest Soul, 6 p.m. (Salt Palace)
Ethics, 7 p.m. (West Temple Stage)
Dustin Christensen, 7 p.m. (Salt Palace)
Diggabeatz, 8 p.m. (West Temple Stage)
The Last Look, 8 p.m. (Salt Palace)
The Terks, 9 p.m. (Salt Palace)
Life , 9:30 p.m. (West Temple Stage)
The Anser, 10 p.m. (Salt Palace)
Muscle Hawk, 11 p.m. (West Temple Stage)
King Niko, 11 p.m. (Salt Palace)

EVE at Temple Square, Dec. 31
Broadway Show Tunes Singalong, 5 p.m. (Assembly Hall)
The Cadillacs, 7:45 p.m. (Joseph Smith Memorial Building)
Thurl Bailey & Billy Dean, 8:20 p.m. (Tabernacle)
Truman, 9:45 p.m. (Tabernacle)
Midlife Crisis 10:15 p.m. (Joseph Smith Memorial Building)
Nashville Tribute Band, 10:40 p.m. (Tabernacle)

EVE & Salt Lake Film Society, Dec. 31
Short film program, 7 p.m., 9 p.m. (Broadway Centre Cinemas, 111 E. 300 South)
EVE and Off Broadway Theatre
Laughing Stock Improv Comedy, hourly from 7 p.m. to midnight (272 S. Main)

EVE & Clark Planetarium, Dec. 31
Starry Nights, 5:30 p.m.
Night Vision, 6:45 p.m.
U2 Cosmic Light Show, 8 p.m.
Rock on Demand Cosmic Light Show, 9 p.m.
Led Zeppelin Cosmic Light Show, 10 p.m.
Pink Floyd's Dark Side of the Moon Cosmic Light Show, 11 p.m.

EVE at the Utah Museum of Contemporary Art
(20 S. West Temple, UtahMOCA.org), Dec. 31
Fear No Film short films, Artist-Made Karaoke, Paint by Numbers (and Shapes), Fill in the Blank (6 p.m.-midnight)



EVE SLC


Various downtown venues
Dec. 29-31
$12 in advance, $15 at the door, kids under 10 free
Purchase from EVESLC.com or at Harmons and Maverik locations






More New Year's Eve

EVE

Concerts & Parties
Champagne | SLC Dining Spots


International Food Traditions
New Year's Day Brunch
Resorts & Excursions