Page 2 of 7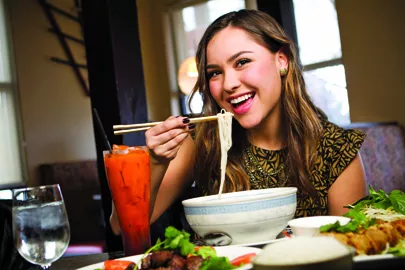 Start 2012 off right with noodles, grapes, carp and more

By Ted Scheffler

Although the New Year is rung in on different dates in different places—the Chinese New Year for 2012, for example, is Jan. 23—many countries and cultures around the globe celebrate the New Year with unique, and sometimes downright unusual, food traditions. They can range from grand feasts to munching on a handful of grapes. Here are some examples of how some of our Planet Earth brethren will usher in the New Year.

In China, Japan and some other Asian countries, it's traditional to eat long noodles on New Year's Day. Called "long-life noodles," they are not to be broken or shortened (no vermicelli, I guess) and signify longevity and good fortune for the coming year. There are lots of places locally to find long noodles; the pork-belly ramen at Dojo (423 W. 300 South, 801-328-3333, DojoSLC.com) would be an excellent choice. Or, you may want to double down on longevity by visiting Long Life Vegi House (1353 E. 3300 South, 801-467-1111) to chow down on their chow mein. Another good choice would be a big bowl of pho (always good fortune, in my book!) at Mi La Cai Noodle House (961 S. State, 801-322-3590, LaCaiNoodleHouse.com), which is open on New Year's Day.

Peel me a grape? I remember this custom from when I lived in Seville, Spain: At midnight on New Year's Eve, Spaniards traditionally consume 12 grapes, one for each month of the year to come. The custom supposedly dates back to the early 1900s, in the grape-growing Alicante region of Spain, where growers created the practice to help alleviate a grape surplus. For something a tad more filling and festive on New Year's Eve, consider visiting Cafe Madrid (5244 S. Highland Drive, 801-273-0837, CafeMadrid.net), in its new location.

A traditional New Year's (St. Basil's Day, in Greece) cake called vasilopita is shared by Greek families and friends to begin the New Year. But chew carefully, as there is a hidden coin in the cake, meant to symbolize good luck for the coming year for the person who finds it. I'm not sure about vasilopita, but I know you'll have good luck finding excellent Greek fare at Aristo's (244 S. 1300 East, 801-581-0888, AristosRestaurant.com).

Black-eyed peas are a traditional dish for New Year's Day in the southern United States, said to have originated in the town of Vicksburg, Miss., which ran out of food while under attack during the Civil War. Someone found a hidden stash of black-eyed peas, which thereafter was considered to signal good luck. The most common New Year's black-eyed-pea dish is Hoppin' John, which you can enjoy at Bayleaf Bar & Grub (159 S. Main, 801-359-8490, BayleafBarAndGrub.com). It's black-eyed peas stewed with ham hocks, peppers, onions and celery, served with rice and a side of collard greens.

During Rosh Hashanah, the Jewish New Year, apples are dipped in honey (in hopes of a sweet year), gefilte fish is eaten for a prosperous year to come, and loaves of challah bread are traditionally served on Shabbat, sometimes with raisins or honey added to the bread itself to make it extra sweet. After all, the land of Israel is often called the land of milk and honey. Did you know that Harmons (Multiple locations, HarmonsGrocery.com) bakeries feature fresh-baked challah on Fridays?

Being of German-Austrian decent, I'm more than familiar with sauerkraut for New Year's, which is said to bring blessings for the coming year. Pigs and pork are also a symbol of good luck, not just in Germany and Austria, but also in Hungary, Poland, Spain, Cuba and in Pennsylvania Dutch country. The idea is one of progress: Pigs continually push forward, always rooting. Roast suckling pig is a common New Year's tradition. At our house, it was pork braised in sauerkraut—still one of my favorite things. Take a trip to Siegfried's Delicatessen (20 W. 200 South, 801-355-3891, SiegfriedsDelicatessen.biz) for schweinshaxe (roasted ham hocks) with a side of sauerkraut and their yummy spaetzle. It's also traditional in Austria to have marzipan pigs (marzipanschwein) or pig-shaped chocolates strewn around the New Year's table for luck.

Fish is common in certain countries for ushering in the New Year. In Italy, dried salt cod (baccal) is eaten, and in Denmark, it's boiled cod. Germans sometimes eat carp, and herring is popular in Poland. In Sweden, the New Year's feast often entails a smorgasbord with a variety of fish options. For Swedish hospitality, along with gravad lax, knackebread and caviar—staples of the weekend brunch menu—head up to Solitude and Kimi's Mountainside Bistro (12000 Big Cottonwood Canyon, 801-536-5787, KimisMountainsideBistro.me).

Lentils are considered to be lucky on New Year's (they look like tiny coins) and are consumed with the hope of a prosperous year to come. In Italy, sausage with green lentils (cotechino con lenticchie) is popular, and in Brazil, lentils with rice are often the first meal consumed in the New Year. One of the tastier ways I know of getting your lips around lentils is the confit de canard aux lentilles du Puy—tiny, black Puy lentils with duck confit at The Paris (1500 S. 1500 East, 801-486-5585, TheParis.net).

Just as important as what to eat for New Year's is what not to eat. Certain cultures believe that it is bad luck to eat chicken, since the bird scratches backwards, thereby potentially causing one to dwell on the past or to be regretful. Don't want that! Similarly, lobster is considered unlucky because they move backward. I can't really testify to the truth of this, since I've never seen a lobster walk. But, better safe than sorry—eating lobster for New Year's is said to lead to setbacks. Finally, one more German tradition: Don't clean your plate. Leave a little food on it to guarantee a stocked pantry for the year to come.

Happy New Year!


More New Year's Eve
EVE
Concerts & Parties
Champagne | SLC Dining Spots


International Food Traditions
New Year's Day Brunch
Resorts & Excursions