Page 7 of 7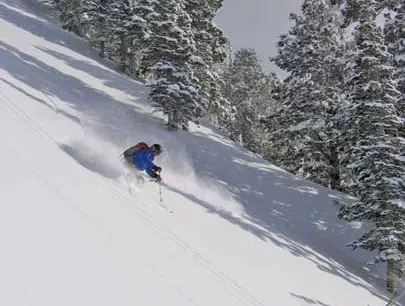 Five jaunts out of the city to end 2011
By Austen Diamond

Years of firsthand morning-after experience will teach you how not to celebrate New Year's Eve. This year, avoid the typical scene of drunken debauchery and stifled inhibitions and save yourself from boredom, bar tabs and blistering morning-after headaches by getting the hell outta Dodge.

Moonlit Snowshoe Hike
A moonlit jaunt up the summer road at Alta will unleash one's inner Romeo. The hike from the resort's upper parking lot is wide, with a mellow uphill gradient, so as to avoid avalanche danger. Plus, winded hikers wouldn't be able to coo to their lovers. The moon will be waxing to about half full on Dec. 31. Alta Ski Area upper parking lot, Highway 210, Little Cottonwood Canyon, Alta, 801-359-1078, Alta.com

10th-Annual FreezeFest
People who like rock and mild suffering will want to head down south for Freeze Fest 10. The slot-canyoneering festival lasts from Dec. 26 to Jan. 3, with the bulk of activities on New Year's weekend. The whole shebang's capstone is the several-hour frigid journey through the icy waters of the Black Hole on New Year's Day, which might require wetsuits, prayers and whiskey. Check out a forum on Bogley.com for more info. Sandthrax campsite, 30 miles south of Hanksville, Highway 95, by White Canyon, around Milepost 28

Ski Tour
For those who want to stay closer to home, Tyson Bradley—Utah Mountain Adventures owner and guide—recommends a jaunt for tourers of all levels. He advises to get a leg up at Alta Ski Resort off of the Supreme chairlift to head into the backcountry. Ski down to Lake Catherine and have lunch, followed by a hike up Wolverine Peak for a great view of the Wasatch. Then ski toward Brighton to the lake district before the last climb to Twin Lakes Pass. The tour ends by skiing back to the Alta base. "It's certainly one way to work up an appetite for doing whatever people might do later that night ... or to work off what happened on New Year's Eve," Bradley says. Alta Ski Area, Highway 210, Little Cottonwood Canyon, Alta, 801-359-1078, Alta.com

Ice or Fly Fishing
If you're looking for something a little tamer that still sounds adventurous, try ice fishing on Strawberry Reservoir. Ice fishing does, however, tend to have a lot of drinking going on, says Brandon Tillotson, guide manager at Western Rivers. Folks set up collapsible ice shelters, drill a hole in the ice, drop the lure ... and wait. Crazy stuff. Tillotson prefers a little more adventure with his fishing. He recommends that fly fishermen snowshoe into the middle Provo River, just below the Jordanelle Dam, to catch some lunkers. "It's nice in the winter because you aren't fighting crowds, and it's banker's hours: Get there late and leave early," Tillotson says. Strawberry Reservoir, Wasatch County, Highway 40, 435-548-2261, Wildife.Utah.gov/Strawberry; Middle Provo River, just below the Jordanelle Dam, http://wildlife.utah.gov/hotspots/detailed.php?id=1156189279

Fire & Ice
To seriously get away and get some serious vertical in, there are a couple options. The ice climbing in Joe's Valley can be inconsistent. However, when it's good, it's really good. Give yourself three days to fully experience the bliss of using an ice axe and crampons. Or, with the same time allotment, take a sojourn to the warmer climes for rock climbs around St. George—Virgin River Gorge, Welcome Springs, Black and Tan Wall, Green River Gorge, etc. are all quite excellent and sunny. Joe's Valley, Castle County, Highway 20; St. George, Washington County

Rocky Mountain highs on New Year's Eve

By Dan Nailen

One of the benefits of New Year's Eve landing on a Saturday is that the skiers of Utah can hit the slopes on both Saturday and Sunday while packing a night out on the town in between to ring in the New Year.

Of course, complete exhaustion might make that late night impossible, especially if you're bound and determined to schuss your way through New Year's Day. But even if that were true, some resorts are offering you a chance to celebrate without waiting till midnight to toast 2012.

Snowbird (9600 E. Little Cottonwood Canyon, 801-933-2222, Snowbird.com) is hosting a New Year's Eve torchlight parade and fireworks show, and you only have to last until dusk Saturday night and make it to the resort's Plaza Deck to gather around a bonfire and watch the action.

Snowbird's Little Cottonwood Canyon neighbors at Alta (Highway 210, Little Cottonwood Canyon, 801-359-1078, Alta.com) are having their own torchlight parade and fireworks show, and they're inviting you to take part. Just be sure to bring goggles and a headlamp or flashlight, and "you must be able to hold a snowplow down the entire cat track" between Watson Shelter and the base of the mountain. If you want to join the parade, Alta will start loading the lifts at 5 p.m. on Saturday. If you just want to watch, hit the Goldminer's Daughter before 6 p.m., when the parade starts.

At Canyons Resort (4000 Canyons Resort Drive, Park City, 435-649-5400, TheCanyons.com), there will be a free fireworks show at 7:30 p.m. on Saturday, and you can watch some athletes tear up the resort's terrain park beforehand for free. And if you're up Ogden way, Powder Mountain (State Road 158, Eden, 801-745-3772, PowderMountain.com) is extending its night-ski operations extra late, so you can buy a night pass and ski from 3 p.m. to 12:30 a.m. while ringing in midnight on the mountain.

Deer Valley (Snow Park Lodge, 2250 Deer Valley Drive South, Park City, 800-424-3337, DeerValley.com) isn't even making you wait until New Year's Eve to celebrate the New Year. The resort is hosting its torchlight parade on Friday, Dec. 30, at dusk. The ski school runs the show, doing some smooth, synchronized ski moves down the Big Stick run, which is best viewed from the Snow Park Lodge deck, where you'll find free hot cider and cookies during the show.


More New Year's Eve
EVE
Concerts & Parties
Champagne | SLC Dining Spots


International Food Traditions
New Year's Day Brunch
Resorts & Excursions