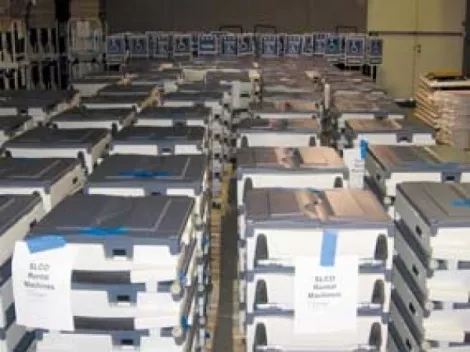 Utah election officials have been working for months to get ready for November's presidential election. Armies of new poll workers have been recruited and extra voting machines rented for an expected huge turnout. Now, with just two months before the election, they've been told of a bug in the computer that counts votes. And it can't be fixed by Election Day.
County clerks received notice of the problem Aug. 19 from Premier Election Solutions, the manufacturer of the voting machines used throughout Utah. In a "product advisory notice" Premier—formerly known as Diebold—says a "logic error" in the company's vote-counting software means the system sometimes leaves votes uncounted.
When Utah voters cast votes at a touch-screen machine, their choices are stored on the machine's memory card. At the end of the day, poll workers gather memory cards from each machine and download them to a central vote-tabulating computer. That's where the problem lies. Sometimes the tabulating computer stops before all votes have been downloaded. And, Premier says in the notice to county clerks, the machine will lie about it: "The AVServer console will indicate the affected upload of the memory card(s) has been successful, (green arrow), when the upload has not, in fact, been successful."
In May, Premier sent out a notice saying the problem was caused by anti-virus software and could be stopped by disabling the conflicting program. The company now says the problem is with its own software. The glitch came to light during a May primary in Ohio when officials noticed 200 votes were missing. Premier is working on a fix, but it won't be available in time for November's election, mostly because the process for approving voting machine software takes two years.
In the meantime, the company is giving Utah county election officials several ideas on how to catch the machine skipping votes—including turning the central vote tabulator off, then on again, after the polls close.
Election officials in Utah's largest counties say they have the situation covered.
Davis County will add shutting and restarting the vote-tabulating machine to its regular election procedures, says Pat Beckstead, county elections director. Premier says once the machine is restarted, the readout will be corrected and erroneous green arrows will turn red, showing which memory cards weren't uploaded. Election workers can then reload memory cards and continue the process until the vote tabulator has accepted all votes.
Premier says the problem can occur when a memory card containing a large number of votes is loaded into the vote tabulator just after a memory card containing a few votes. Sometimes, the small packet of votes jumps ahead of line and cuts off the full download from larger vote files.
Davis County's Beckstead doesn't think the problem has ever occurred in Utah. Davis County has longstanding procedures that would have caught the error, such as crosschecking the number of cast ballots shown in poll books against votes recorded by the vote tabulating computer.
"We have safeguards in place. I feel very confident," she says. "When we've seen jurisdictions that have had trouble, it hasn't been the machines, it has been the administration."
In Utah County, the vote tabulating computer is paused every so often so that periodic reports can be sent to the state. During those pauses, poll workers check reports from the machine to make sure votes are being counted, says Scott Hogenson, chief deputy clerk.
He says when Premier sent out the August advisory, county clerks from the Wasatch Front and some far-flung counties got together for a conference call and decided to add one additional check to Election Day procedures. Before results are finalized, county clerks will ask the computer to produce a report showing, for each memory card, whether votes were successfully uploaded.
If all else fails, Hogenson says, vote-counting problems should be found by a random audit implemented by the lieutenant governor, Utah's top elections official. After voting ends, but before results are certified as final, the lieutenant governor's office randomly picks 1 percent of voting machines for audit. Votes recorded at central tabulating computers are checked against a paper roll of votes produced by individual voting machines.
The vote-counting glitch may not alarm Utah's county clerks, but some civilians aren't so sanguine. Kathy Dopp, longtime Utah critic of electronic voting, finds it hard to believe that the software bug hiding in the computer since the beginning of electronic voting in Utah hasn't already eaten Utah votes.
Utah's League of Women Voters, working with Dopp, wants the state to implement new procedures for auditing vote counts. The League is preparing a bill for consideration in the 2009 Legislature.
The League proposes assembling a committee of university math and political science professors to recommend new audit procedures. Additionally, the League wants more public oversight of vote counting and an independent study of whether or not Utah's three-year-old voting system lives up to the hype. Utah's current procedures don't make people feel comfortable their vote has been counted, says league co-president Alice Steiner. "I describe [Utah's vote-counting process] like signing up for a credit card, going out spending money, then all you get is a total at the end of the month."