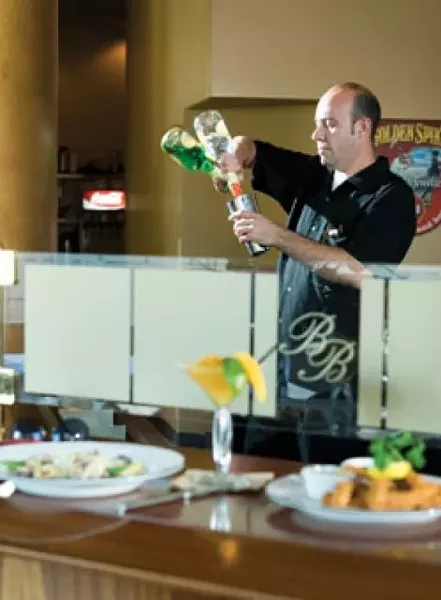 The newest lightning rod on Utah's liquor commission says she's misunderstood.
Bobbie Coray's comment at an Oct. 24 commission meeting that glass partitions in Utah restaurants don't hide liquor bottles touched off a firestorm of letters to the editor of Utah newspapers and on blog posts. She says she has received more than 300 e-mails from angry tipplers casting her in the light of a teetotaling moralist bent on returning Utah to the days when bottles were found only wrapped in brown bags.
"I have one [e-mail] that says, 'I hope you die slowly, painfully and alone,' she says. "I have some that call me a blank'n Mormon bitch," said Coray by phone from her home in Garden City overlooking Bear Lake.
But Coray, a longtime Democratic political activist, is used to the battle. With the exception of the death wish, Coray says she answered all the e-mailers. The answer is she didn't say it, or rather, she said it but didn't mean it.
The former director of the Cache Valley Chamber of Commerce says her intention was merely to start a debate about wacky liquor rules that cause everyone—particularly visitors—to scratch their heads. In this case, a rule that forces restaurant bartenders to walk around the bar to deliver a drink.
Her comment about liquor being visible through the glass partition was, she now claims, "a joke," intended to point out the absurdity of the rule.
Coray says she accepted an appointment to the Utah Liquor Commission this summer with the intention of questioning state alcohol rules. She wanted to mix things up but had no idea how quickly it would happen.
The appointment of three new liquor commissioners this summer by Gov. Jon Huntsman Jr.—including Coray, a Democrat, and Park City lawyer Gordon Strachan, who sat on a Huntsman advisory group that recommended gettting rid of Utah's private-club law—was initially greeted as an attempt at moderation by the governor.
Now it's unclear what's going on. Coray's brief stint on the panel has seen the commission ban malt beverages like Smirnoff Ice from grocery stores and refuse to ask the Legislature to expand the number of liquor licenses despite a growing population of drinkers. Coray further distinguished herself by voting not to give licenses to strip clubs.
Coray says she is a moderate, genuinely interested in opening up commission decisions to public dialogue. She has called for meetings with the public and restaurant owners to hear complaints about "quirky" liquor laws.
In an earlier life, in the 1990s, Coray was known as one of several Mormon Democrats encouraged by church officials to run for office. She ran for lieutenant governor in 1992. Two years later, she became the Democratic nominee in the 1st Congressional District to face U.S. Rep. Jim Hansen, a campaign in which she was criticized for supporting abortion rights. Coray later became state Democratic National Committeewoman. With other moderate-to-conservative Democrats, she formed a political-action committee aiming to attract Democrats whose position on "moral issues" didn't jibe with the national party.
Coray's own morals have been on display at the commission. When civic groups—including organizers of the annual Greek Festival in Salt Lake City and church socials—asked for summer beer permits, Coray, according to commission minutes, first balked because children would be at the events but later made the motion to approve the applications.
She says the "Zion Curtain" fiasco began as her first attempt to open a discussion about "quirky" laws. Coray says she and another commissioner "decided we'd go after the glass curtain, because we think it's kind of silly." Coray raised the issue with a license applicant. "Then I made a joke, I said, 'Besides which, a glass curtain doesn't cover liquor very much.' I was being sarcastic."
Forcing a restaurant to cover up its liquor bottles was state policy until six years ago when a federal court ruled against Utah's alcohol advertising ban. Since then, restaurants with liquor licenses have been free to showcase their liquor. No Utah law requires the "Zion Curtain" at restaurant bar areas. The partition is an interpretation of a one-sentence liquor-commission rule.
The rule says customers can be served at any table approved by the DABC, including at a waiting area, patio or garden, but tables "may not be located at the site where alcoholic beverages are dispensed to the server or stored." Technically, the customer sitting at the bar is really at a table. The DABC has traditionally allowed a barrier to separate the "table" from the alcohol preparation area, says the DABC's Sharon Mackay.
Coray sympathizes with those who think Utah's liquor laws turn off tourists but says, "I also appreciate the fact that a family might want to go to a restaurant and not want to see alcohol in an obtrusive way." The Legislature doesn't want restaurants to develop "bar atmospheres," she notes.
When it came time this summer for the liquor commission to consider which laws to sponsor for next year's legislative session, DABC staff proposed asking lawmakers to expand the quota of restaurant beer and wine licenses, which had run out. Kenneth Wynn, recently retired DABC director, backed lifting quotas altogether.
Coray objected, suggesting instead taking away some unused private-club licenses to free up more beer and wine licenses. She says she was simply being pragmatic after being told the Legislature wouldn't support increasing the quotas.
Coray says she's undeterred by criticism and even finds hope in some of the e-mail conversations she's had with detractors. She sees a new debate over liquor in Utah as a vehicle to "reconcile the entire Mormon/non-Mormon divide."
"It's not me they are talking about. It's their frustration at what they see as the Mormon culture, their frustration at what they see as people looking down their nose," she says. "Alcohol is a symbol."
The firestorm at least accomplished one thing. Coray now has a long list from her many new e-mail correspondents of liquor rules Utahns think are crazy.