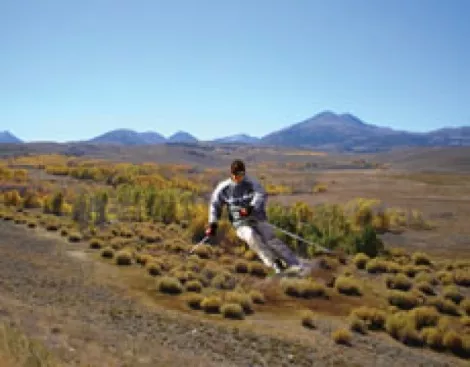 Last year's ski season remains fresh in the minds of skiers for disappointing snow levels. This year's season began by not beginning, with several resorts pushing back Thanksgiving openings. If those trends are upsetting to skiers, imagine what they mean to the ski industry.
"In the ski industry, snow is our business," says Brent Giles, operations director for Park City Mountain Resort who has recently taken on a second position as environmental affairs director for the resort's owner, Powdr Corp. He's sounding alarm bells about global warming. "Down the road, if we continue on the path we're going, there may not be any sustainable snow pack."
Ski industry types say recent snow trends can't be blamed on global warming, but they are worried about the future. Despite Utah lawmakers passing out literature that casts doubt on global warming, the temperatures don't lie.
Since the early 1970s, the average low temperature around Salt Lake City has risen 4 degrees, according to the National Weather Service. Low temperatures are required for snow to fall and stay on Utah's ski resorts. A study commissioned by Park City Mountain Resort says a further 4-degree average temperature hike could cripple the industry. With temperatures warming in the Rocky Mountains one-third faster than for the Earth as a whole, that increase could be reached by mid-century.
While ginning up support to fight climate change with actions such as signing a petition calling for an end to coal-burning power plants in Utah, Park City Mountain Resort doesn't want to send the message there won't be plenty of snow this winter.
"Last year there was a little less snow than locals were used to and everyone freaked out thinking it must be climate change," says Paula Fabel, resort spokeswoman. She points out that the resort saw one of its best seasons on record just two years ago with 500 inches. Giles adds, "My fear is that we won't do anything about it, because we really won't see a big change with our snowpack until 2030."
The resort's snow prediction study commissioned this year from the Institute of Arctic and Alpine Research at University of Colorado in Boulder says that with current warming trends, there will be no snow at the resort base for either Thanksgiving or for the tourist-friendly spring break by 2075. By 2100, the ski season could last just two months—if, that is, greenhouse-gas emissions are cut back. If not, there won't be any snow at all.
Other scientists think ski resorts have more to worry about than global warming. One recent report from groups fighting a plan to pump water from the Utah-Nevada border to Las Vegas warns that dust blown east from a resulting desert dust bowl would cause early snow melt in the Rocky Mountains.
Gov. Jon Huntsman Jr. and other governors attending a Western Governors' Association meeting in October were warned that microscopic particles spewed out of car tailpipes stop mountain clouds from snowing. The Salt Lake Valley has among the worst levels of such microscopic pollution in the country. Colorado-based Woodley Weather Consultants wrote studies show pollution has caused decreases in local snow levels, even after accounting for cyclic weather trends.
"This is a bombshell affecting the whole Western United States downwind from metropolitan areas," said William Woodley, the report's author. "It's insidious. It doesn't hit you between the eyes. You are just sort of bleeding here, losing precipitation." Brian McInerney, who tracks snow for the National Weather Service, doesn't buy it. Utah's winter storms are famous for blowing pollution out of the air, he notes. Snow comes afterwards, so small pollution particles don't have a chance to mix in with mountain clouds.
So far, he says, Utah has seen no changes in historic snow patterns caused by climate change or anything else. Recent years have been typically cyclic, with banner snow years in the mid-'80s, sporadic good snowfall throughout the 1990s, a four-year dry spell from 2000 to 2004 and great snow in 2005.
But McInerney—who this summer charted Utah's warmest ever temperatures since recordkeeping began in 1874—says there is no doubt that temperatures are increasing and that those increases will eventually affect snow levels.
Temperature hikes already have changed snow levels in Washington's lower Cascade Mountains. "Within 10 to 20 years, we will definitely see a reduction," he said.