A cop shows up for work stoned out of her mind. An off-duty officer pulls a gun to terrify a man outside a gym. A torrid affair steams up the stairwells of the police department. A bill now pending in the Utah Senate would make documents detailing those incidents—and most all police discipline—secret.
State law currently allows a narrow public window into how police agencies deal with misbehaving cops. Internal investigations of the brothers in blue are mostly kept secret. But when a chief makes a final decision about punishment the resulting documents are public records.
Recent years' discipline documents—some of which are excerpted below—tell of an officer on amphetamines, sexual harassment and excessive force used on an elderly man. Many other documents tell of office politics and naughtyness that might be found in any workplace—from an abusive boss to trading nudie pictures.
Senate Bill 260, proposed by Sen. Chris Buttars, R-West Jordan, would classify as "private" all records disclosing discipline against police officers, unless the officers in question agree in writing to release the documents.
Salt Lake City police say they didn't ask for the law change. However, both Chief Chris Burbank and the Salt Lake police union support Buttars' bill.
Sandy Police Chief Steve Chapman, a leader among Salt Lake valley's police chiefs, also has not responded to City Weekly's request for comment. The Sandy mayor's office says it hasn't taken a position. The change is supported by the Utah Chiefs of Police Association.
Here is some of the stuff you won't get to know about in the future, if SB 260 passes. (The files are from the Salt Lake City Police Department, which, being among the better agencies in complying with current public access law, gets to have its dirty laundry hung on City Weekly's Website.)
Much police discipline is routine stuff: A patrolman who can't seem to drive his police car without crashing has his take-home car privileges taken away. An officer who doesn't know how to process DUIs (and so just throws away a heroin needle found at an accident scene) is sent for a refresher course. An officer is written up for having his patrol car stolen. (He left it running outside his house.)

June 2005—An officer is docked several days' pay for laziness. He responded to a bank alarm but never bothered to go inside to check for burglars. That didn't stop the officer and his partner from telling dispatch he was "going inside," waiting a few minutes then radioing, "back out." An earlier evaluation of the officer read, "Needs not to settle for doing the minimum to get by."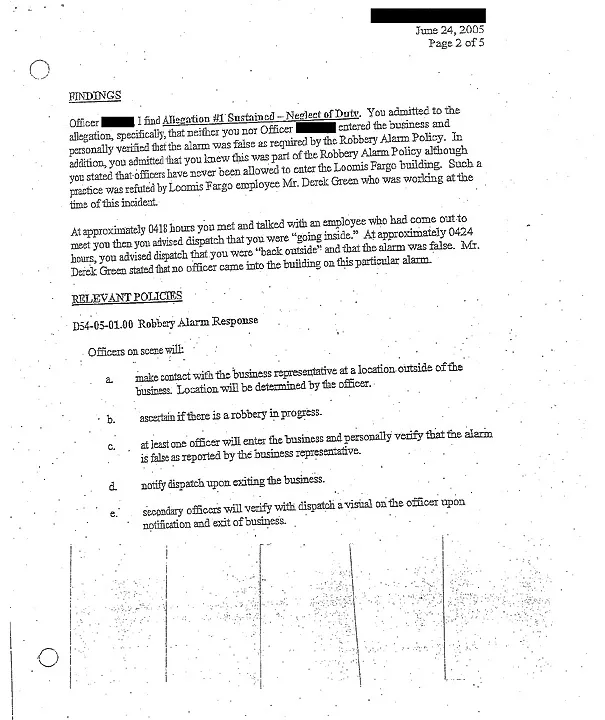 December 2006—A discipline letter notes an officer has previously been written up for "Taking Police Action in Family Matters" (that's for conducting a "stand by" for a brother-in-law in a police car) and for "Accepting Special Privileges" (The officer walked into a nightclub while off-duty and identifying himself as a vice officer, "in order to obtain free drinks after hours.")
March 2006—A humorous (though likely not to the officer) write up of an officer with driving problems.
March 2005—An officer docked 20 hours pay for a high-speed chase of a teenager who flipped him off.