A cop shows up for work stoned out of her mind. An off-duty officer pulls a gun to terrify a man outside a gym. A torrid affair steams up the stairwells of the police department. A bill now pending in the Utah Senate would make documents detailing those incidents—and most all police discipline—secret.
State law currently allows a narrow public window into how police agencies deal with misbehaving cops. Internal investigations of the brothers in blue are mostly kept secret. But when a chief makes a final decision about punishment the resulting documents are public records.
Recent years' discipline documents—some of which are excerpted below—tell of an officer on amphetamines, sexual harassment and excessive force used on an elderly man. Many other documents tell of office politics and naughtyness that might be found in any workplace—from an abusive boss to trading nudie pictures.
Senate Bill 260, proposed by Sen. Chris Buttars, R-West Jordan, would classify as "private" all records disclosing discipline against police officers, unless the officers in question agree in writing to release the documents.
Salt Lake City police say they didn't ask for the law change. However, both Chief Chris Burbank and the Salt Lake police union support Buttars' bill.
Sandy Police Chief Steve Chapman, a leader among Salt Lake valley's police chiefs, also has not responded to City Weekly's request for comment. The Sandy mayor's office says it hasn't taken a position. The change is supported by the Utah Chiefs of Police Association.
Here is some of the stuff you won't get to know about in the future, if SB 260 passes. (The files are from the Salt Lake City Police Department, which, being among the better agencies in complying with current public access law, gets to have its dirty laundry hung on City Weekly's Website.)
Much police discipline is routine stuff: A patrolman who can't seem to drive his police car without crashing has his take-home car privileges taken away. An officer who doesn't know how to process DUIs (and so just throws away a heroin needle found at an accident scene) is sent for a refresher course. An officer is written up for having his patrol car stolen. (He left it running outside his house.)

June 2005—An officer is docked several days' pay for laziness. He responded to a bank alarm but never bothered to go inside to check for burglars. That didn't stop the officer and his partner from telling dispatch he was "going inside," waiting a few minutes then radioing, "back out." An earlier evaluation of the officer read, "Needs not to settle for doing the minimum to get by."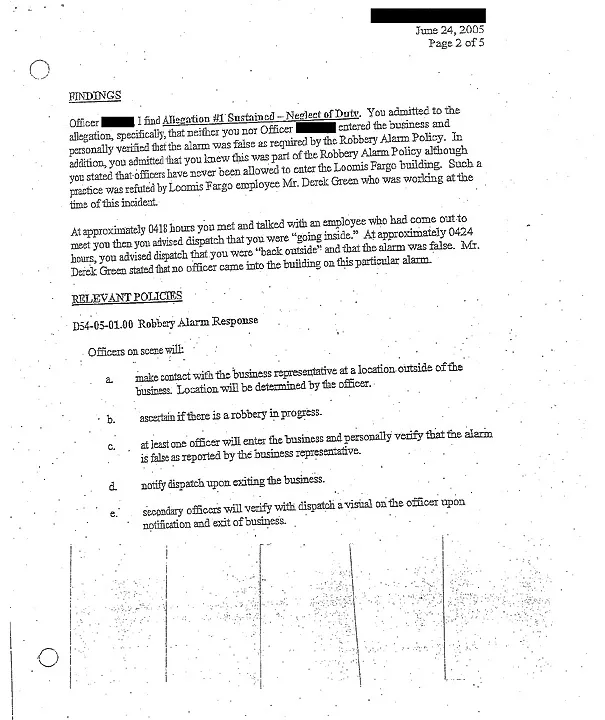 December 2006—A discipline letter notes an officer has previously been written up for "Taking Police Action in Family Matters" (that's for conducting a "stand by" for a brother-in-law in a police car) and for "Accepting Special Privileges" (The officer walked into a nightclub while off-duty and identifying himself as a vice officer, "in order to obtain free drinks after hours.")
March 2006—A humorous (though likely not to the officer) write up of an officer with driving problems.
March 2005—An officer docked 20 hours pay for a high-speed chase of a teenager who flipped him off.
Many of recent years' Salt Lake police discipline cases are about officers sending dirty e-mails and photos to each other. ("Full frontal" male nudity makes several appearances.) Several officers were written up for sexual harassment. In one case, an office affair led to discipline for two officers.
February 2006—Documents refer to 61 pages of sexually explicit emails sent between the lovers. (643 such messages were sent during a one month period.) The officers said they never had sex on the job, but admitted to frequently sneaking off into the stairwell for "passionate kissing and hugging." Some of the stairwell encounters lasted from 20 minutes to one hour.
Chief Burbank says he supports Buttars' proposed change to Utah's public records law in order to put police on par with sheriff's deputies who already enjoy a legal loophole that keeps their discipline secret. The Chief additionally says the change would protect officers from out-of-control administrators unfairly tarnishing an officer's record and future employment possibilities.
Tom Gallegos, president of the Salt Lake police officer' union, says officers with smaller problems should be able to resign and walk away from the job without a public tar and feathering that could damage their careers.
"The guy who is late for work and gets a letter in their file, I don't know why that needs to become public knowledge," he said. "You still have to do your job." Gallegos had his own brush with unwelcome publicity last year when former Mayor Rocky Anderson called for outside legal review of Gallegos' police discipline for sending dirty pictures over work email.
In serious cases reflected in discipline documents, officers often "resign" before discipline is completed. Unless there are criminal charges, or action from POST (the state body that decides when to take an officer's badge), police discipline records can be the only public documentation of police bad actors.
Gallegos says even if Buttars' bill passes, the really serious cases will be made public
when they are kicked up to POST. But Buttars' bill doesn't appear to allow POST to disclose its discipline records.
June 2005—An officer is disciplined for allegedly choking a woman to "near unconsciousness" while off duty. Discipline documents refer to a National Park Service investigation of the alleged assault at Lake Mead during summer 2004. Evidence of kiddie porn turned up during the investigation. POST took action against the officer's license.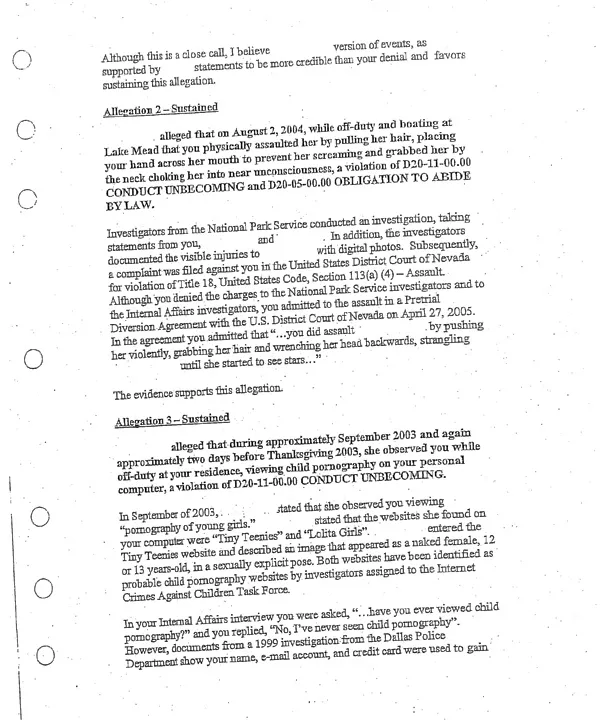 Former Salt Lake Police officer Marcus Barrett was stripped of his badge by POST after an incident detailed in police discipline documents.

January 2007—The chief chides Barrett for "reprehensible conduct" in assaulting a fellow patron at a Gold's Gym. The officer detained the man, blocked his car from leaving, then took a shot gun out of his police car and racked the action.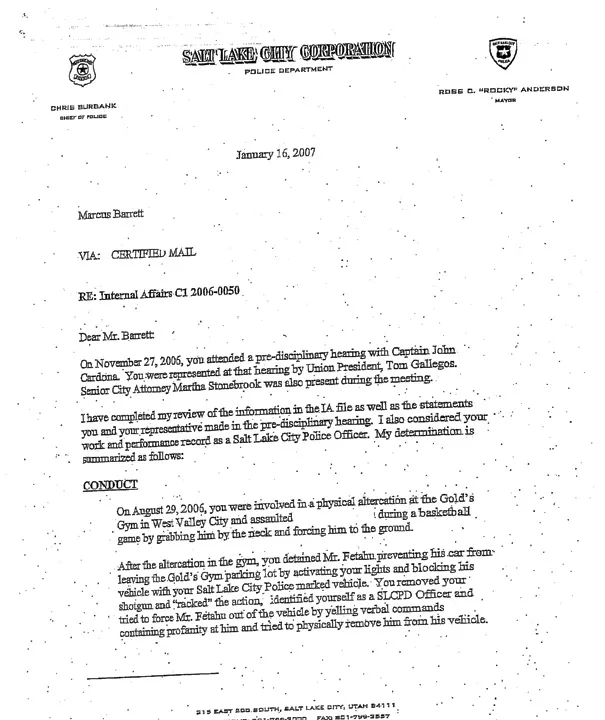 Under Sen. Buttars' proposed revision to Utah public records law, the public likely wouldn't know about the officer who showed up for work stoned out of her gourd. The Salt Lake police discipline case appears to be the only public record of her behavior.

March 2006–An officer reports "looking unusually unkempt" and slurring her speech, the discipline letter reads. "At approximately 22.15 hours you were observed in the hallway of Pioneer Precinct having difficulty walking and repeatedly dropping your keys. At that time your speech was deliberate, slow and, at times, incoherent. Witnesses had also reported that you were staggering and almost falling down in the women's locker room."

The officer resigned.