Page 2 of 2
Many of recent years' Salt Lake police discipline cases are about officers sending dirty e-mails and photos to each other. ("Full frontal" male nudity makes several appearances.) Several officers were written up for sexual harassment. In one case, an office affair led to discipline for two officers.
February 2006—Documents refer to 61 pages of sexually explicit emails sent between the lovers. (643 such messages were sent during a one month period.) The officers said they never had sex on the job, but admitted to frequently sneaking off into the stairwell for "passionate kissing and hugging." Some of the stairwell encounters lasted from 20 minutes to one hour.
Chief Burbank says he supports Buttars' proposed change to Utah's public records law in order to put police on par with sheriff's deputies who already enjoy a legal loophole that keeps their discipline secret. The Chief additionally says the change would protect officers from out-of-control administrators unfairly tarnishing an officer's record and future employment possibilities.
Tom Gallegos, president of the Salt Lake police officer' union, says officers with smaller problems should be able to resign and walk away from the job without a public tar and feathering that could damage their careers.
"The guy who is late for work and gets a letter in their file, I don't know why that needs to become public knowledge," he said. "You still have to do your job." Gallegos had his own brush with unwelcome publicity last year when former Mayor Rocky Anderson called for outside legal review of Gallegos' police discipline for sending dirty pictures over work email.
In serious cases reflected in discipline documents, officers often "resign" before discipline is completed. Unless there are criminal charges, or action from POST (the state body that decides when to take an officer's badge), police discipline records can be the only public documentation of police bad actors.
Gallegos says even if Buttars' bill passes, the really serious cases will be made public
when they are kicked up to POST. But Buttars' bill doesn't appear to allow POST to disclose its discipline records.
June 2005—An officer is disciplined for allegedly choking a woman to "near unconsciousness" while off duty. Discipline documents refer to a National Park Service investigation of the alleged assault at Lake Mead during summer 2004. Evidence of kiddie porn turned up during the investigation. POST took action against the officer's license.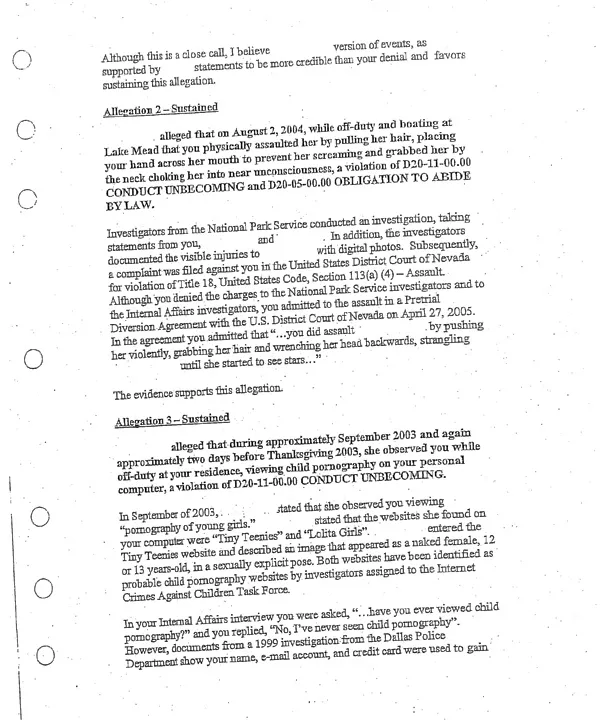 Former Salt Lake Police officer Marcus Barrett was stripped of his badge by POST after an incident detailed in police discipline documents.

January 2007—The chief chides Barrett for "reprehensible conduct" in assaulting a fellow patron at a Gold's Gym. The officer detained the man, blocked his car from leaving, then took a shot gun out of his police car and racked the action.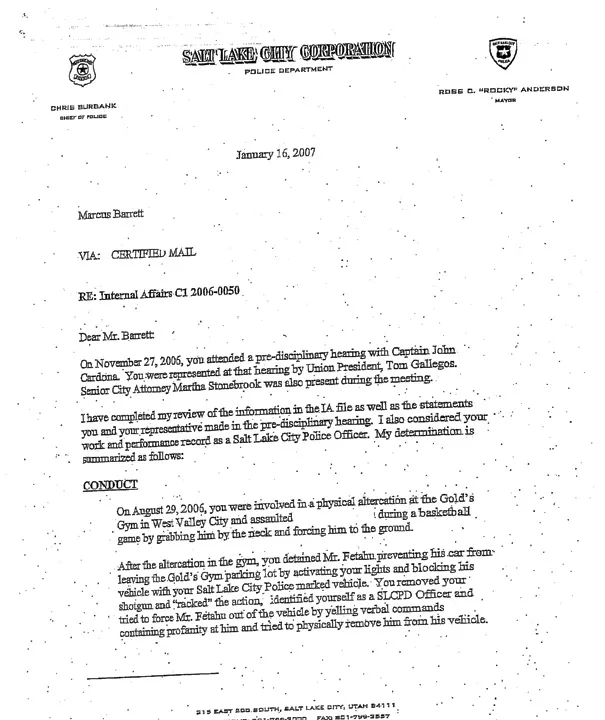 Under Sen. Buttars' proposed revision to Utah public records law, the public likely wouldn't know about the officer who showed up for work stoned out of her gourd. The Salt Lake police discipline case appears to be the only public record of her behavior.

March 2006–An officer reports "looking unusually unkempt" and slurring her speech, the discipline letter reads. "At approximately 22.15 hours you were observed in the hallway of Pioneer Precinct having difficulty walking and repeatedly dropping your keys. At that time your speech was deliberate, slow and, at times, incoherent. Witnesses had also reported that you were staggering and almost falling down in the women's locker room."

The officer resigned.