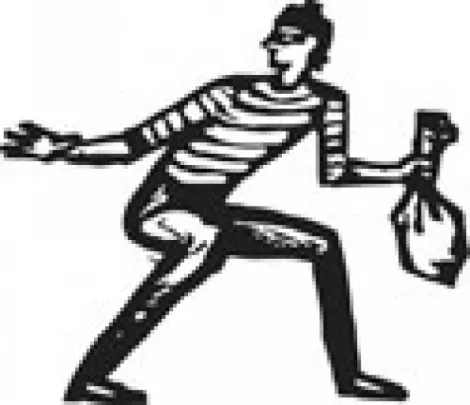 athletes.

Curses, Foiled Again
Police named James Coldwell, 49, as the man they said robbed a bank in Manchester, N.H., while disguised as a tree. Video surveillance showed the suspect with branches duct-taped to his head and body. After the footage was shown on local news broadcasts, several callers identified Coldwell, according to police Capt. Dick Tracy, who added, "I think he was hoping the disguise would camouflage him enough that no one would recognize who he was."
?Four men who tried to blow up trains and a bus in London failed because the ringleader miscalculated the ratios of ingredients when making the bombs. During the trial of the four would-be suicide bombers, who were found guilty of conspiracy in the 2005 plot, Woolwich Crown Court heard that Muktah Said Ibrahim, who mixed the ingredients for the bombs, failed math in school.
Judge Not
Hailu Kidane Marian was selling religious materials door-to-door in Hialeah, Fla., to raise money for his religious education, when witnesses said he was struck by a bolt of lightning from a cloudless sky. "He's unconscious, he's in a coma," said Francisco Perez, leader of the Puerto-Rico-based group that Marian was working with. "Things happen in life, but we still believe in God."
Big-Bang Theories
An explosion that damaged the kitchen and dining room of a house was caused by a teenager flicking cigarette ash near an open bottle of stolen gunpowder, according to authorities in Bayou Black, La. The smoker, Johnathan Anthony Porche, and Alex Joshua Horn and, both 19, were treated for minor burns before being charged with shoplifting the powder from a Wal-Mart store.
?Authorities recovered more than 700 pounds of explosives and explosive-making materials after a house fire in Centreville, Va., that started when homeowner Michael A. Baglini, 46, was grinding metal in his garage, where he stored flash powder. Describing the powder as "basically an explosive that could be set off by a spark," Mike Campbell of the federal Bureau of Alcohol, Tobacco, Firearms and Explosives said, "It just appears he may have been wanting to make his own homemade fireworks. This is what happens when you do that."
?Samuel Hedemark, 17, and Christopher Fuller, 19, were killed while partying with 20 other youths in Colorado's Routt National Forest when an oil tank exploded while they were jumping up and down on it and smoking cigarettes. The jumping motion released flammable vapors, which the cigarettes ignited, according to Rio Blanco County Undersheriff Michael Joos, who observed, "Some poor judgments were made."
Problems of Democracy
The price of machetes dropped from 800 naira ($6) to 400 naira in parts of Nigeria following April's general elections, according to the state-owned News Agency of Nigeria, which reported the price had doubled before the elections because the farming tool "served as a popular weapon among political thugs" seeking to incite violence, which European election monitors estimated killed at least 200 people. "Before the conduct of the general elections," trader Usman Masi told NAN, "I was selling a minimum of seven machetes daily but can hardly sell one a day now."
This Could Never Happen Here
Britain's Office of Communications fined two television networks for faking the winners of broadcast contests. The larger fine, $600,000, went to Channel Five, whose "Brainteaser" quiz show charged viewers $1.50 to use a special phone line to solve a word puzzle on screen. When callers failed to get the right answer, names of fictional winners were listed on screen. On at least one occasion, a member of the production crew went on air pretending to be a "winning contestant."
In the second case, the BBC children's show "Blue Peter" drew a $100,000 fine for using a studio guest to pose as the winner of a phone-in contest. Producers insisted they used the guest only after a technical problem made it impossible for viewers to call.
Slightest Provocation
Police investigating a complaint of a fight between two men at a gas station in Huron, Ohio, said the conflict was verbal, not physical. The men, two cousins driving home to Baltimore, Md., explained they "were arguing over a biscuit."
Loser of the Week
Jenny Brown, 62, finished second in a cake-baking contest in Wimblington, England, even though her sponge cake was the only entry. "The judges had an expectation, and I suppose they didn't feel as though it qualified for first place," said Julie Dent from the Wimblington Sports Committee, which organized the event. Dent noted that 11 years ago, she was the only contestant in a similar competition, "but I came in third."
Waste Not, Want Not
Seattle's city council voted to require all single-family homes to recycle their leftovers, beginning in 2009. The city already makes residents recycle 90 percent of their glass, paper, tin and plastic or risk having their garbage-collection service discontinued.
Forget the Lyrics
North Korea's Ministry of People's Security ordered the closing of karaoke bars in an effort to "prevent the ideological and cultural permeation of anti-socialism." The ministry's directive also shut down video-screening rooms and Internet cafés operating without state authorization "to crush enemy scheming and to squarely confront those who threaten the maintenance of the socialist system."
Ratings Coup
Farfour, a Mickey Mouse look-alike on a Palestinian TV children's show, was beaten to death on the program's final episode by an actor posing as an Israeli official trying to buy Farfour's land. The squeaky-voiced, black-and-white rodent, who preached Islamic domination and urged armed resistance by Palestinian children, "was martyred while defending his land," the show's teenage host announced on the Hamas-affiliated al-Aqsa channel's Tomorrow's Pioneers, adding that the character was murdered "by the killers of children."
Thumbing a Ride
After Jenna R. Meyers, 22, crashed her Chevrolet Blazer into a parked patrol car that had its emergency lights flashing in Gilbert, Ariz., she told police officers on the scene that she had been text messaging when the accident occurred.
?Police said Mary Elizabeth Bowen, 20, slammed her sport utility vehicle into the corner of a restaurant in Blacksburg, Va., while sending a text message on her cell phone.
?Police investigating a highway collision that resulted in the deaths of five recent high-school graduates in Canandaigua, N.Y., disclosed that a text message was sent from the phone of driver Bailey E. Goodman, 17, two minutes before the crash was reported.
Compiled from the nation's press by Roland Sweet. Submit items, citing date and source, to P.O. Box 8130, Alexandria VA 22306.