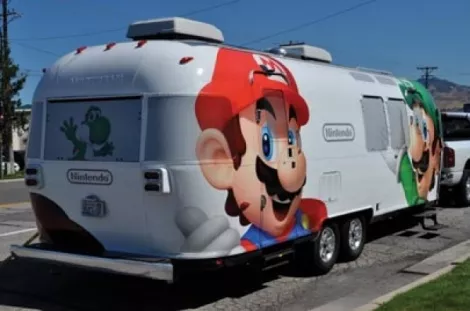 Every year, just in time for the holiday season, Nintendo takes an Airstream trailer from one side of the country to the other, touting all of its latest games. The first stop this year? Salt Lake City, where they laid upon me demos of all their upcoming games.

We started by checking out some games on the Wii. It's hard to believe that a non-HD system that came out almost six years ago is still relevant in the marketplace. Nintendo's tour aims to prove that not only are they still relevant, but they're at the top of their game as they've never been.

The first game I was able to get my grubby paws on was The Legend of Zelda: Skyward Sword. It's the next installment of the Zelda saga and has been largely redesigned to function with the new MotionPlus controllers. What it gives you is a Zelda game where the pantomiming you do with the sword is duplicated on the screen. And it's not just arm placement; you can twist your wrist and Link will twist his sword. It's the next level in gaming, for sure. I tried out the Xbox 360 Kinect Star Wars game at Comic-Con and felt like an idiot while wielding an imaginary lightsaber. But with a controller in my hand in Zelda, the experience was actually more immersive.

With sword strikes that accurate, there is an all-new way of defeating enemies. They can block in different directions and angles, forcing you to slash at them from different directions.

Perhaps the most breathtaking addition to the game would be the flight component. Link now flies birds, expanding the world of Hyrule infinitely. It hits shelves Nov. 20, and I can't wait.

Another game they showed us was called Fortune Street. It's a popular Japanese game with Mario characters that is equal parts Mario Party and Monopoly (though the media reps were adamant about not using the word "monopoly"). In this multiplayer board game, you buy properties with businesses and can invest cash into the stock market. It felt like a much more strategy-driven version of Mario Party, and that can only be a good thing. Some of the best times in my life hanging out with friends in my early 20s revolved around drunken Mario Party; an aged-up, strategy-driven version can only mean good things for me. It hits stores Dec. 5.

I also got to check out Tetris Axis for the 3DS, and I can honestly say that it's like nothing I've ever played. Utilizing the Augmented Reality, I was able to open up a portal in the coffee table and drop pieces down inside, hoping to break lines. It was unreal and is taking games to a different dimension.

They were also touting a Zelda game for the DS. An older port with new graphics and functionality, The Legend of Zelda: Four Swords allows you to play with up to three friends wirelessly. It made me want to get another 3DS …

There were other games I was shown, but what it all comes down to is that there are still exciting titles for gamers of all ages and abilities coming out. Game developers—and Nintendo itself—are starting to reach what the Wii and DS platforms are capable of and maximizing it to the best of their ability. What I'm doubly excited about is the fact that the Wii U—their HD system coming next year—doesn't throw all of that out, but instead builds on it. And I'll tell you right now, I can see two holiday seasons in a row dominated by Nintendo products—at least for me.
Bryan Young is the editor-in-chief of BigShinyRobot.com.