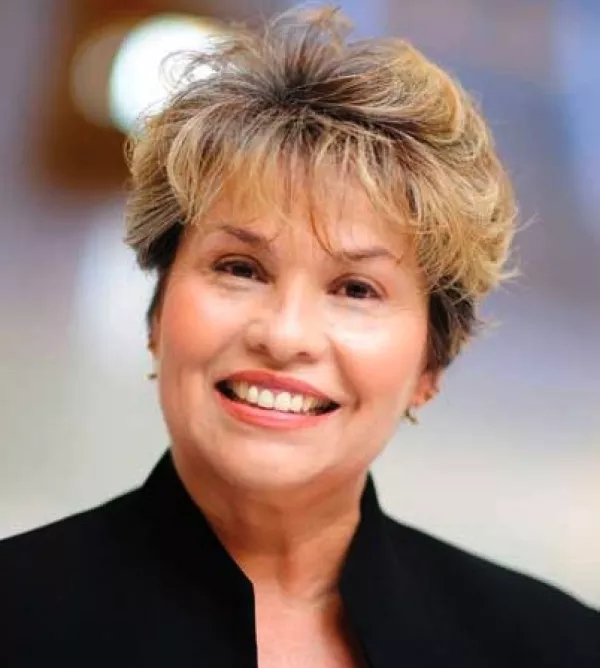 Courtesy Liz Muniz
Liz Muniz, first-time candidate for House District 33
Before Utah's legendary union boss and Democratic Party Vice Chair Jim Judd passed away in August, West Valley state House candidate Liz Muniz recalls, he placed a hand on her shoulder and told her, "You got this." After Judd's passing, however, what Muniz got was shock when Judd's union, the Utah chapter of the American Federation of Labor & Congress of Industrial Organizations, endorsed her Republican District 33 opponent, Craig Hall.
The AFL-CIO is not a partisan organization, but the endorsement was surprising in Democratic circles. The union, one of the largest in the state, generally considers voting records of candidates to see how they align with labor positions, but both Muniz and Hall were new contenders for House District 33, and the AFL-CIO had previously endorsed Neal Hendrickson, the Democratic incumbent whom Muniz beat in the June primary. If Democrats lack the union endorsement in a blue-collar district like West Valley City, it can be bruising to a campaign.
Muniz, whose billboards advertised her as a representative of "working families" and whose husband is a member of the policeman's union, ran a close, but ultimately unsuccessful campaign, garnering 47.89 percent of the votes to Hall's 51.89 percent.
"It's an important endorsement. It lets working families know they're being taken care of," Muniz says, adding that the endorsement "came to the whole party as a surprise, since the Democratic Party and Democratic candidates have always been such strong supporters of the AFL-CIO."
The Democratic Party likes to see itself as the big tent for diverse groups to rally and unite under. It's perhaps too big of a tent, however, as some in the party didn't realize the AFL-CIO was sneaking out.
While the AFL-CIO doesn't automatically endorse Democrats, it's long favored them, as most unions do. But this election, the state's largest union shunned key Democrats—especially a new crop of Latino Democrats who ran for seats this session—leaving some to wonder if the unions are abandoning old allies to court the overwhelming GOP majority on the Hill, or if there's a perception that Latino candidates would represent immigrant interests over labor—the two can be at odds, with undocumented labor sometimes displacing union jobs.
In Salt Lake County, the AFL-CIO-endorsed Republican incumbent, Johnny Anderson, won over Democratic challenger Celina Milner, another race decided within 5 points, with Milner trailing with 47.68 percent of the vote to Anderson's 52.19 percent. In two other races that weren't as close, the AFL-CIO favored Republican incumbents Eric Hutchings and Jim Dunnigan over their respective Democratic challengers, Elias McGraw and Barbara Eubanks. In total, the union endorsed 11 Republicans out of the 29 legislative races they offered endorsements in, casting 37 percent of their endorsements for Republican legislators and legislative candidates.
AFL-CIO Utah President Dale Cox says his union's endorsement committee makes its decisions based on support of workers and their families, not the letter next to a candidate's name.
"Celina Milner was a great candidate, but [incumbent] Johnny Anderson has a good record," Cox says. "He's voted with us at a 92 percent record. It's hard to turn your back on someone who has voted with you in the past."
Cox says the decision between newcomers Muniz and Hall was also a tough decision. Cox says that even if former union president Judd had made any promises to Muniz, it's still a committee decision. When asked of what might have tipped the scales in favor of Hall, Cox would say only that the matter was an "internal" decision.
Cox also recognizes that unions have a reputation for being "anti-immigrant" but says the endorsements were not at all based on a fear that Latino candidates might support an immigration agenda over a labor agenda.
"We represent not only our members, but all middle-class working men and women of this state," including immigrants, documented or undocumented, Cox says.
Mark Alvarez, an immigration attorney and co-host of Spanish-language radio show Pulso Latino on Exitos 1550 AM, agrees that unions have come to grips with the reality that undocumented labor will always be a part of the workforce. Ironically, Alvarez points out, none of the new Latino candidates made immigration reform a central platform of their campaigns. Alvarez, a figure who speaks publicly about Latino issues, says there is, however, a perception that Latinos advocate first and foremost for Latino issues like immigration.
"I'm always labeled Latino, which is fine with me, even though some people in the Latino community would label me gringo," says Alvarez, whose father is from Puerto Rico and whose mother is from Iowa and of Danish descent. "I would label myself Latino, and we're always confronted with this perception that we're just fighting for Latinos or just advocating for issues of immigrants."
Sen. Luz Robles, D-Salt Lake City, who handily won her re-election, says immigration may have been a deciding factor for local union leaders back in 2008, but since the 2011 session tackled numerous immigration bills, unions have come to support immigration bills like her guest-worker program bill and House Bill 116, the guest-worker program passed by Rep. Bill Wright, R-Holden. If it's not killed by a pending Department of Justice lawsuit, HB116 would allow for undocumented workers to obtain temporary work permits, possibly displacing union labor.
But unions "were actually supportive of 116," Robles says.
Matthew Burbank, a University of Utah political-science professor, says that nationally, unions are staunch allies of Democrats, but politics change when it comes to Utah and the 2013 Legislature that will be controlled by over 80 percent Republicans in the House and Senate.
"Unions may have electoral alliances, but they are also interest groups," Burbank says. "They need to deal with people in power."
For Robles, however, unions will see what their endorsements have earned their members when those Republicans join their conservative colleagues to possibly consider laws harmful to union workers.
"The reality will come in January 2013," Robles says. "The votes speak for themselves." Twitter: @EricSPeterson