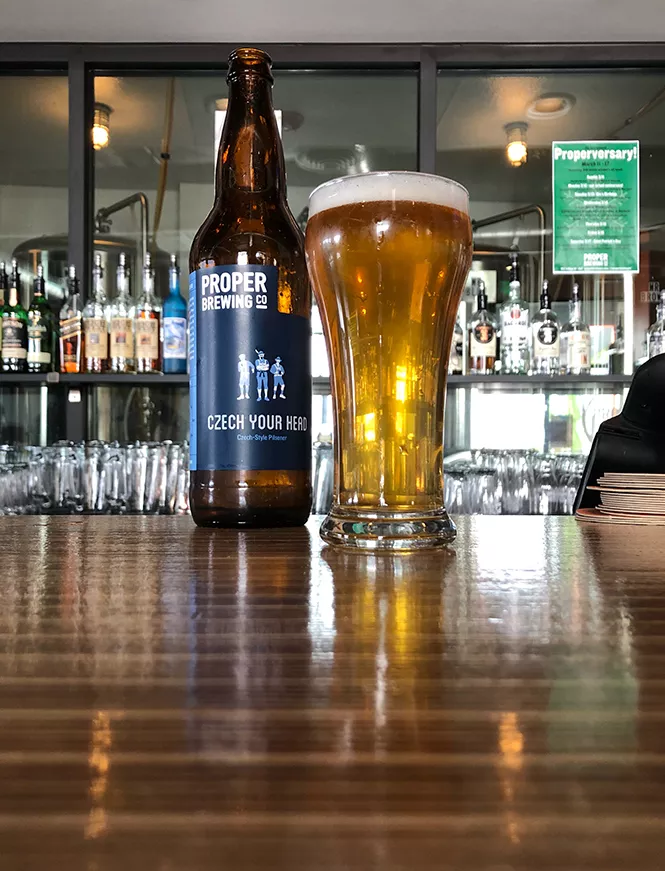 One of the perks of my job is having acces to local brewhouses and chatting with the brewers. When asked about their favorite beers, they inevitably mention one style at the top of their list: the Pilsner.
I can already sense the eye rolls across City Weekly land. You're probably asking, "Why Pilsners? They're so boring!" Believe me, I get where you're coming from. You likely got into craft beer because it's not the fizzy yellow stuff dominating grocery-store beer aisles. I've been right where you are, but trust me, it just takes the right beer at the right time to sway your opinion. This might be that time, because I've found a couple of new Pilsners that stay true to their roosts while weaving in a little new-school hop madness. Hopefully these examples reinvigorate your interest in this style of lagers.
Bohemian SIMPL (Session India Munich Pale Lager): This very hoppy lager pours a semi-clear gold color with a finger of soapy bright-white head. As you get your sniffer on top of it, you're met with huge grassy and spicy hops. Now that this herbal bouquet has set the tone for your tongue, you're immediately met with a huge blast of herbal, grassy and spicy hops upon first swig. After the initial hop shock begins to subside, a subtle tang of citrus begins to emerge. These vastly different bitter tastes play off the mildly sweet toasted grains that work their way out from the background. The finish is firmly dry and steady. Have no doubt that this is still a hop-driven lager, and the Mandarina Bavaria and Hallertauer Blanc hops create an incredibly complex flavor profile that screams "Old World," with just a bit of the new.
Overall: This is another brilliant example of a well-crafted beer that relies on the ingredients to deliver both flavor and body without the crutch of alcohol unnecessarily heating up party. This 4.0 percent ABV lager is available at Bohemian Brewing Co. under their Brewer's Stache handle.
Proper Brewing Czech Your Head: This golden, straw-colored beer shows a slight bit of haze as it's poured. There's a raw herbal bite as you inhale the aromatics left behind from the popping foam. Once it's in your mouth, you're immediately met with that familiar Pilsner smack. Up front, there are moderate flavors of bready biscuit and cereal grain malts, with a light amount of grainy sweetness. Light flavors of lager yeast begin to meld with a healthy dose of grassy, spicy/peppery hops, which impart a slightly heavier amount of bitterness. An ever-so-subtle amount of citrus peel reveals itself at the very end, which slowly fades into the Euro-hop bitterness. The hop selection here is a little more traditional; the Proper Brewing team decided to go with a combination of Tettnanger and Saaz hops. This noble hop combo is a perfect example of what kinds of flavors can arise from classic European-style hops.
Overall: This is a hoppy and flavorful 5.6 percent ABV Pilsner that reveals its noble hops heritage in its taste and aroma. This version of Czech Your Head is slightly modified from its previous incarnation, so it's worth revisiting even if you've tried it before. This is a year-round beer, available now in Proper's bottle shop.
These are two great examples of why people tend to come full circle on their love/hate relationships with Pilsners. Compare them with the mass-produced stuff. Then I think you'll understand what Pilsners are really all about. As always, cheers!