His father, Mike Howard Sr., brought his 33-year-old son to Provo, where most of his family resides. But the younger Howard, by then saddled with a 20-year criminal and drug-addiction history, continued on his downward slide. He hung out with prostitutes on North Temple in Salt Lake City's west side and, in exchange for protecting them, they introduced the long-time cocaine addict to heroin, injecting speedballs (cocaine and heroin combined). "It was the most beautiful thing I'd ever done," he says. "Once the head rush of the coke was gone, the heroin was like music washing over your body."
For four years, Howard worked North Temple, between 600 West and 2400 West—buying, selling and using drugs—or, with two other addicts, watching where drug dealers kept their stashes and then robbing them.
He moved from one run-down, single- or two-story motel to another, overdosing three times in one motel, doing drugs with prostitutes in another. He financed his habit partly by stealing from a Home Depot or a Nordstrom and then returning the items. Intermittently, he went to a drug-rehab program or the Salvation Army, but only to clean himself up for a week or so before getting back on the street.
"We always viewed him as extremely capable, of having a great potential," Howard Sr. says. But by 1999, "We really felt it was a matter of months before we would be at his funeral."
In fall 1999, "seeing how disappointed and scared mom and dad were," Howard entered his "last chance," The Haven, a Salt Lake County-funded rehab known for its confrontational methods. Recovering addicts struggle through a 90-day program, which they only get one shot at.
For seven months, Howard was clean and sober, but after a woman, also in recovery, declined to go out with him, "I went back to my first love: slamming speedballs."
In an apartment his father had rented for him, located on South Temple directly across from The Haven, Howard shot up while looking out the window at the bright lights of the rehab center and listening to the laughter and energized conversation of addicts working through recovery. "It was the darkest, blackest place I've ever been," Howard recalls. "I could feel their joy, their laughter in recovery. I had thrown it all away."
When his father checked on Howard, he found him all but dead on the floor of the apartment. Howard regained consciousness after doctors removed ligaments from his thigh. They had disconnected his leg from his hip in order to drain and scrape the bone free of a staph infection he had gotten by injecting drugs. Left untreated, the infection would have killed him.
On May 2, 2000, a doctor told Howard the operation was pointless. "You are going to go out and use, and you are going to die," the doctor predicted. That same day, Howard had a vision of his recently deceased grandfather. In the past, his grandfather had always told him, "Stay in there and keep pitching." But this time, Howard says, in his delirium, he saw a look of resignation on his grandfather's face. "It was the saddest thing."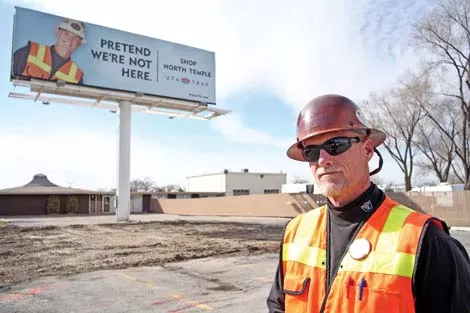 WHEEL OF FATE
On May 3, 2011, Howard will have completed 11 years clean and sober. Drive down North Temple, however, and you will still see him there, day and night. Now, instead of a haggard wraith scoring dope in the shadows, his healthy features adorn a billboard overlooking street traffic next to the words "Pretend we're not here." Howard is general superintendent for general contractor Stacy and Witbeck, hired by Utah Transit Authority to complete the four-year North TRAX project. Howard is supervising the 18 crews of 200 workers on the $360 million light-rail venture that will connect Salt Lake City International Airport with downtown Salt Lake City and beyond. It will also turn at least part of North Temple into what the city calls "a grand boulevard" with expanded sidewalks, colored street surfaces, bicycle lanes and public art, all bracketed, Salt Lake City hopes, by new residential and commercial development.
"Now, I'm looking down on what's going on," Howard says about the billboard UTA asked him to do. "Eleven years ago, I was looking up from the depths of hell."
As Howard and his crews bring North Temple into the 21st century, the future of the twilight world that North Temple's addicts and prostitutes inhabit is inevitably in question. The startling transformation now facing the dark side of the street Howard once knew so well is apparent not only in the physical street upgrades that he supervises but also in the few new businesses, like Viva's grocery market, that have chosen to bet on North Temple's future. But not all the businesses on North Temple are willing or even able to afford to make the leap to the notion of a "grand boulevard."
Howard's switch from a hard-core heroin junkie to supervising North Temple's makeover "is a huge turn of the wheel of fate," says Bill Coker, former movie producer turned co-owner, with wife Lucy Cardenas, of North Temple's Mexican restaurant Red Iguana and its recent offspring Red Iguana 2. Of Howard's turnaround, Coker—a self-appointed spokesman for North Temple's revitalization—says Howard "has come back to a neighborhood that's not in the best of shape and finds himself able to help that community." That help, in part, has focused on coordinating relentlessly with business owners up and down North Temple to ensure his crews are as minimally invasive and obstructive as possible. "His personality and magnanimity has made it very easy for many of us to go to him with our concerns," says the Pentecostal Church's Pastor Ronald Rice.
One irony that accompanies Howard's return to the street he thought he might die on is that the progress he is spearheading as a contractor may well mark the doom of the very motels he used to frequent as a criminal. Salt Lake City's Community and Economic Development director, Frank Gray, says that as the pace of development increases, so the land value will rise, eventually forcing out businesses that aren't interested in investing or growth. "We will let the [property] market do that," he says.
If market forces weren't bad enough, many of the mom & pop stores, already embattled by the recession, have found themselves encumbered for the last two years with a street full of construction cones. They've also had to deal with the viaduct connecting the street to downtown Salt Lake City being closed for two years, providing significant obstacles to those seeking to make it to their doors. "You can walk out at high noon, shoot a cannon down the street and not hit anything," says local realtor, Dave Galvan. The final insult for some property owners was learning in February 2010 that they faced thousands of dollars in taxes for the lighting and landscaping upgrade. After resistance from many of the smaller businesses, the city scaled back its plans for a grand North Temple boulevard so it would run only from 600 West to Redwood, but that didn't forestall an October 2010 lawsuit filed by aggrieved local businesses alleging civil rights violations by the city.
Attractive artists' renditions from Salt Lake City picture a future North Temple of pedestrians frequenting a tree-lined boulevard with new office and apartment developments, a transformation aided in part by tax incentives and development loans courtesy of a forthcoming RDA which, Gray says, may be inked in the summer. That vision contrasts with the street's current composition of foot traffic—veterans, homeless people and prostitutes—according to business owner Rick Clarke, of North Temple's That Sandwich Shop. He sarcastically questions whether the current pedestrians "justify" the newly built 10-foot sidewalk outside his business. Talk to those who own struggling businesses on North Temple, and though some have a vision of a luminous future if they can just survive the next two years, others, like The Encore Grill's Jim Tsoufakis, are less optimistic. He doubts his 14-year-old family diner can survive the impact of the recession, two more years of construction cones and the vagaries of running a business by North Temple. "I feel trapped like a rat," Tsoufakis says, "Nowhere to go, no escape."