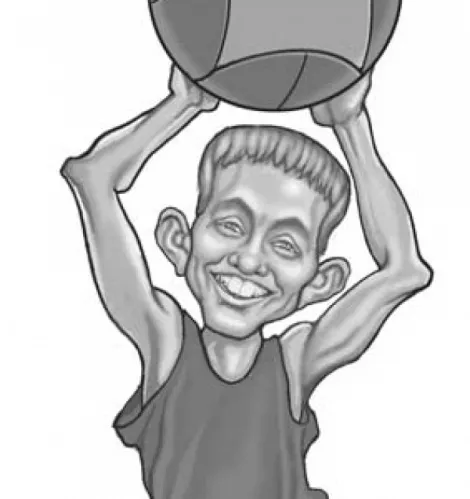 We all cringed laughed rejoiced recently when it was announced that Utah is the leader in the entire United States in per-capita online-porn subscriptions.

But that's old news now that Utah can make a claim to being the per-capita leader in something else: the number of teams in the NCAA men's basketball tournament. So let's all quit double-clicking on photos of naked people and start printing out officepool brackets to celebrate the fact that our state has no fewer than three teams—Utah, BYU and Utah State—in the NCAA's field of 65.
That's three teams coming from a state with a population of fewer than 3 million people. The only places with better ratios of bracket seedings to population are North Dakota and the District of Columbia, both of which have fewer than than 1 million people in the whole area and just had to get one team in. To put it in congressional terms, other than places like North Dakota and D.C. that have just one at-large representative—and need we remind you, the district rep is a mere figurehead without a vote—Utah's the only state with as many teams in the Big Dance as seats in the House. Or look at it this way: Three towns called Salt Lake City, Provo and Logan have put more teams in the tourney than the combined total for New York City, Los Angeles and Chicago, which topped out at two (USC and UCLA).

If you want to go from a historical perspective, of the three states that have become legendary over the years for college basketball prowess—North Carolina, Kentucky and Indiana—none has more teams in the tournament this year than Utah.
Beyond the Big Three in the Big Dance, keep in mind as well that the Ute women are in the double-X chromosome half of the NCAA tournament, Westminster is in the NAIA tournament, Weber State made the NIT and the Jazz recently ran off 12 straight wins. How can you not say that our dear Zion doesn't belong on the A-list of backboard hotbeds?
It seems fitting that our state is big on the court at this time. It was exactly 30 years ago this month that an NCAA championship game took place in Salt Lake City—at what was then called the University of Utah's Special Events Center—which ended up changing the course of basketball history. The contest between Michigan State and Indiana State was the first time Magic Johnson and Larry Bird squared off, and the result took March from being a time when sports fans focused on springtraining baseball to today's atmosphere of absolute madness. Bird and Magic later took the NBA from being a league that couldn't even get its championship series on prime-time network TV ahead of Dukes of Hazzard reruns to being an international juggernaut.
One thing that made the Bird/Magic rivalry appealing to so many was that it featured both the urban and rural basketball archetypes. Magic was the big-city kid with the flashy game and outgoing personality; Bird was the kid from a small town in the Hoosier state who fits the movie image of a kid dribbling on dirt and throwing a ball up to a wooden backboard nailed to a barn. What's noteworthy about Utah is that we represent neither the urban or rural basketball philosophy but, rather, a suburban outlook.

The two places most Utahns shoot are either in the cement driveway of a house in the suburbs or the gym of an LDS ward house in the suburbs. As with most other aspects of life here, the role the Mormon church plays cannot be underestimated.

Whether your Mormon-ness falls into the category of active, jack- or non-, you invariably know somebody who knows somebody who can get keys to an LDS ward house where you can play early in the morning or late at night. And, from the church's perspective, there are much worse things you could be out doing at 11 p.m. than running up and down a chunk of hardwood. There's even an unofficial Mormon doctrine called the "1,000 hour rule," which says that if a teenage boy spends 1,000 hours in a ward gym (weekly young men's and scout activities usually somehow end up with everybody shooting around in the gym), he will go on to serve a church mission.

In terms of sports, football is Utah's religion, but basketball is the game we actually play. Our state is unique in both the type of places it offers for hooping it up as well as the access we have to them. When it comes to basketball, to quote what a guy said in 1847, "This is the place."
NCAA MEN'S DIVISION-I TOURNAMENT
BYU vs. Texas A&M Thursday, March 19 10:30 a.m., KUTV 2
Utah State vs. Marquette Friday, March 20 10:30 a.m., KUTV 2
Utah vs. Arizona friday, March 20 5:10 p.m., KUTV 2