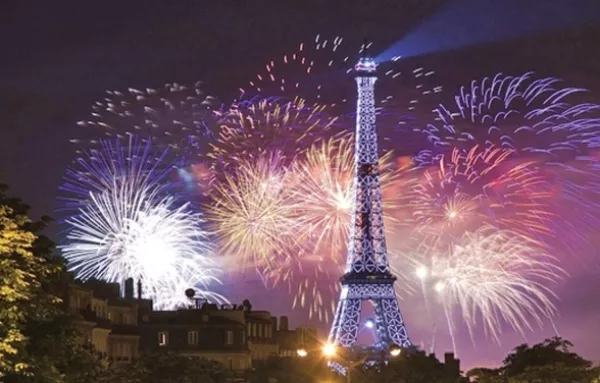 New Year's Eve is a time for resolutions, parties and staying up all night—especially if you're not at home. The turning of the calendar is the perfect time for trying a new place or experience, and there are a number of New Year's destinations to put on your bucket list.
Our travels have taken us to some great places on past New Year's Eves, so we've been able to check off our own travel bucket list, while leaving plenty of spots to hit in 2014 and beyond.
Times Square, New York City
Check. The Big Apple is where America turns its attention to watch the crystal ball drop. We always love the hustle and bustle in the streets of Manhattan when we visit, but you can really feel the place turn festive when one million people pack into a small area complete with live outdoor concerts and live broadcasting of New Year's Rockin' Eve in the background.
Champs-Elysées, Paris
Check. We got the chance to wish a "Bonne année!" to some locals who befriended us when they saw we were opening a bottle of champagne just before midnight. The wide boulevard is closed to traffic and still draped in the sort of cool Christmas lights trickling down the tree-lined street that only the French could come up with. When midnight arrived, the Eiffel Tower suddenly lit up the night sky, all decked out in twinkling lights, to create an unforgettable image.
Tournament of Roses Parade, Pasadena, Calif.
Check. The night before the New Year's Day Rose Parade, the route along Colorado and Sierra Madre boulevards in Pasadena becomes a huge outdoor gathering. Tents and barbecues abound as people claim spaces on the cement and then camp out— or stay up for the night, since sleeping on cement can be tough while people are walking up and down the street. The reward for lack of sleep is having the parade roll right by you in the morning. The live sights and smells of fresh floral floats is something HDTV still can't match.
The Strip, Las Vegas
Check. Wherever you go on New Year's Eve in Sin City, you're going to find a party, with the biggest one occurring outdoors, right on The Strip itself. Las Vegas Boulevard South is closed to traffic, and people go from casino to casino or to beer trucks parked outside, getting their plastic "to-go" cups filled up to head back out to a street, where the only open-container law is that the container has to be plastic. At midnight, a choreographed fireworks show is set off from different casinos. Of course, every club, casino and concert hall has its own New Year's Eve party, so there's plenty to choose from if outdoors isn't your style.
The next four destinations are on our list for coming years—God willing, if frequent flier miles add up, aging cars hold on, our kids decide college is not for them or rich relatives meet an untimely demise.
Sydney
The Australian capital has the advantage of being the first major city to welcome the New Year, and you can also wear a bathing suit and flip-flops since it's summer Down Under. Crowds of more than a million people gather around Sydney Harbour to watch fireworks over the world-famous Sydney Opera House.
Tokyo
The Japanese have a great take on turning over the calendar, holding "Forget the Year" parties throughout December. On New Year's Eve, tradition calls for eating a bowl of toshikoshi soba, or long noodles, which symbolize long life. The biggest gathering spot is Tokyo Tower, but many people also congregate around Buddhist temples, where bells are rung slowly 108 times to mark the New Year, and visitors are sometimes given the chance to do the tolling.
Reykjavik, Iceland
With only four hours of daylight on Dec. 31, and an average daily high of 35 degrees, Icelanders are experts at building huge bonfires in the streets to light up the night and heat up the celebration. There are no restrictions on fireworks for New Year's, but if you're lucky, the Northern Lights will brighten the heavens.
Rio de Janeiro
C'mon, who's going to throw a better party than the Brazilians? There's music, dancing and fireworks up and down the famous Copacabana beach, and since you're south of the equator, it's summer, and the usual Rio dress code—throw on a thong and you're good to go—is in effect.
As we greet a new set of 12 months, remember, there should be two stages in your life: You're either on a trip, or you're planning your next trip. Wherever you end up Dec. 31, Happy New Year and best of luck wherever your travels—and hopefully there will be many—take you in 2013.
Kathleen Curry and Geoff Griffin blog about their treks near and far as the Travel Tramps on CityWeekly.net. They also host the weekly Travel Brigade Radio Show.