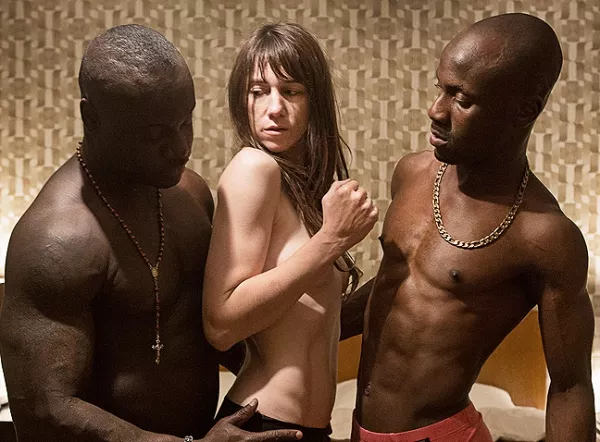 There's a wee problem with the idea of reviewing Lars von Trier's Nymphomaniac Vol. 1: It's not actually a movie.

Yes, it's a series of images captured on some image-capturing medium. It even has a narrative, involving a woman named Joe (Charlotte Gainsbourg) who is found beaten in an alley by a bookish man named Seligman (Stellan Skarsgård), who takes her into his home. She then tells her life story of ravenous sexual appetites, from adolescence through young adulthood (played in flashback by Stacy Martin).

No, the sense in which this isn't actually a movie is that it's only half a movie. The full four-hour version of Nymphomaniac was cut in half for American distribution, based on the assumption that four hours of anything—even non-simulated sex acts and plenty of full-frontal nudity—was too much for our attention spans to handle. The end of Vol. 1 is just the place where an intermission ought to go.

And things are certainly intriguing leading up to that intermission. While the majority of the film involves Joe's flashback autobiography—with the greatest focus on her relationship with her father (Christian Slater) and with a man named Jerome (Shia LaBeouf, employing a hilariously terrible accent of some sort), plus a harrowing encounter with the bitter, spurned wife (Uma Thurman) of one of Joe's lovers—there's a fascinating dynamic to Joe's interaction with Seligman. As she tries to convey a life she views with shame and disgust, Seligman undercuts her self-judgment with matter-of-fact digressions into subjects ranging from mathematics to fly-fishing. Where is von Trier going with this clash between the animal and the intellectual?

It's not clear by the time the credits roll. But if you've got the stomach for von Trier's brand of over-the-top theatricality, it might be worth finding out it in a couple of weeks.

NYMPHOMANIAC VOL. 1
[Incomplete]
Charlotte Gainsbourg, Stellan Skarsgård, Stacy Martin
Not Rated

Twitter: @ScottRenshaw