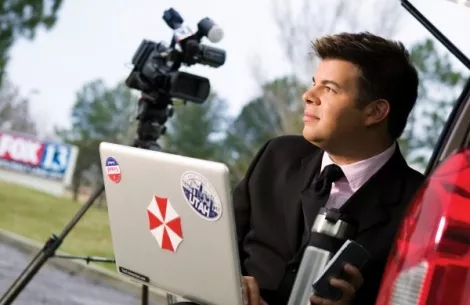 Fox 13 reporter Ben Winslow
It was on the upper floors of a German publishing house where I first realized that multiplatform reporting was about to become the new standard in journalism. In September 2007, I was taking part in a journalism fellowship in the Berlin headquarters of Axel Springer, one of the largest publishing companies in Europe. In the student-apprentice newsroom, where they publish a "subway" version of their flagship newspaper Die Welt (The World), I found the usual equipment you'd expect to find at any newspaper. However, I also noticed an audio booth and a video-editing bay there.
Here in the States, American newsrooms are shrinking as they prepare to make the jump to multiplatform reporting. According to the American Society of News Editors, nearly 15,000 full-time newspaper newsroom positions have disappeared in America since 2000—including 5,200 in 2009 alone. Those journalists who still have jobs must adapt to an environment where more news consumers are heading online.
The Pew Center's Project for Excellence in Journalism says news consumers spend, on average, 70 minutes a day consuming news—13 of that is online and is expected to grow in the future. Clearly, those reporters who can use text, video and audio to attract online storytelling will have an advantage in an already competitive job market.
Here in Salt Lake City, some journalists are already taking steps in that direction. When KSL TV and Radio combined a newsroom with the Deseret News, it meant they could use one reporter to tell stories in all three mediums and realize cost savings in the meantime.
Andrew Adams started his career in the KSL radio newsroom. Now he's a fixture on TV and writes for the newspaper, as well. He says the biggest challenge is tailoring his writing for each medium. "In radio, you have to be compact—we're talking 35 seconds for a story. On TV you have room for more detail, you get a minute-30 or -40 for the piece. In newspaper or online, you have a lot of room to work with."
Audio interview: KSL's Andrew Adams

While Adams' multiplatform reporting has come about as a result of corporate circumstance, Fox 13's Ben Winslow is as close to a true Renaissance man as Utah journalism has seen in a while. He started at KSL Radio, became a print reporter at the Deseret News, then moved to television at Fox 13. "People always ask me, 'Which one do you like better?' That's like being asked, 'Which is your favorite child?' I love all of my children."
Winslow is also pushing the envelope as the closest thing the market has to a true "backpack" journalist—he often shoots and edits his own video as a "one-man band." "When you're talking to someone, you often have a photographer who is looking out for other visual elements, and sometimes they're watching your back," he says. "When you're alone and if something happens, you scream and there is no one to help you."
Audio interview: Fox 13's Ben Winslow

Not everyone is adapting easily to the multiplatform approach. Salt Lake Tribune political reporter Robert Gehrke has been experimenting with video—he recently took a video camera with him as he followed presidential candidate Jon Huntsman Jr. around New Hampshire. But, it hasn't been an easy transition. "I'm still trying to figure this out," he says. "It's hard to do all of these things at the same time and worry about getting your shot and getting a good angle for the video. Before, I just had to be within earshot with a notebook. I think it's great that young reporters are doing video, but I also hope they realize that they need to focus on the finer points of reporting; it's not all about getting a video shot."
Audio interview: The Salt Lake Tribune's Robert Gehrke

And that is where a multiplatform focus can hurt a newsroom. Sometimes, quality has to give way to the demands of reporting. That can mean skimping on fact checking or editing. Dale Cressman, associate chair of undergraduate studies in BYU's communication department, worries journalists can end up doing too much. "We're in a dangerous world right now. There are very few outlets that still do editing. We had The New York Times call me recently to verify that a person who says they went to BYU actually attended here. They still do fact checking, but many don't. We had the recent example where the Deseret News printed a story that the Southern Baptist Convention had condoned same-sex marriage. That story turned out to be a hoax. The long-term effect on journalism is harmful."
Cressman is already taking some steps to change the future of journalism. He is launching a backpack journalism class, where students could be doing anything from shooting video to collecting audio to building mobile apps. "It's kinda like the Marines of journalism," he says. "They can go in everywhere and report the news without a big camera or a crew."
That transformation has the potential to make journalism better, smarter, faster and more efficient. But, it's a double-edged sword that also threatens to leave quality journalists who can't adapt to the new reality behind.

Bryan Schott is an award-winning journalist who is never wrong. After stints at various media outlets in town, including KSL Radio, he is managing editor of UtahPolicy.com and blogs at BryanSchott.com.