Page 3 of 3
Occupy America is already under way
By Steven T. Jones, Tim Redmond, and Yael Chanoff
All across the country, Occupy organizers are developing and implementing creative ways to connect and come together, many of which we drew from for our proposal. We hope all of these people will build on each other's ideas, work together, and harness their power.
From invading the halls of Congress to "occutripping" road trips to ballot initiatives, here is a list of groups already working on ways to Occupy America:
OCCUPY BUS
The Occupy Bus service was set up for January's Occupy Congress rally, but organizers say if the idea works out, it can grow and repeat for other national Occupy calls to action. For Occupy Congress, they set up buses leaving from 60 cities in 28 U.S. states, as well as Canada's Quebec province. The buses were free to those who couldn't afford to pay, and for those who paid, all profits were donated to Occupy DC camps. Congress.OccupyBus.com
DENVER OCCUTRIP
Many occupations have put together car and busloads of people to road trip to other occupations, hoping to learn, teach, network, and connect the movement across geographic barriers. One example is the Denver Occutrip, in which a handful of protesters toured West Coast occupations. The tenacious Occupy Denver recently made headlines when, rather than allow police to easily dismantle their encampment, a couple of occupiers set the camp on fire. It sent delegates to Occupations in Las Vegas, Los Angeles, Long Beach, Oakland, San Francisco, Berkeley, and Sacramento.
Sean Valdez, one of the participants, said the trip was important to "get the full story. What I'd been told by the media was that Occupy Oakland was pretty much dead, but we got there and saw there are still tons of dedicated, organized people working on it. It was important to see it with our own eyes, and gave a lot of hope for Occupy."
Like lots of road-tripping Occupiers, they made it to Oakland for the Dec. 12 West Coast Port Shutdown action there. In fact, "occutrippers" from all around the country have flocked to Bay Area occupations in general, and especially the uniquely radical Occupy Oakland. OccupyDenver.org/denver-occutrip-road-trip
OCCUPY THE CONSTITUTION
An Occupy Wall Street offshoot—Constitution Working Group, Occupy the Constitution—argues that many of the Occupy movements concerns stem from violations of the constitution. They hope to address this with several petitions on issues such as corporate bailouts, war powers, public education, and the Federal Reserve bank. The group hopes to get signatures from 3 to 5 percent of the United States population before the list of petitions is "formally served to the appropriate elected officials." GiveMeLiberty.org/occupy
THE 99 PERCENT DECLARATION
This is a super-patriotic take on the Occupy movement, described on its website as an "effort run solely by the energy of volunteers who care about our great country and want to bring it back to its GLORY." The group's detailed plan includes holding nationwide elections on the weekend of March 30 to choose two delegates from "each of the 435 congressional districts plus Washington, D.C., and the U.S. Territories."
These delegates would write up lists of grievances with the help of their Occupy constituents, then convene on July 4, 2012 in Philadelphia for a National General Assembly. They plan to present a unified list of grievances to Congress, the President, and the Supreme Court. If the grievances are not addressed, they would "reconvene to organize a new grassroots campaign for political candidates who publicly pledge to redress the grievances. These candidates will seek election for all open Congressional seats in the mid-term election of 2014 and in the elections of 2016 and 2018." The-99-Declaration.org
MOVE TO AMEND/OCCUPY THE COURTS
Move to Amend is a coalition focusing on one of the Occupy movement's main concerns: corporate personhood. The group hopes to overturn the Citizens United vs. Federal Elections Commission ruling and "amend our Constitution to firmly establish that money is not speech, and that human beings, not corporations, are persons entitled to constitutional rights."
The group has drafted a petition, signed so far by more than 150,000 people, and established chapters across the country. It held a national day of action called Occupy the Courts on Jan. 20. On the anniversary of the Citizens United ruling, the group plans to "Occupy the US Supreme Court" and hold solidarity occupations in federal courts around the country. MoveToAmend.org
THE OCCUPY CARAVAN
The Occupy Caravan idea originated at Occupy Wall Street, but the group has been coordinating with occupations across the country. If all goes according to plan, a caravan of RVs, cars, and buses will leave Los Angeles in April and take a trip through the South to 16 different Occupations before ending up in Washington, D.C.
Buddy, one of the organizers, tells us that the group already has "a commitment right now of 10 to 11 RVs, scores of vehicles, and a bio-diesel green machine bus. This caravan will visit cities, encircle city halls, and visit the local Occupy groups to assert their presence, and move on to the next, not stopping for long in each destination."
This caravan is all about the journey, calling itself a "civil rights vacation with friends and family" and planning to gather "more RVs, more cars, more supporters...and more LOVE" along the way. OccupyCaravan.webs.com
How Occupy Came to SLC
By Jessica Lee
In September 2011, as thousands assembled on Wall Street to draw attention to the corruption of our economic system, no one anticipated that an international movement would grow out of the mere occupation of a public place.
And yet, over the past few months, thousands have gathered in hundreds of cities to create new civil spaces in which grievances can be aired, solutions found, connections forged, communities fostered and ideas, so often shackled, finally freed. These impromptu encampments have brought together strangers from all points on the political, social, economic and cultural maps. By literally removing the walls between neighbors, these communities have created a culture of open, transparent and innovative thinking.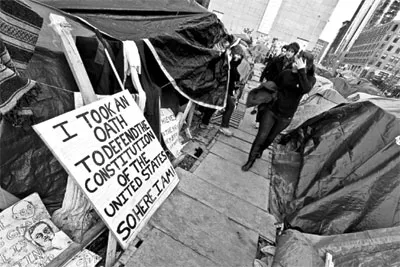 Occupy Salt Lake City is one of these communities. What began four months ago when the first tents were pitched in Pioneer Park has now coalesced into a group seeking to find radical solutions to both local and national issues. The beauty of the Occupy movement is that it humbles and empowers participants; they are able to acquire the knowledge, tools and, most importantly, the support needed in order to take action. In a society that constantly puts its people in a state of complacency, this, more than anything else, is the power of the movement. It asks you to step up and take responsibility, make mistakes, ask questions and constantly push boundaries.
While many of the physical occupations have been disbanded, evicted and brutally pushed away, Salt Lake City still hosts a vibrant 24-hour tent assembly at Gallivan Plaza on Main Street, and holds weekly General Assemblies and Workgroup meetings to keep the dialogue moving forward. Education and direct participation are key to this dialogue.
One of the things Occupy wishes to educate our city about is the American Legislative Exchange Council (ALEC), which will be holding its 39th-annual meeting in Salt Lake City from July 25 to 28. This organization brings representatives from major corporations (such as Monsanto, Wal-Mart, PhRMA and Koch Companies) into closed-door meetings with legislatures from all over the country in order to draft "model bills" for the upcoming year—bills and legislation that benefit profits over people, and corporations over communities. Many of the anti-immigration bills being put into place, including Utah's House Bill 487 (the federal lawsuit against which will be heard Feb. 17) were conceived and drafted by ALEC tasks forces. The ALEC Welcoming Committee is coordinating with national activist groups in order to prepare for July, and will be reaching out to the groups most strongly influenced by decisions that are not drafted by the people, but by money and lobbyists.
Direct participation comes in the form of Occupy Elections, an initiative that will place participants as delegates in both the Democratic and Republican meetings that decide who will be allowed to run for office. The goals are twofold: Occupy Elections will allow people to fully participate in their government and will also show them the broken and vulnerable nature of the electoral system.
During the next year, Occupy SLC will be working together with existing organizations such as Peaceful Uprising, the National Prison Divestment Campaign, Transition Salt Lake, One World Cafe, the Revolutionary Students Union and the other Utah Occupations (such as Provo and Park City) in order to broaden our community and create an even stronger push for reform and transformation. There is strength that comes from education and collaboration, a power which comes from pooling together the collected experiences and wisdoms of groups and individuals.
We are Occupy Salt Lake City. We are the 99 percent. We are adaptable and determined. We are prepared to question the status quo. And we invite you to join us. It is together that we shall prevail.