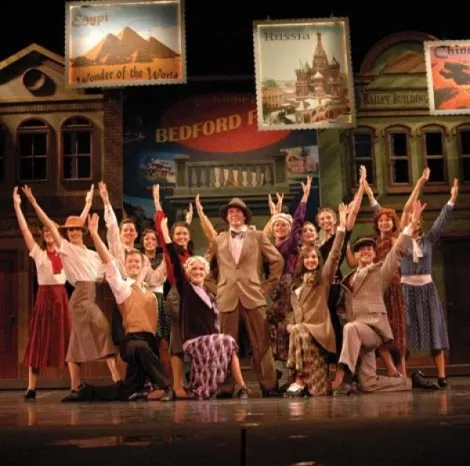 Only Odyssey Dance Company—the folks who bring you Thriller—could transform a classic like It's a Wonderful Life into a dance masterpiece. In its sixth season, it infuses Kingsbury Hall with the energy of New York City's theater district, bringing everything you'd expect from a Broadway Christmas production: moving sets, intricate costumes, amazing score (by local composer Sam Cardon), a feel-good finish and even a massive water tank hovering over the pit.
All this while still "use[ing] the same motifs as in the film," says Derryl Yeager, Odyssey artistic director. "I say it's a ballet, in that it's telling the story through movement." By incorporating various musical styles—from Irish to mariachi—however, it's more than ballet.
During its creation, Yeager choose a collection of scenes to depict in a dance language, with the goal of creating a coherent tale that respected the original film. This year, it's 90 percent the same as the first production, he says. Doing it right the first time includes a cast of more than 20 children performers, 30 company dancers and six actors, who "mime" during voice-overs—all set to the eclectic score. Also, there are now video elements.
Despite creative liberties with the plot—making Bedford Falls of the future a ghetto to incorporate hip-hop, or giving Clarence his wings to fly off stage—lovers of the original will still find joy in the piece. Even those who've never seen the film will easily follow the story and join the group tear-fest as George receives enough money to save Bailey Savings & Trust.
It's a Wonderful Life @ Kingsbury Hall, 1395 E. Presidents Circle, 801-581-7100, Dec. 9-11, 7:30 p.m., Dec. 11 matinee, 2 p.m., $20-$40. KingTix.com